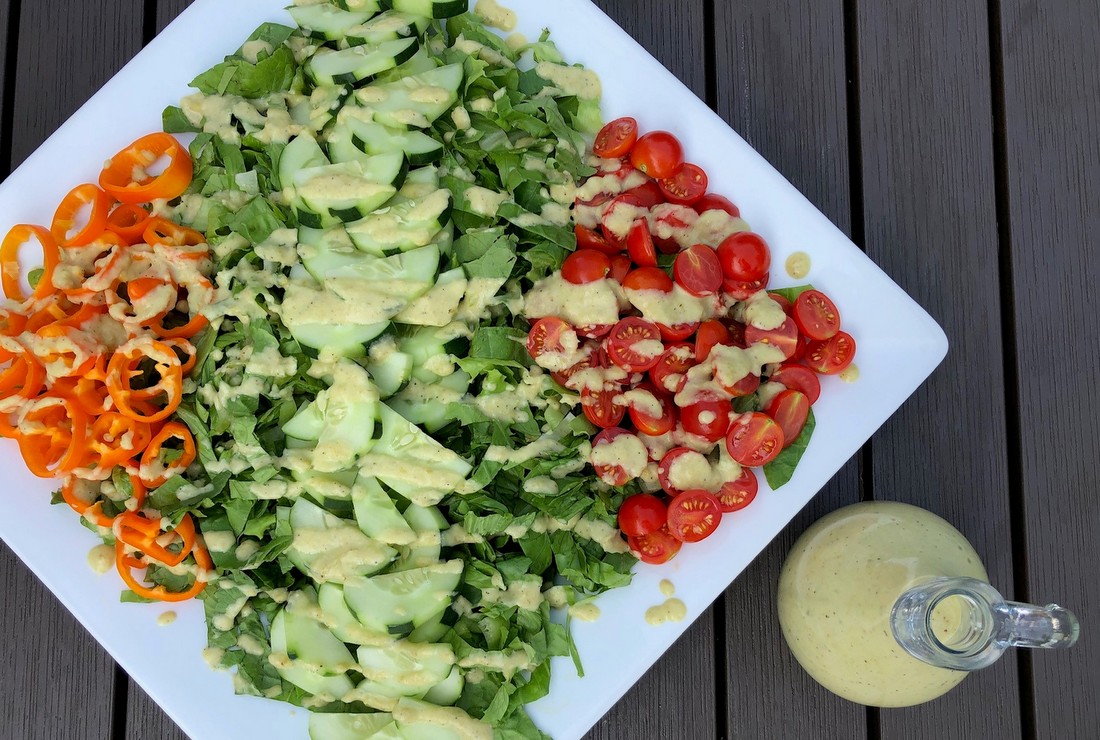 Sometimes it is nice to keep things simple and enjoy the vegetables we receive in their raw state.  Salads are always a fantastic option for summertime picnics, barbecues, or quick meals.  This week's recipe showcases a simple salad with a dressing that highlights tomatillos!  Enjoy!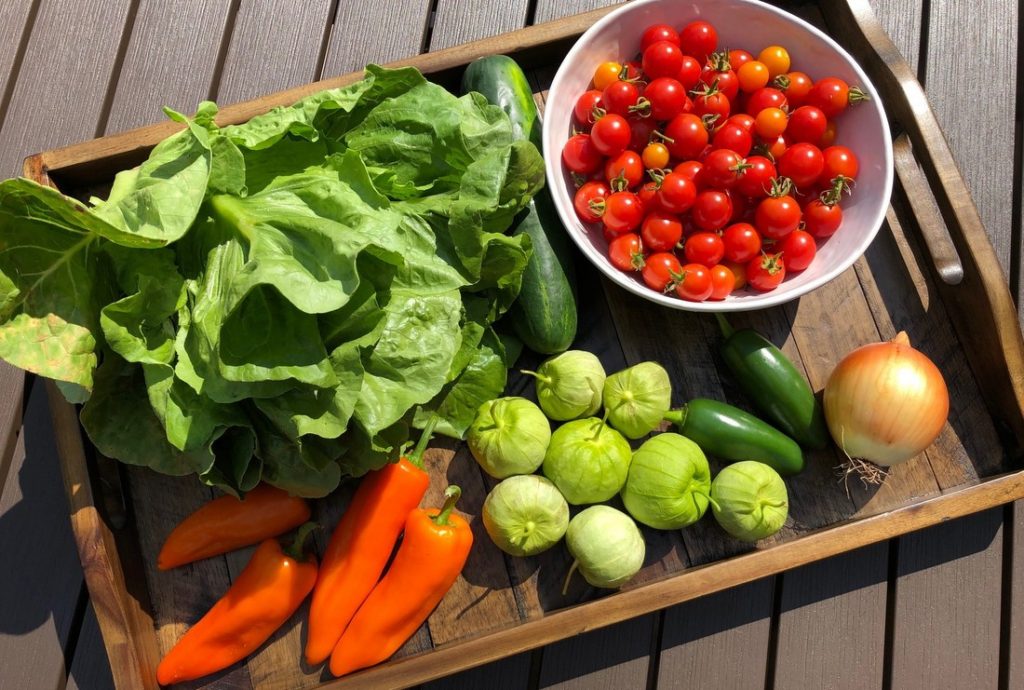 Grilled Tomatillo Dressing
Ingredients
1 lb tomatillos
2 jalapeno or poblano peppers
1 sweet onion
½ cup avocado or olive oil (plus a few Tbsp for grilling)
¼ cup apple cider vinegar
2 tsp lime juice
1 tsp sea salt
½ tsp black pepper
2 Tbsp honey
Preheat grill to about 400°
Remove husks from tomatillos and place in bowl. Peel onion, slice into ½ inch thick rounds, and place in bowl.  If using jalapenos, slice in half and remove seeds and stems.  If using poblanos, just place in bowl whole.
Add 1-2 Tbsp of cooking oil to bowl. Mix to coat vegetables.
Grill vegetables for 5 minutes per side.
Remove from grill. Place tomatillos and onion in blender.  If using jalapenos, place them in blender as well.  If using poblanos, remove stems and place them in blender.
Add remaining ingredients to blender. Blend well until a thick dressing is formed.
Serve with salad, use as a marinade, or use as a spread for sandwiches, burgers or wraps.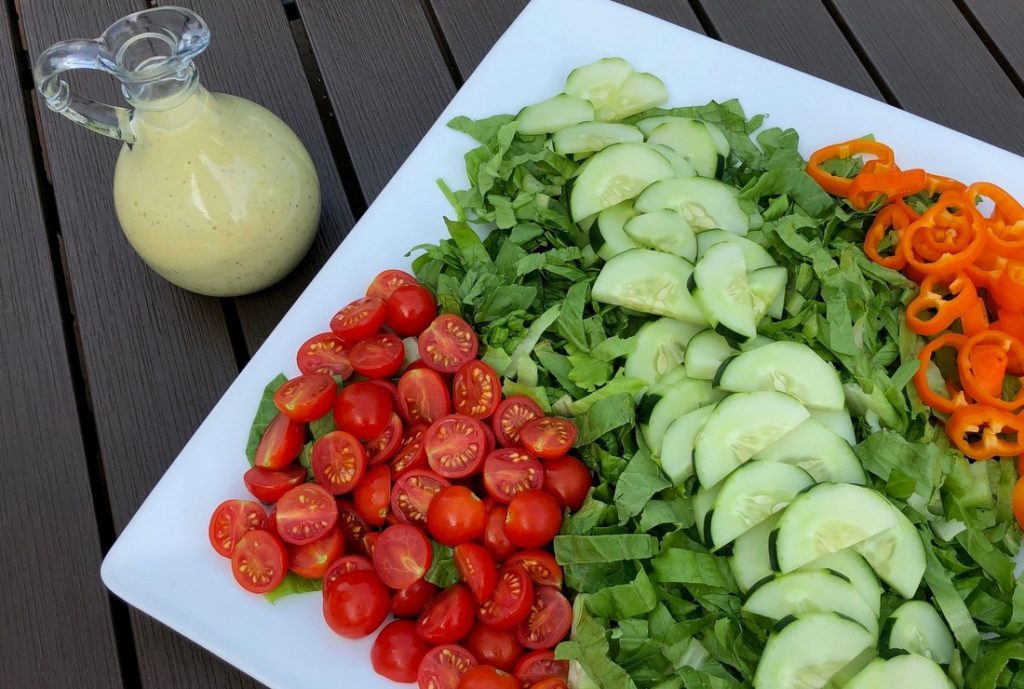 Simple Summer Salad
Ingredients
1 head lettuce, chopped
1 cup cherry tomatoes, halved
1 cucumber, peeled and sliced
3-4 sweet peppers, stems and seeds removed, cut into rounds
Prepare all vegetables. Place on platter.
Drizzle grilled tomatillo dressing over top.
Enjoy!
Not feeling salad? Try the tomatillo dressing on a delicious grass-fed beef burger!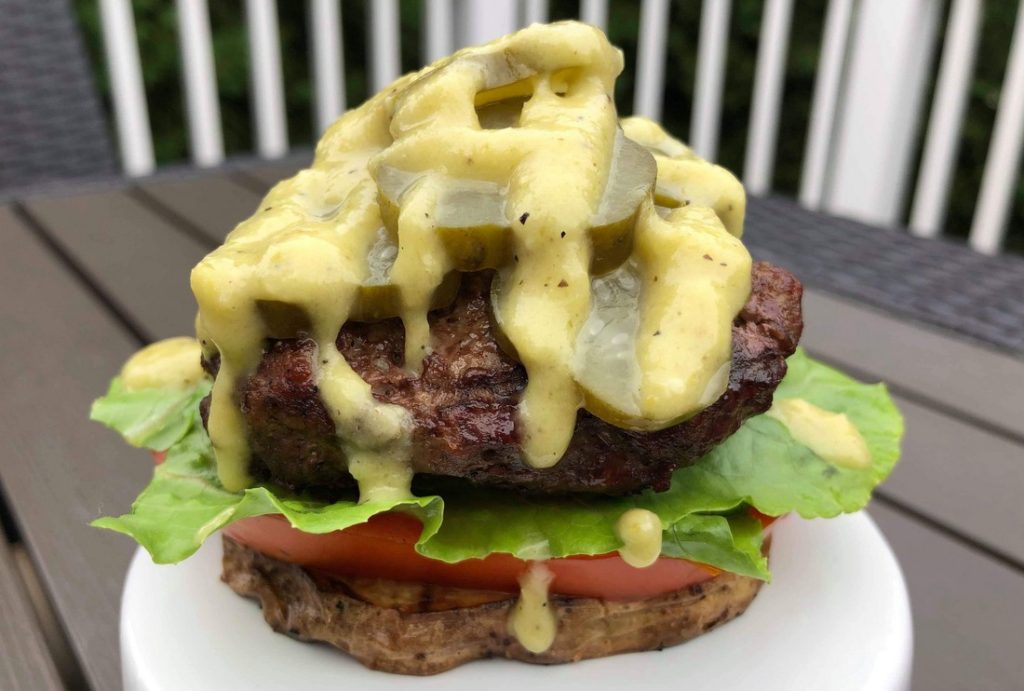 Recipe and photos by Stephanie Borzio.  Stephanie is a mom of three active boys and is an autoimmune warrior.  After battling her own health for several years, Stephanie found healing through food and lifestyle changes, including joining Blooming Glen Farm CSA of which she is a long time member.  She is a Board Certified Integrative Nutrition Health Coach who is passionate about sharing healthy living tips and real food recipes. Instagram and Facebook: Tru You Essentials, Website: www.truyouessentials.com