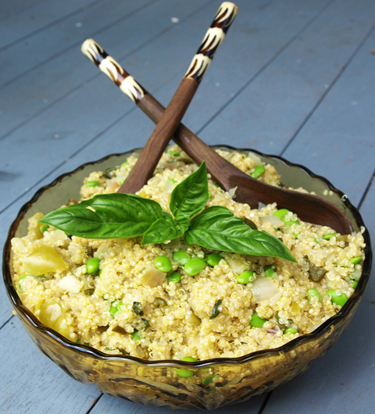 Poblano peppers are one of the most mild of hot peppers, measuring 1,000 to 2,000 Scoville Heat units. This is quite modest compared to, for example, it's fiery relative the cayenne pepper, which has a heat unit of 30,000 to 50,000! The light spice of the poblano makes it a very versatile ingredient in the kitchen, and since it won't singe taste buds, you can really taste its flavor.
The heat in poblanos and other peppers is caused by plant compounds called capsaicinoids, which are generally thought to exist as a natural deterrent against animals and fungi. Capsaicinoids have been linked to several health benefits over the years including, improved circulatory and heart function; pain management for arthritis, neuropathy and psoriasis; balanced and healthy cholesterol; increased metabolism; and even prevention against prostate cancer. Of course, poblanos mildness does means it has less capsaicinoids than the aforementioned cayenne or even a jalapeño, but it is worth noting.  And, like most veggies, all peppers are low in fat and cholesterol, high in fiber, and contain free radical-fighting antioxidants — a great addition to any diet!
We've posted a few recipes on the blog that feature poblanos; Summertime Chili, Creamed Sweet Corn with Poblanos, and Stuffed Poblanos with Mexican-style Quinoa. The recipe below uses two superfoods, edamame and quinoa, as well as flavorful basil and tomatillos, making it not only a nutritious, but delicious dish.
References and recommended links:
Ingredients:
1 bunch fresh edamame, pods removed from branches
1 cup quinoa
1 tbs grapeseed oil
4-5 tomatillos, chopped
1 onion, chopped
3 garlic cloves, minced
1-2 poblano peppers, seeded and chopped
2 tbs chopped fresh basil, chopped
2 cups No-chicken Broth
Method:
Heat enough water to cover edamame pods and bring to a boil. Add edamame and blanch for 3 minutes. Drain and set aside.
Heat oil in a heavy-bottomed pan or pot (a dutch over works great). Add onions and cook until translucent, about 3-4 minutes. Add garlic, tomatillos, and jalapeño and cook until tender, about 5 minutes. Add quinoa, basil, and broth and bring to a boil. Reduce heat to low, cover and let simmer 10-15 minutes, until quinoa is cooked through.
Shell edamame and put beans aside.
Remove quinoa from heat, stir in edamame and let sit for 5 minutes. Salt to taste.
Post and photo by Mikaela D. Martin: Blooming Glen CSA member since 2005, board-certified health counselor, and co-founder and -owner of Guidance for Growing, an integrative wellness practice in Souderton. Read more about healthy eating and living on her site, http://guidanceforgrowing.com!