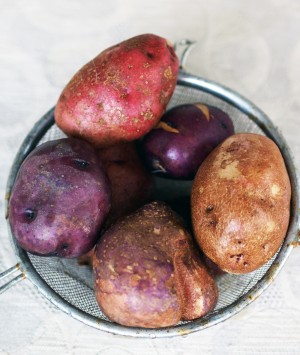 Blooming Glen Farm grows a really wonderful selection of potatoes. We've been introduced to a variety of potatoes this season, including Sangre, Purple Sun, Kerrs Pink and Purple Viking, along with classic Yukons. While specific nutrition may differ a bit between varieties, generally speaking, all potatoes have almost half the recommended daily values of vitamins C and B6 and potassium. The recent low-carb craze have given potatoes a bad rap in recent years, but the truth is potatoes are actually a healthy complex carbohydrate. They're a "good" carb, meaning that they digest slowly, preventing your blood sugar from spiking like simple carbs do. The caveat: We need to eat them with their skin and prepare them as healthily as possible. So, choose the baked potato or simple mashed potatoes over the French fries and potato chips 🙂
If you're anything like me, you still have some potatoes from the last few weeks' shares hanging out in your kitchen, and maybe even a couple different varieties. Feel free to mix and match whatever potatoes you happen to have on hand for the recipe below. This recipe is based on one of my mom's classic soups. Growing up, we always looked forward to the first batch of her potato soup each fall — it took some of the sting out of the increasing colder weather and darker nights. In this version, I add beans, which provide a healthy boost of fiber and plant-based protein, and makes for a more filling and nutritionally complete meal. The seasonings are kept super simple, allowing the natural flavors of our fresh and local potatoes, leeks and celery to really come through.
Sam's Potato Soup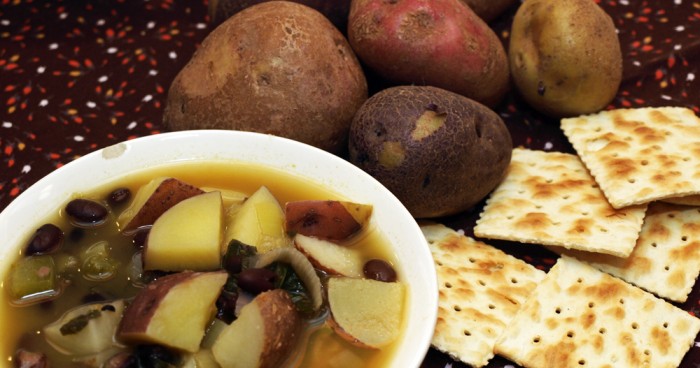 Serves 12
Ingredients
2 tbs Earth Balance
1 tsp peppercorns
1-1/2 cups leeks, cut into half moons and sliced
1 cup celery stalks and greens, diced
2 cloves garlic, minced
5-6 cups potatoes, scrubbed clean with skin left intact, cut into a large dice
1/2 tsp salt
6-8 cups vegetable or No-Chicken broth
2 cans black beans, drained and rinsed
salt and pepper to taste
Method
Heat butter in a large heavy-bottom pot. Add leeks, celery, garlic, salt, pepper and peppercorns, sprinkle with a bit of salt and stir well. Cook until veggies begin to soften, about 4 minutes. Stir in potatoes and 1/2 teaspoon of salt and mix well. Add a splash of broth and let potatoes heat up, about 3-5 minutes. Add 6 cups of broth and bring to a boil. Let simmer and cook until potatoes begin to get get tender, about 20 minutes. Remove peppercorns. Add beans and, depending on consistency of soup desired, add more broth. Cook for 5-10 minutes more. Salt and pepper to taste. Option: You can blend part of the soup with an immersion blender or in a blender for a creamier soup.
Post and photos by Mikaela D. Martin: Blooming Glen CSA member since 2005, board-certified health counselor, and co-founder of Guidance for Growing, an integrative wellness practice in Souderton. Read more about healthy eating and living on her site, http://guidanceforgrowing.com!