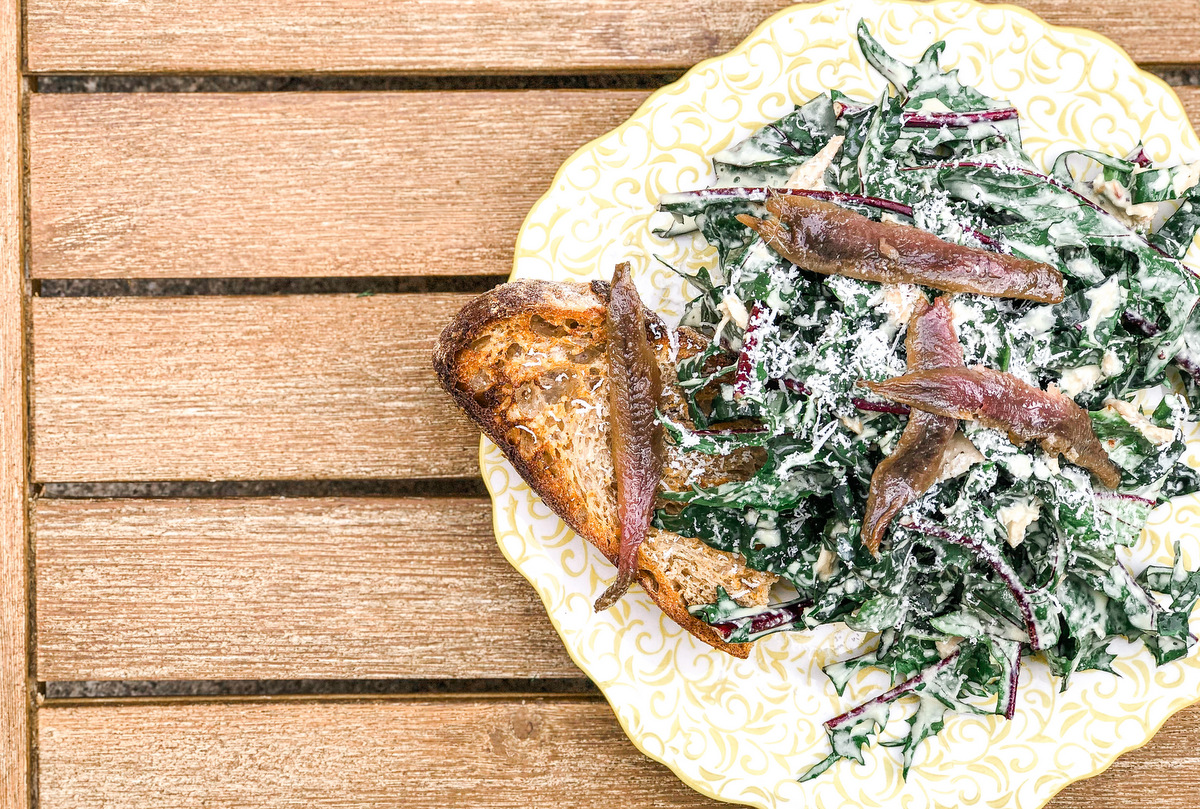 With the weather getting warmer it seemed the perfect time to cook some simple food that can be good on its own, be packed for a veg heavy picnic, or work as the anchor for food off the grill.
Dandelion & Kale Caesar
This salad is perfect for packing because the hearty greens actually improve after being dressed, becoming more supple and absorbing the dressing. For this reason we make the tonnato creamier than regular caesar dressing. (*Tonnato is an Italian condiment often made with tuna, anchovies, olive oil, and mayonnaise or egg.)
Ingredients
1/2 bunch kale, cut into quarter inch ribbons, bottom stems removed
1 bunch dandelion, cut every two inches, bottom stems removed
1 6oz can of tuna, drained
1 yolk
1 oz white wine vinegar
.5 oz grated pecorino cheese, with more to garnish
1 tablespoon water
1 garlic clove
3 oz olive oil
salt and pepper
anchovy filets
crusty bread to serve
Place the yolk, grated cheese, vinegar, water, garlic, and half the tuna in a blender. Blend on medium speed until smooth, then stream the oil in. Season with salt and pepper. Place the greens and remaining tuna in a bowl, and dress well, seasoning aggressively with black pepper and salt. Place a piece of well toasted crusty bread on each plate or container you are using and place the dressed salad on top of it. Sprinkle some extra cheese and place over a few anchovy filets.
Genovese Pasta Salad
In Genoa, where basil pesto comes from, they enjoy their pasta with beans and potato. It's delicious, but rather than hot, it makes a great salad (even better when the first cherry tomatoes come). Just like the Genovese, you can cook everything in one pot.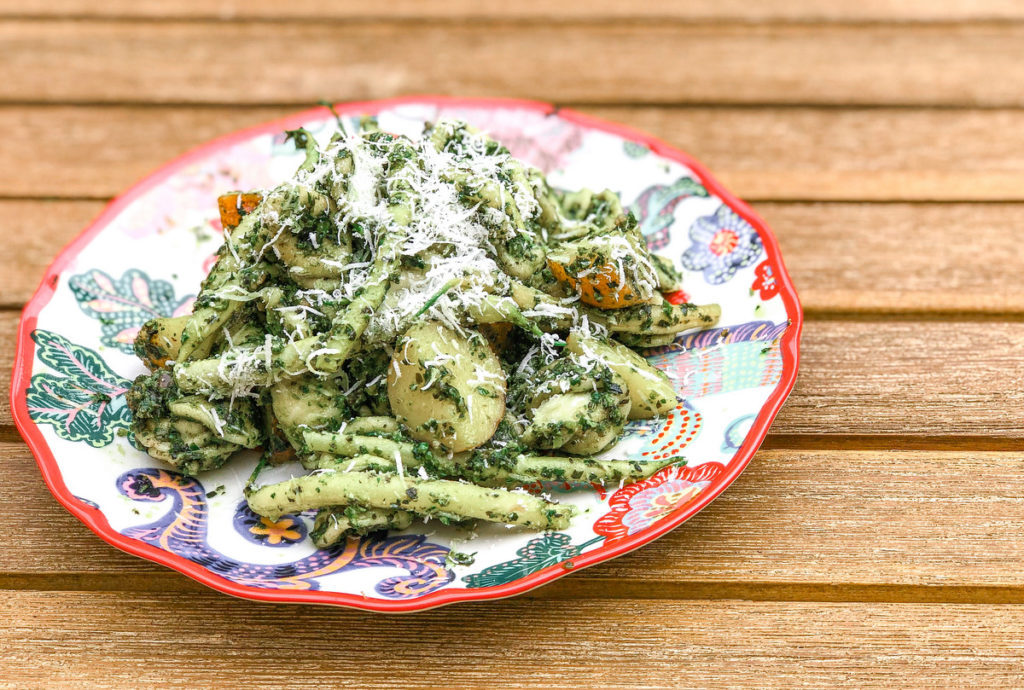 Ingredients
8 oz Orecchiette, or your favorite short pasta
1 bunch basil
1/4 bunch parsley
1 bunch garlic scapes, ends and flower heads trimmed
1 oz grated pecorino
1 clove garlic, crushed
1.5 oz sunflower seeds
4 oz olive oil
4 small potatoes, quartered
1/2 quart green or wax beans, trimmed
1/2 lemon
Bring a medium pot of water to a boil and salt aggressively. Add the pasta and cook according to the directions on the label. With 8 minutes to go, add the potato. With 1 minute to go, add the beans. Drain well and dress the pasta and vegetables in a little olive oil to prevent sticking. Heat a cast iron pan to smoking and place the scapes in. Add a shot of oil and let them char one minute, resist the temptation to move them, then turn, and let char another minute. Remove to a board, and let cool, then chop finely. Add the scapes, herbs, garlic, cheese, and seeds to a food processor. Blend thoroughly, then stream in the oil. Season with salt and dress the pasta and vegetables with it. Squeeze the lemon through and dress as soon as possible to eating.
Grilled Cucumber and Fennel, tahini dressing
Grilling cucumber brings out the vegetale notes, and makes it more nuanced, and somehow juicy, and the fennel adds good sweetness. Keeping the vegetables in large pieces helps them hold up.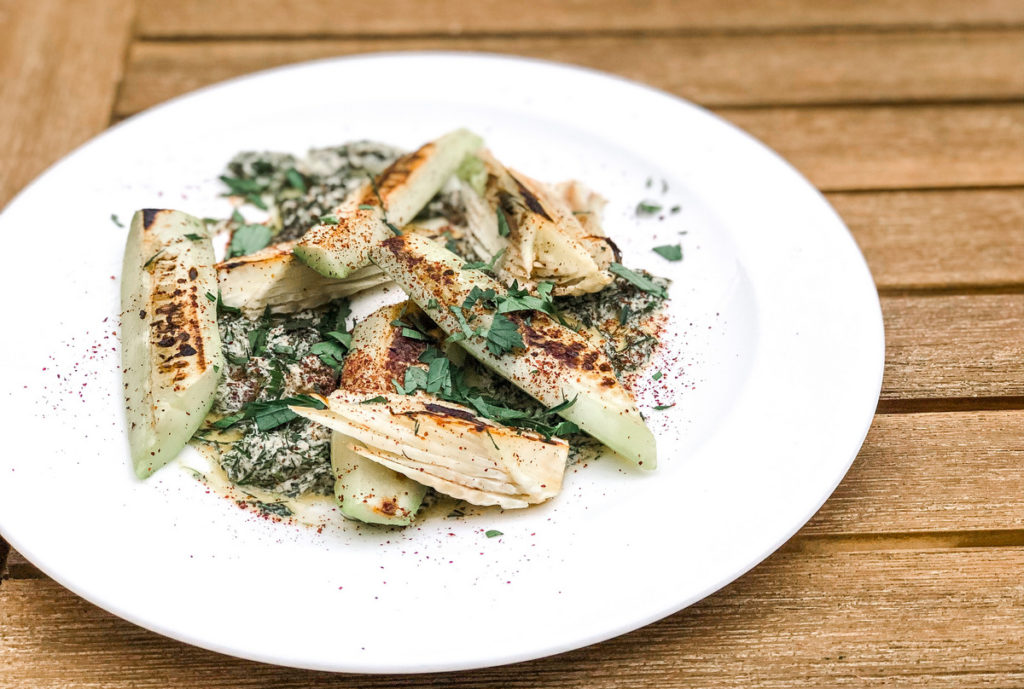 Ingredients
1 cucumber, peeled
2 fennel bulbs
1 clove garlic, grated
2 Tbs. tahini
juice of 1/2 lemon
1/4 bunch of dill, chopped fine
2 Tbs. water
1 teaspoon smoked paprika, preferably from Coddiwomple Canning
2 oz olive oil
Sumac to garnish
In a bowl place the tahini and stream the olive oil in while continuously whisking. Next, add the lemon juice, and then the water until you reach the desired consistency. Add the grated garlic, paprika, and dill and season with salt. Cut off the fennel stalks and reserve for future use. Cut ends off the bulbs, then in half, and remove the out leaves. Cut the core out of the bulb in a 'V', leaving enough that the bulb stays intact. Cut the cucumber into quarters lengthwise, then slice away some of the seedy core to make a flat surface. Cut those pieces in half horizontally. Rub the vegetables with olive oil and season with salt. On a very hot grill, place the cucumber seed side down for one or two minutes until charred but still mostly raw. Remove and cool. Place the fennel cut side down on a less hot section, and cook until well grilled, and about half cooked. Remove and cool. Dress a plate with the tahini and place the vegetables over top. Give a liberal sprinkle of sumac and serve.
Minestrone
The first time my aunt went to visit our family in Italy each of our great aunts served her minestrone. More than 40 years later she refuses to eat it. I don't suffer from the same affliction. Soup like this is restorative, and a great way to use the odds and ends left over from your CSA, plus the trimmings in broth, extra which can always be stored in the fridge for up to one week and frozen for no more than three months. We would serve it with a side of crusty bread or focaccia and a ball of mozzarella or burrata for a perfect lunch.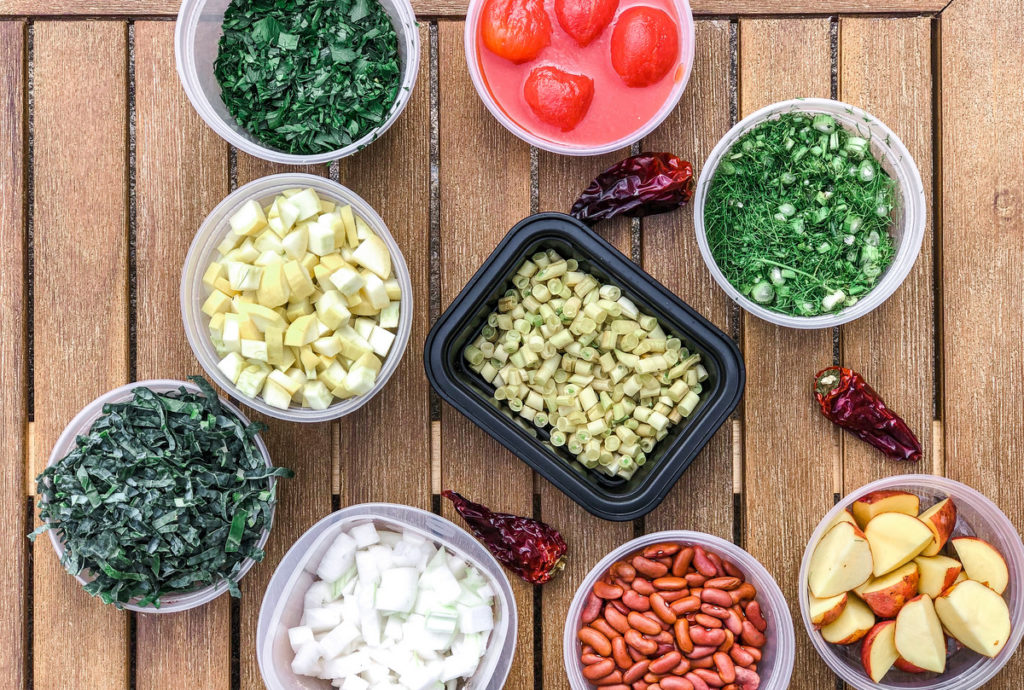 Ingredients
2 quarts vegetable broth (recipe below)
1 onion, small diced
3 cloves garlic, sliced
2 fennel stalks, sliced
1 squash, diced
1 cup peeled tomato and their juice, lightly crushed
1 cup dried beans, cooked ahead
1 cup kale, finely sliced
6 small potatoes, cut in half
1/4 bunch parsley, chopped
ground chili or chili sauce
In an instant pot, place all the trims from the vegetables for the week. Add a touch of oil and salt and turn on sauté . When you smell a bit of burning, and this is good!, add two quarts of water, seal, and pressure cook for 30 minutes. If you don't have a pressure cooker, cook the vegetable bits in a heavy bottom pot until fragrant, then add the water and simmer for 70 minutes. Then strain the broth through a fine mesh sieve.
Sweat the onion and garlic on medium heat in some olive oil until translucent. Add a pinch of salt now, and every time you add an ingredient, to build the layers. Next add the fennel, and cook for one minute. Then the squash, potato, and kale, cooking until the kale starts to wilt. Then add the rest of the ingredients, bring to a boil, then cover and simmer on low for 20 minutes. Adjust the seasoning to your liking, and garnish with a splash of oil and some chili.
Palmer Marinelli is the Executive Director of Roughwood Table, an organization that uses heirlooms seed saving to shine a light on local foodways. Originally from Washington Crossing, he has been cooking locally for almost 20 years.