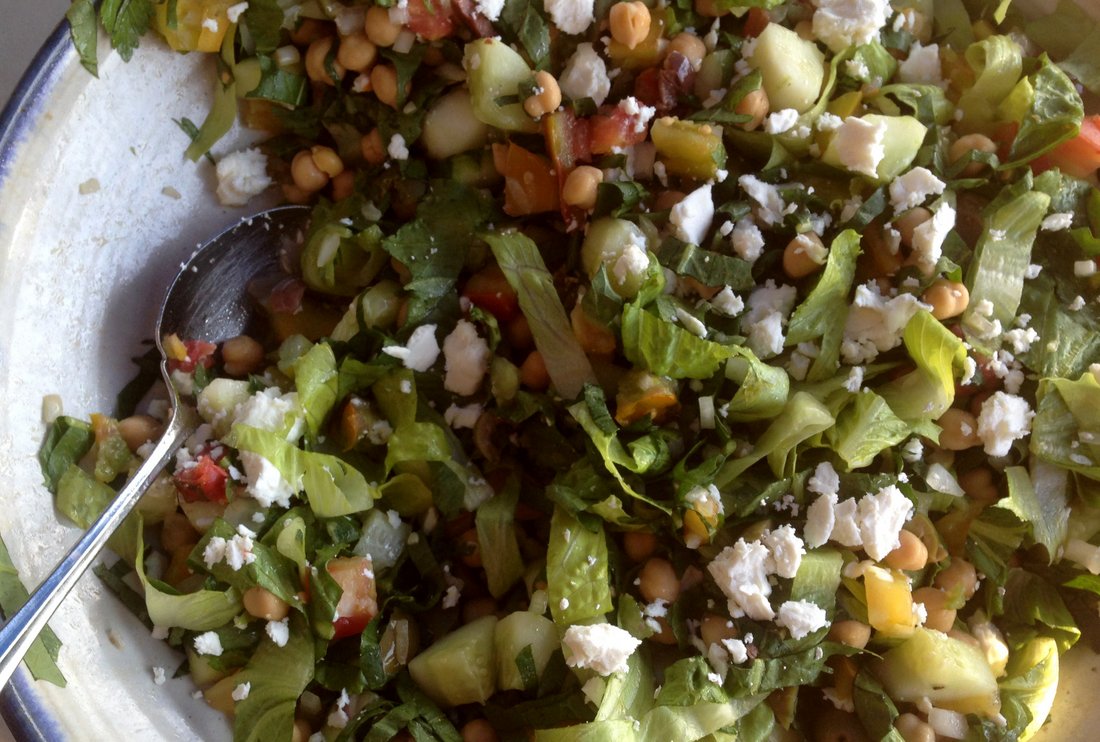 20 Jul

Chef Rich Baringer shares farm fresh recipes

Yesterday at the farm, Chef Rich Baringer of Dinner's Done Personal Chef Service served up some delicious samples of dishes he made using farm fresh ingredients from this week's CSA share. He also shared tips on using some of the more unusual greens like dandelion and agretti. (Though agretti was not in the share this week, we figured you might still have some in your fridge from the past 2 weeks). The recipes are below for your enjoyment. Be sure to check out Chef Rich's website and sign up for his newsletter for more recipes and tips, or check him out on Facebook.

Mediterranean Chopped Salad (adapted from Cook's Country)

Serves 6. Chef's Note: I used heirloom tomatoes in place of cherry and added dandelion greens for half of the romaine.

Ingredients
12 oz cherry tomatoes, quartered
1 cucumber, peeled, seeded and cut into ½" pieces
Salt and pepper
3 Tbsp extra-virgin olive oil
3 Tbsp red wine vinegar
1 garlic clove, minced
15 oz can chickpeas, rinsed
1/3 cup Kalamata olives, chopped
¼ cup red onion, minced
1 Romaine lettuce heart, cut into ½" pieces
3 oz feta cheese, crumbled
½ cup parsley, chopped
Toss tomatoes, cucumber and ½ tsp salt in colander and let drain for 15-30 min.
Whisk oil, vinegar and garlic in a large bowl. Add tomato, cucumber, chickpeas, olives and onion. Toss to combine. Let sit at room temp for 5 min.
Before serving, add lettuce, feta and parsley. Toss to combine. Season with salt and pepper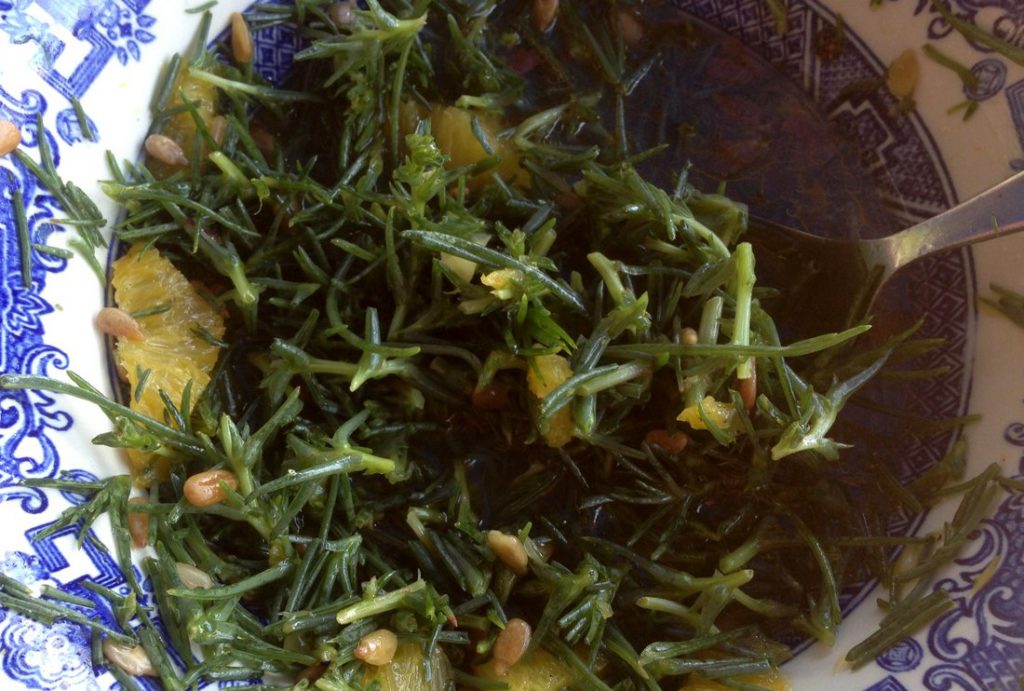 Agretti Salad
Serves 4. Chef's note: You can blanch the agretti in boiling, salted water for a minute or two if you want it less raw.
Ingredients
1 bunch agretti
4 Tbsp extra-virgin olive oil
2 large oranges, 1 sectioned and 1 juiced
¼ cup sunflower seeds, toasted
Red pepper flakes, to taste
Salt
Parmesan cheese, shaved (optional)
Trim agretti from woody stem (thinner, more tender stems can be used) and roughly chop.
In a bowl, whisk the oil with the juice of one orange. Add salt and pepper flakes to taste and set aside.
Dry the agretti (if damp) and place in serving bowl. Toss with dressing. Add orange sections and toss. Garnish with seeds and cheese (if desired).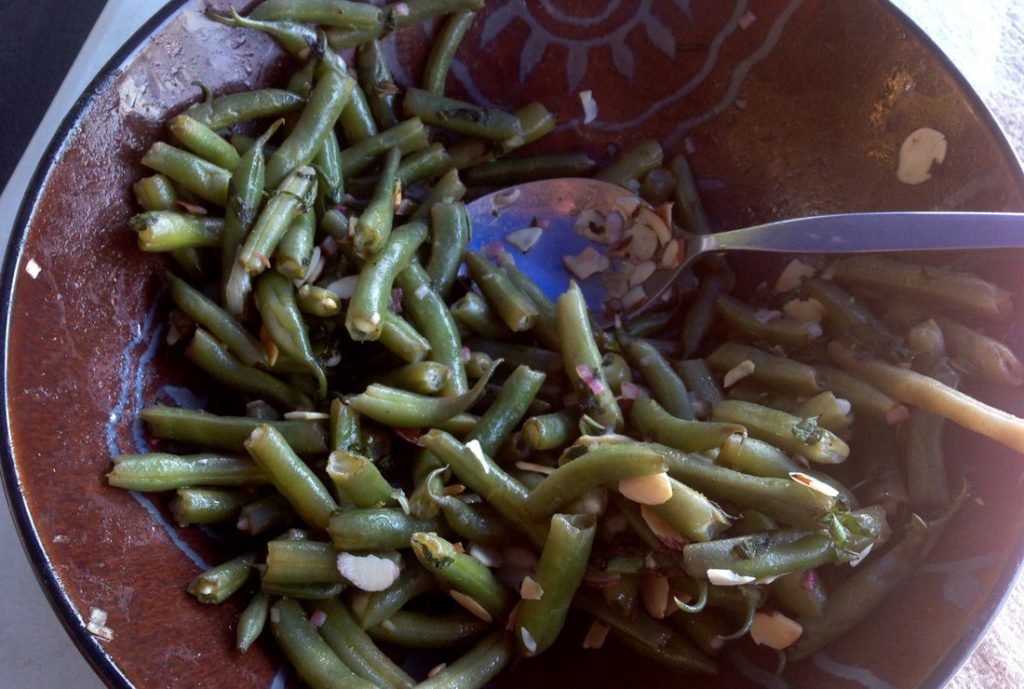 Green Bean Salad (adapted from Cook's Country)
Serves 4. Chef's note: Some thinly sliced radish is a nice garnish.
Ingredients
2 lb green beans, trimmed and cut into 1 ½" pieces
Salt and pepper
1 shallot, minced
1 Tbsp Dijon mustard
1 tsp lemon zest
3 Tbsp lemon juice
1 garlic clove, minced
¼ cup extra-virgin olive oil
3 Tbsp dill, minced (I used lemon verbena, which is available in the herb boxes a the farm.)
½ cup almonds, toasted
Bring 4 qt water to a boil in a large pot. Fill a large bowl halfway with ice and water. Add beans and 1 Tbsp salt to boiling water and cook until crisp-tender, about 6 min. Drain and place in ice bath. Drain again, dry in salad spinner.
Whisk shallot, mustard, zest, juice, garlic and 1 ½ tsp salt in a large bowl. Slowly whisk in the oil until incorporated. Toss dill and beans in dressing and let sit for 30 min (or up to 2 hrs), stirring occasionally. Stir in almonds. Season with salt and pepper.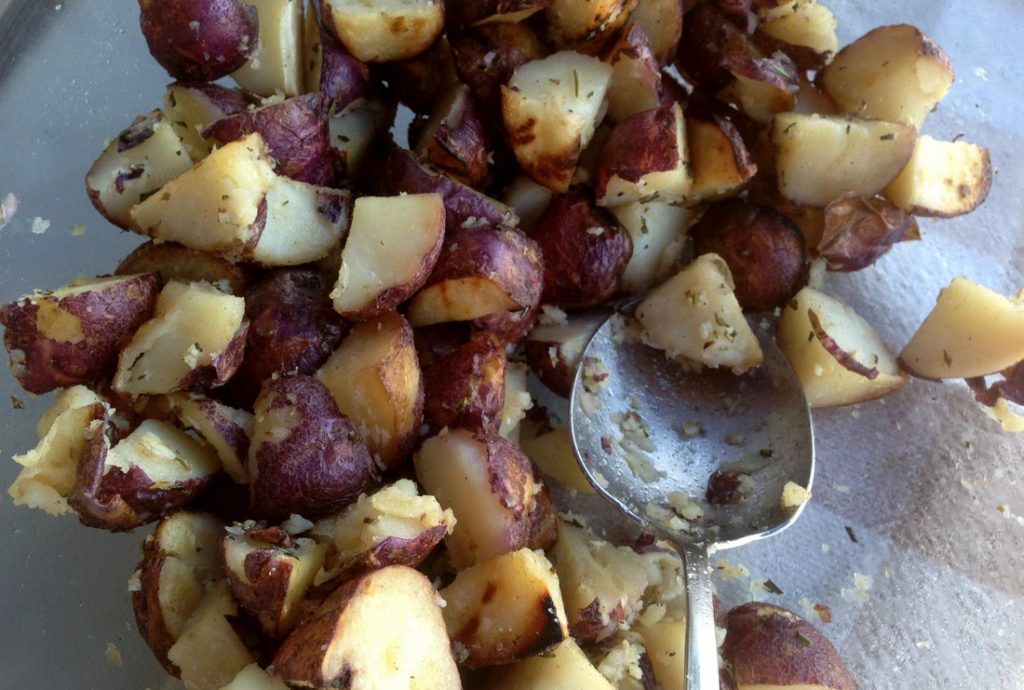 Grilled Potatoes with Garlic and Rosemary (for gas grill) (from Cook's Illustrated)
Serves 4
Ingredients
4 Tbsp olive oil
9 garlic cloves, minced (about 3 Tbsp)
1 tsp rosemary, chopped
Salt
2 lb red potatoes, small, scrubbed, halved and skewered (so flat sides are level with each other)
Pepper
2 Tbsp chives, chopped
Preheat grill to high for 15 min. Clean grill grate. Leave primary burner on high, reduce others to medium.
Heat olive oil, garlic, rosemary and ½ tsp salt in small skillet over med heat until sizzling, about 3 min. Reduce to med-low and cook until garlic is light blond, about 3 min. Pour mixture through a fine mesh strainer into a small bowl; press on solids. Measure 1 Tbsp solids and 1 Tbsp oil into large bowl and set aside. Discard remaining solids, but reserve oil.
Place skewered potatoes in single layer on large microwave-safe place and poke each with a skewer. Brush with 1 Tbsp oil and season liberally with salt. Microwave on high until potatoes offer slight resistance to knife, about 8 min, turning halfway. Transfer to baking sheet coated with 1 Tbsp oil. Brush with remaining oil and season with salt and pepper.
Place potatoes on the hotter side of the grill. Cook, turning once, until marks appear, about 4 mi. Move to cooler side and cook 5-8 min until knife slips in and out easily. Remove potatoes to bowl with reserved oil and solids. Add chives and toss.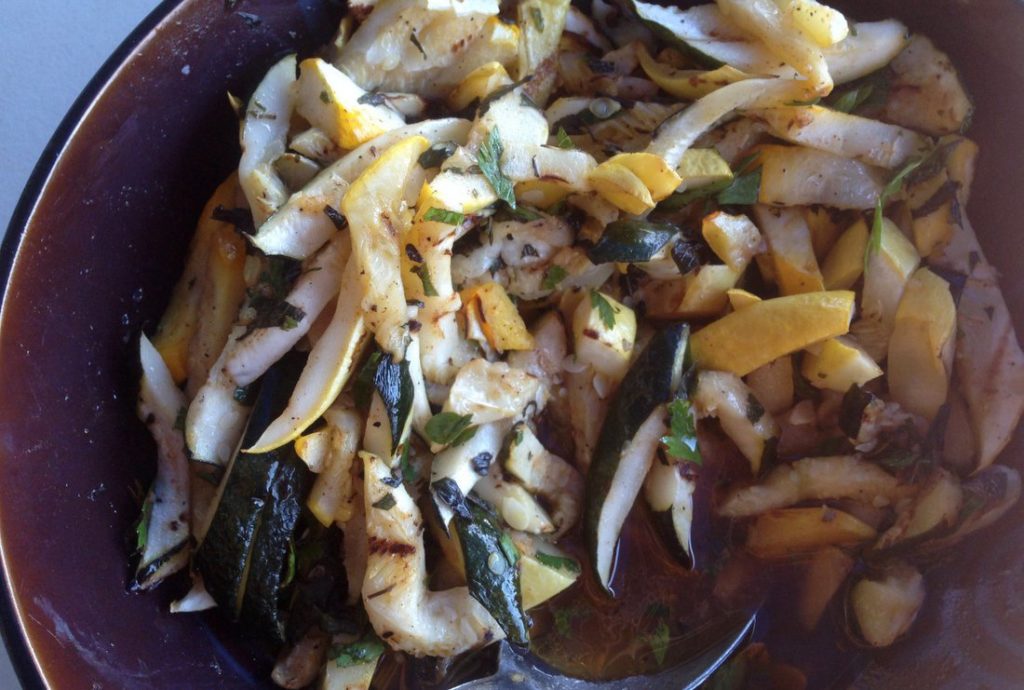 Grilled Zucchini Salad (from The Barbecue Bible)
Serves 4
Ingredients
1 lb zucchini (and/or yellow squash), scrubbed and trimmed
3 Tbsp extra-virgin olive oil
Salt and pepper
12 large mint leaves (or 1 tsp dried), minced
2 Tbsp parsley, minced
1 Tbsp lemon juice (or more to taste)
1 garlic clove, minced
½ tsp paprika
¼ tsp cumin
Preheat grill to high.
Cut zucchini into ¼" length-wise slices. Brush each with oil and season with salt and pepper.
Grill, turning until tender and well browned, about 8-10 min. Transfer to cutting board.
Cut each slice on bias into ¼" strips. Transfer to a bowl and stir in remaining 2 Tbsp and rest of ingredients. Season with salt, pepper and additional lemon juice. Should be highly seasoned.

Post and photos by Tricia Borneman, Blooming Glen farmer and co-owner.  Tricia and her husband Tom have been farming together since 2000. Blooming Glen Farm is celebrating its 11th season bringing high quality certified organic vegetables, herbs, fruits and cut flowers to our local community.