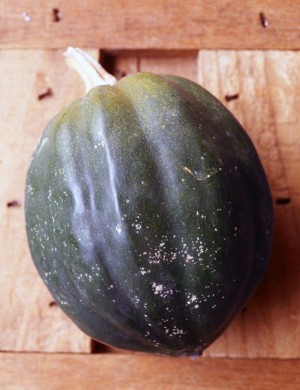 Autumn has arrived at Blooming Glen Farm, as noted most deliciously by the lovely winter squashes making an appearance in our shares over the last couple weeks. Autumn-time squashes, including acorn, kabocha, delicata, butternut, and sweet dumpling, are high in fiber, vitamin C, potassium and manganese (which helps or bodies absorb nutrients). They also provide vitamins A and B6, thiamin and magnesium (good for maintaining healthy blood pressure). All this nutrition is delivered in a sweet-tasting package that is low in calories, carbs and cholesterol!
The recipe below uses health-boosting acorn squash along with super grain, quinoa — which isn't really a grain at all, but a seed. Quinoa is known for its nutrient density; most notably, it offers plant-based, complete protein, meaning that it has all of the essential amino acids the human body needs. Cooked risotto-style with a generous helping of herbs de provence, the dish below makes a savory side, perfect for fall.
Herbed Acorn Squash & Quinoa Risotto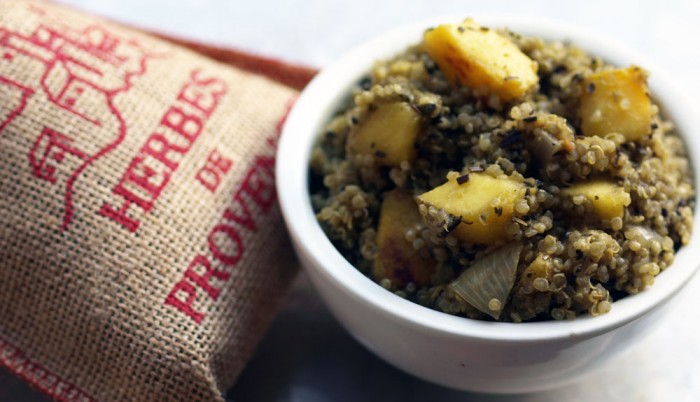 Ingredients
2 tbs Earth Balance, divided
salt
1 acorn squash
1+ cup chopped onion (I used 2 small onions from the share)
1-1/2 tbs herbs de provence
1 cup uncooked quinoa
4 cups No-Chicken broth (or sub veggie broth)
1/4 cup nutritional yeast, optional (or sub Parmesan cheese)
Method
Cut squash in half, lengthwise, and scoop out seeds and pulp with a spoon. Peel the skin off with a peeler and then cut squash into small cubes. Melt butter in a skillet over medium heat. Add squash in a single layer, sprinkle with salt, and let cook for 5 minutes. Stir squash and cook until tender, about 10 more minutes, stirring occasionally.
Meanwhile, melt remaining butter in a large skillet, and add onions and sauté until tender, about 3 minutes. Stir in herbs and cook for a minute. Stir in quinoa and cook 3 minutes. Turn up heat to medium-high and add 1-1/2 cup of the broth, bring to a simmer, stirring often, until the broth is absorbed. Add broth like this, 1/2-to-1 cup at a time, until the quinoa becomes creamy and the germs have burst. This should take about 20-25 minutes. Stir in nutritional yeast, and then gently stir in squash. Salt and pepper to taste.
Post and photos by Mikaela D. Martin: Blooming Glen CSA member since 2005, board-certified health counselor, and co-founder of Guidance for Growing, an integrative wellness practice in Souderton. Read more about healthy eating and living on her site, http://guidanceforgrowing.com!