01 Oct

Sweet & Savory: Warm Curried Millet Salad with Delicata Squash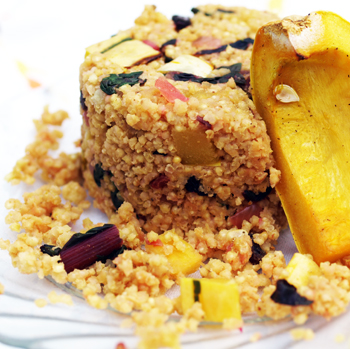 Don't let delicata squash's small size fool you! Each pint-sized veggie boasts loads of nutrition. Low in calories, carbs and fat, high in Vitamins A and C and containing both minerals calcium and iron, delicata is a health-promoting addition to anyone's diet.
Appropriately named for it's delicate weight and size, delicata is considered a winter squash, making an appearance in the cooler weather.  However, delicata is actually a member of the summer squash family, which includes gold and green zucchini, pattypan, and yellow crookneck varieties.  This is a great point to keep in mind when preparing delicata, as it cooks up more like its summer cousins; preparation and cook time is quick and the skin is also eaten.
Lucky for us, extra delicata with just a slight soft spot was for the taking on the Blooming Glen Farm sharing table this week. If you, like me, took advantage of the gift, you'll be able to put to use the tasty recipe below. In this warm dish, delicata's sweet potato flavor and beneficial nutrition is highlighted against the super-grain, millet.
Warm Curried Millet Salad with Delicata Squash


Heat oven to 425-degrees. Slice two small delicata squash in half lengthwise and spoon out seeds. Slice halves lengthwise again and place in a single layer, flesh side up, on a cookie sheet. Lightly spray with grapeseed oil and sprinkle with salt and pepper. Cook until soft and edges begin to brown, about 25 minutes. Remove from oven and let cool.  Note: Careful not to eat all these up before you can get them into the salad 😉
In a large pot, boil 3 cups of water and 1 1/2 cups of millet. Cover, reduce to a simmer and cook until done, about 20 minutes. Remove from heat and fluff with a fork.
In a small bowl, whisk together 1/3 cup lemon juice, 3 tablespoons curry powder, 2 tablespoons tamari and 1 tablespoon ginger powder or freshly minced ginger.
A few minutes before the squash and millet are done, sauté 2 cups of thinly shredded or chopped Swiss chard and 1/4 cup chopped onion.
Dice squash and add to millet along with chard-onion mixture and 1/4 cup raisins. Combine ingredients while stirring in sauce. Serve hot.
This makes a satisfying main dish; try serving with grilled veggies, curried tofu or a bit of curried chicken.  As a side, a smaller portion goes great with a couple slices of smoky grilled tempeh and steamed broccoli.
Post and photo by Mikaela D. Martin: Blooming Glen CSA member since 2005, board-certified health counselor, and co-founder and -owner of Guidance for Growing, an integrative wellness practice in Souderton. Read more about healthy eating and living on her site, http://guidanceforgrowing.com!