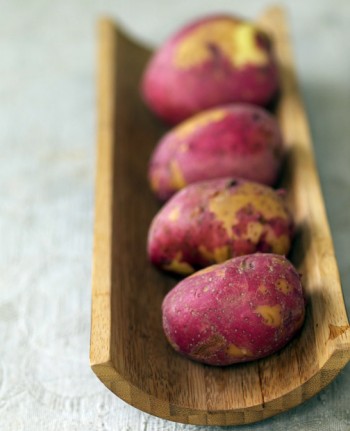 This versatile summer salad is not only packed with flavor & nutrition, but also uses several recent share ingredients.  We've talked about the healthy stuff in potatoes & Swiss chard here before; combining them with lentils, a good source of both plant-based protein & iron, allows this salad to stand in as a hearty side or a main dish.  Roasting the potatoes & chard brings a smokey flavor & unique texture that contrasts perfectly with the raw ingredients. Note: this is a good time to roast some other veggies (beets & kohlrabi, fennel, peppers, eggplant, turnips, etc.) while you have the oven on!
Try serving this salad on top a bed of chopped spring greens, with a side of grilled string beans & your favorite protein, or topped with a fried farm-fresh egg.
Roasted Potato & Chard Salad with Lentils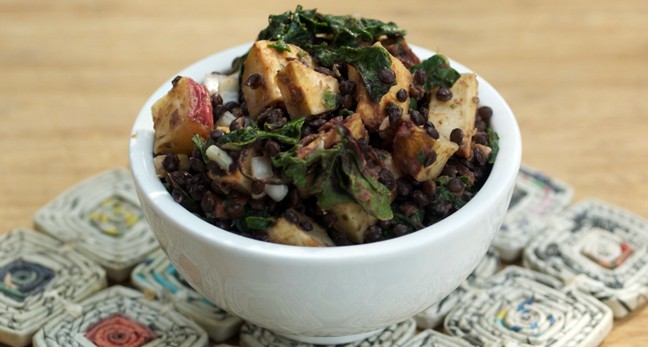 Ingredients
1 cup black, green or brown lentils (black pictured)
6 potatoes (~1-1/2 lb), cut into cubes
3+ cups Swiss chard, roughly chopped
Salt & pepper
Grapeseed or other high-heat cooking oil
3 spring onion bulbs (~1/3 cup), finely diced
1 fennel bulb (~1/3 cup), finely diced — or try celery
1-2 clove green (or other) garlic, minced
3 TBS lemon juice
2 TBS Dijon mustard
1 TBS olive oil
1/2 cup fresh herbs, finely chopped (optional)
Method
Preheat oven to 400-degrees.
In a medium pan, bring lentils, water, and ~1/2 teaspoon salt to boil. Simmer the lentils until tender, ~20 minutes. Drain and put aside
Meanwhile, toss potatoes with a little grapeseed oil & a sprinkle of salt & pepper, then place on a single layer on a cookie sheet. Roast until tender & lightly browned, ~20 minutes. Repeat with Swiss chard, roast until wilted & drying, but not crispy, ~10 mins.
In a large bowl, combine the onion, fennel or celery, garlic & lemon juice, then allow to sit for a few minutes. Whisk in mustard & olive oil. Season to taste with salt & pepper.
Add lentils, potatoes & herbs to the bowl & toss to combine. Serve warm or chill until ready to serve.

Post and photos by Mikaela D. Martin: Blooming Glen CSA member since 2005, board-certified health counselor, and co-founder of Guidance for Growing, an integrative wellness practice in Souderton. Read more about healthy eating and living on her site, http://guidanceforgrowing.com!