09 Jul

Falafel Style Beet Patties

I've been making a beet burger recipe that was given to me by a farmer friend from Wisconsin for a few years now.  At first, I was pretty excited about it and looked forward to beet season just so that I could make the recipe again. But, after making it so many times it needed some new life. A kitchen experiment was in order. So, I decided to use the same general recipe for the burgers and pair them with some new flavors. I exchanged the bun and cheddar cheese for pita and feta crumbles.  The result was just was I was looking for: something refreshingly tasty, yet wholesome at the same time! If you like falafel as much as I do, this recipe is worth a try. It's just a twist on more traditional Mediterranean meal.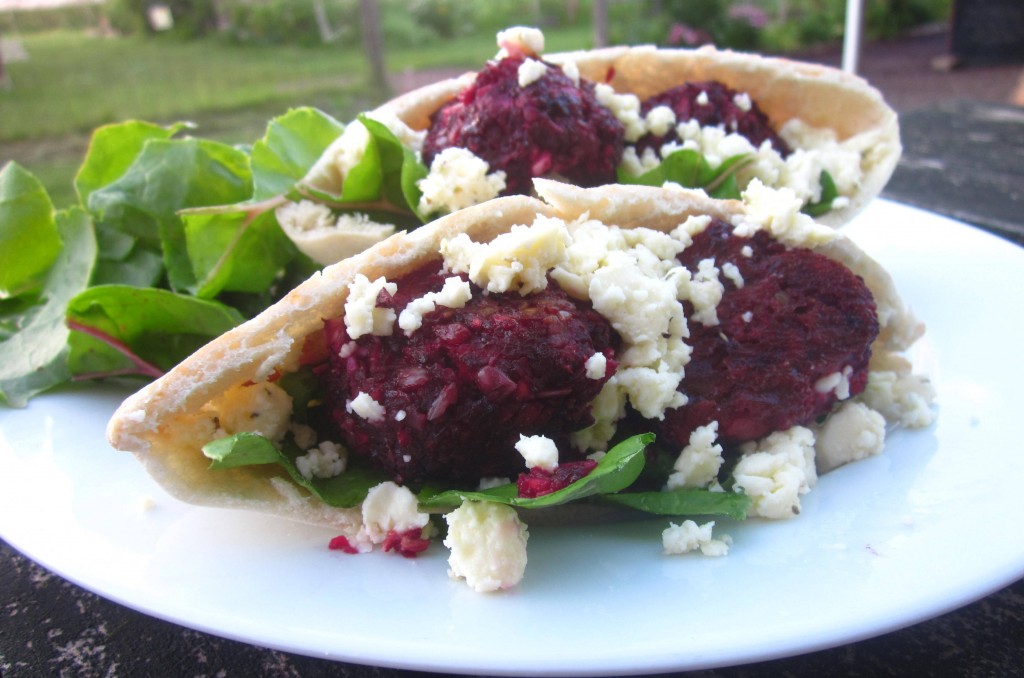 Falafel Style Beet patties
4 medium size beets, peeled and quartered
3-4 medium carrots, chunked
1 large sweet spring onion, sliced
¼ cup sunflower seeds
2 Tablespoons all-purpose flour
2 medium eggs
1 Tablespoon olive oil
1 teaspoon salt
½ teaspoon black pepper
Preheat oven to 350 degrees. Combine the beets, carrots, onion, sunflower seeds and flour in a food processor and chop until a finely diced mixture is created. (If you don't have a food processor you can finely grate the vegetable components straight into a bowl.)  Transfer mixture to a medium sized bowl and add eggs and salt and pepper. Mix thoroughly in order to coat vegetables in egg.
Next, use your hands to create golf ball sized rounds of the mixture, making sure to squeeze out the extra moisture as you go. You can squeeze it over the bowl or directly into the sink. (Be aware: your hands will take on a bright magenta color during this process, but it does eventually wash off!) Place the rounds on an ungreased baking sheet and bake for about 20 minutes or until tops become deep red in color.
For extra crispy beet patties, transfer the rounds into a warm skillet with 2 Tablespoons of olive oil for about 5 minutes, flipping once. You can skip this step if you prefer to just bake them. Serve patties with pita, swiss chard or lettuce, and feta. For more flavor you can add a sauce of ½ a diced cucumber, 3 sprigs of finely chopped dill, and 2 Tablespoons of yogurt. This recipe serves 4-5 people.
If you're completely new to beet burgers, feel free to use the recipe for its original purpose by making the mixture into patties instead of balls. And, you can add shredded cheddar cheese (about ½ cup) right into the mixture to give it an even richer burger flavor. I would serve them on wheat buns with your favorite burger toppings.
Photos and recipe by Blooming Glen Farm apprentice Rebecca Metcalf.