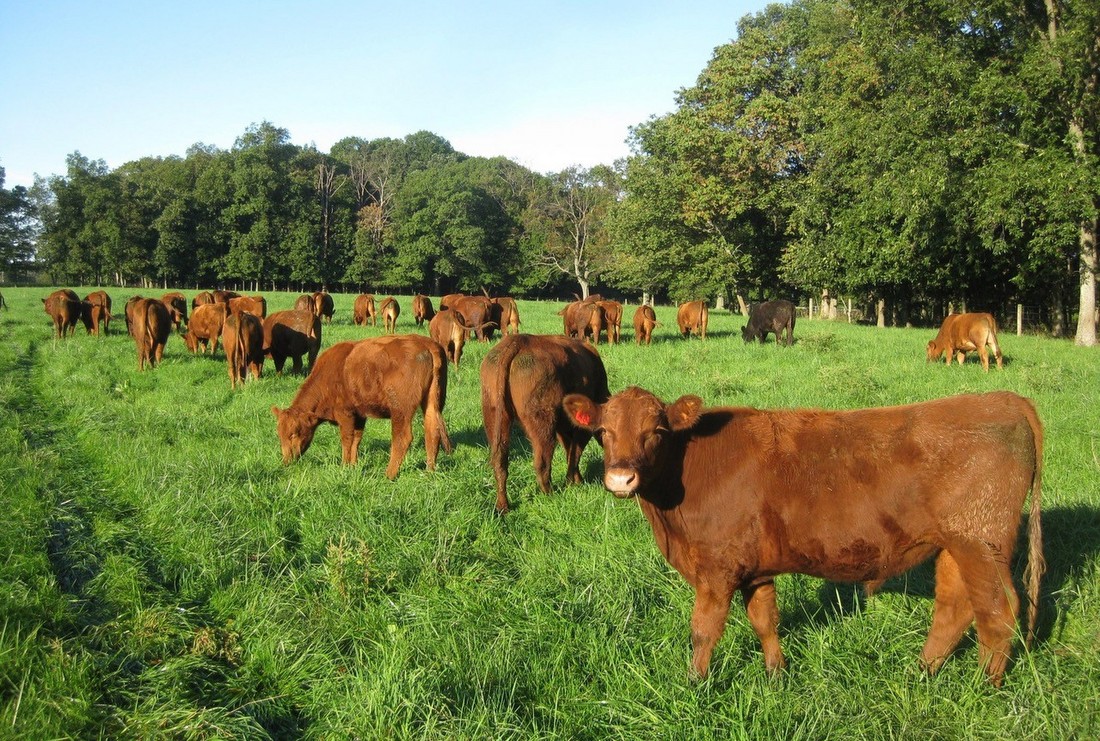 Picturesque vistas that are becoming more and more rare in Bucks County greet us each morning at Blooming Glen Farm. We owe much of the agricultural beauty and open space in and around the town of Blooming Glen to the conservation efforts of the Rosenberger family. The surrounding bucolic pasture land, totaling more than 550 acres, is owned and farmed by our neighbors, and landlords, at Tussock Sedge Farm. On this beautiful preserved pasture land, they raise their own 100% grass-fed and pastured Red Angus beef cattle that are never fed grain, growth hormones, or antibiotics.  They share with us a commitment to organic practices: their pastures and hay fields are never sprayed with pesticides or herbicides.
The pastures are kept lush and green because the cows are moved to fresh pasture daily, utilizing rotational grazing techniques that mimic the migratory habits of herd animals in nature.  Tussock Sedge Farm prides themselves on the love and stewardship of the land, treating animals with respect, and raising exceptional grass-fed beef with beautiful marbling and amazing flavor.  They use a low volume, high quality, certified humane butcher who dry ages their beef for 10-12 days, then cuts, vacuum packs, and flash freezes each cut separately for freshness. Their beef is sold to local restaurants in Bucks County, in their Farm Store at 1239 Rte 113, Blooming Glen, PA and now, through a convenient online store, with delivery to Blooming Glen Farm CSA.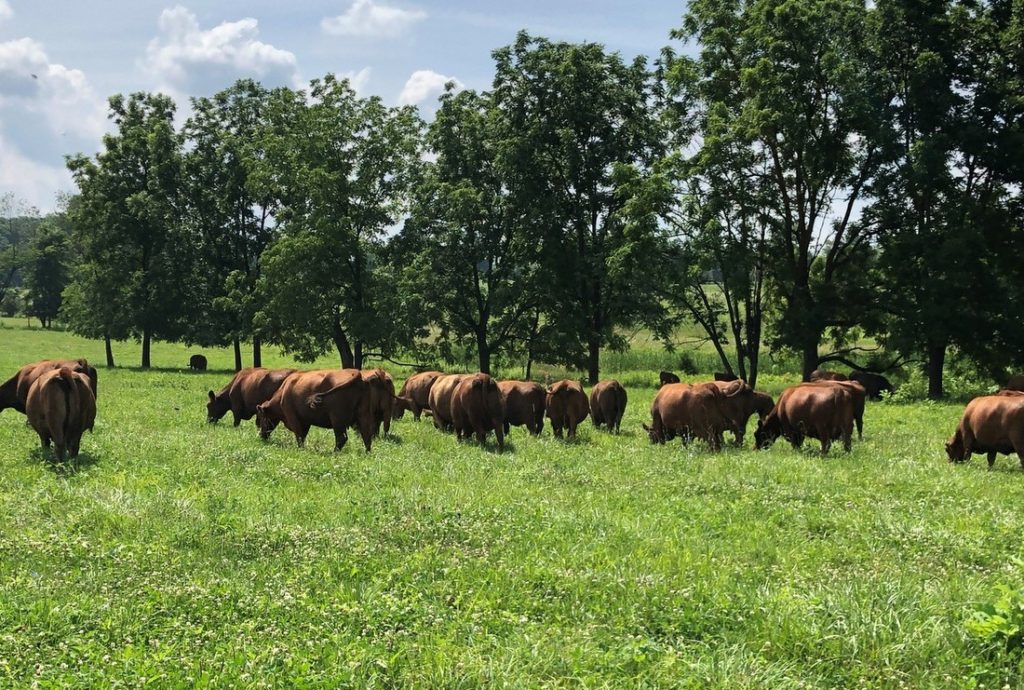 We are excited to offer our CSA members the convenience of pre-ordering Tussock Sedge Farm's beef from their online store, for pick-up from an on-site chest freezer at Blooming Glen Farm. Just visit their online store using the following link:  https://squareup.com/store/blooming-glen-farm-csa
***Please write your designated CSA pick up day in the "Notes to Merchant" field at checkout.  For deliveries on Tuesday, orders should be placed by 9am Monday morning.  For Thursday delivers, all orders should be placed by 9am Wednesday morning.***
Thank you for your support of our local foodshed, and of Tussock Sedge Farm! Read on to learn more!
What is the history of Tussock Sedge Farm?
Tussock Sedge Farm was started by Henry and Charlotte Rosenberger, nearly 30 years ago, who dreamed of creating a sustainable farm that restored and improved the local ecology. In addition to preserving land from future development, planting thousands of trees and shrubs, and creating permanent wetlands for various wildlife, they introduced 100% grass-fed Red Angus cattle, using rotational grazing and homeopathic veterinary care as the basis for how the farm operates. Over time the farm has grown to more than 550 acres. They've also focused on supporting other farmers in our area, including providing a long term land lease for Tom Murtha and Tricia Borneman at Blooming Glen Farm, helping ensure that the local community has access to high quality, nutritionally dense foods for years to come.
Who makes up the Tussock Sedge Farm crew?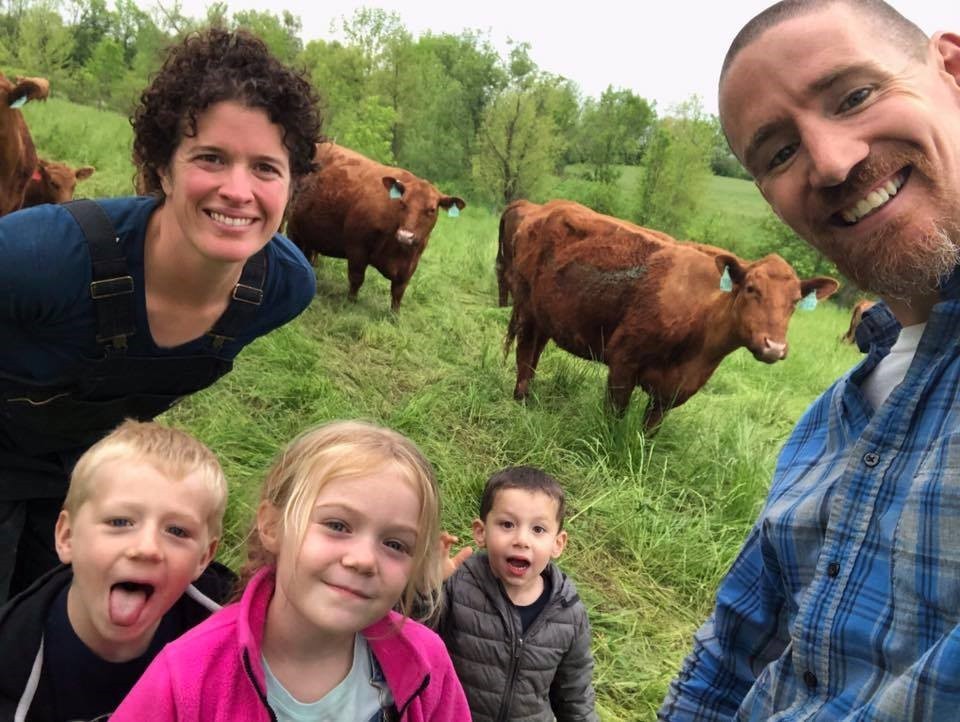 Henry and Charlotte's youngest daughter Tonya, along with husband Sean (seen above), run much of the day to day farm operations, splitting time between work in the field, mechanical repairs, running the farm store, and various sales, administrative, and marketing tasks. In their former lives, Tonya was an emergency room and hospice nurse while Sean spent years in the Information Technology field doing project management and website/user interface design. Their three children ages 6, 5, and 2 (with a fourth on the way)…follow closely behind on any given day, providing valuable "help" in only the way that young children can. They live on the farm and can usually be seen driving along Rte. 113 in their 6 seat John Deere Gator.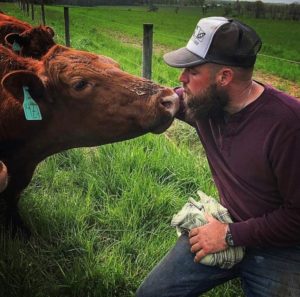 The only other full time employee, Field Manager Gray Blair (pictured at right), works tirelessly from sunrise to sunset, ensuring that everything happens as it should – whether it's moving each herd to new pasture everyday, caring for newly born calves, repairing fence lines and irrigation systems, or "making hay when the sun shines". Gray and his family also live on the farm and plan to remain here for many years to come.
Additional farm assistance is provided by Sarma Kalnins, whose love for animals is matched only by her incredible work ethic. When she's not doing normal farm chores, she can often be found scratching the head of a cow or trimming grass and weeds from our electric fences.
Henry and Charlotte are still integral to the business, with Charlotte performing administrative work and Henry operating equipment nearly everyday. This farm isn't just their dream, it's their passion and legacy. Their generosity is exceeded by their commitment to doing all they can to leave our local community better than they found it. Without their foresight, moral support, and guidance, none of this would be possible.
What is your overall approach to the farm?
Our approach is simple….nurture the animals and land while treating it all with the utmost respect. Cows are ruminants by design and should never be fed grain. Routine antibiotics and hormones have no place on our farm, just as chemically toxic pesticides, herbicides, and insecticides are never used. We utilize a small scale, humane certified butcher who focuses on quality over quantity. Beef is dry aged to both reduce water weight and develop incredible flavor, prior to being vacuum packed and flash frozen to preserve the freshness.
Where do you see Tussock Sedge Farm in the future?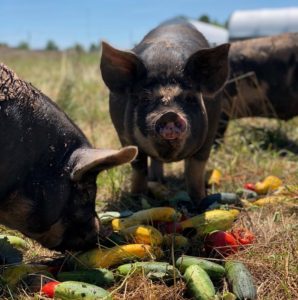 Future plans for the farm include additional pastured livestock that enhance the land. Pastured pigs have already been introduced with pork just now becoming available in the farm store for the first time ever. Pastured poultry including chickens, ducks, and turkeys are a future goal. Goats and sheep might also round out the equation as well as many different family friendly farm events….maybe hayrides, pumpkin patches, or a corn maze. Follow along with the journey….you never know what might happen next!
How can the public purchase from you?
The farm store, located at 1239 Rte 113, Blooming Glen, PA, is open Thursdays from 1-4 pm and Saturdays from 10 am-3 pm. If those times aren't convenient, email/text/call the farm and someone would be happy to meet you at the store when your schedule allows. To make it easier, we could even pack an order ahead of time for you.
I am a CSA member at Blooming Glen Farm. How can I conveniently purchase Tussock Sedge Farm products?
Please visit our online store using the following link.  https://squareup.com/store/blooming-glen-farm-csa 
Tussock Sedge Farm will deliver all orders to an on-site chest freezer at Blooming Glen Farm.  Please write your designated CSA pick up day in the "Notes to Merchant" field at checkout.  For deliveries on Tuesday, orders should be placed by 9am Monday morning.  For Thursday delivers, all orders should be placed by 9am Wednesday morning.
I have more questions!
If you have a question about Tussock Sedge Farm's practices, please write tussocksedgefarm@gmail.com, call/text #267-450-4024, or stop in to chat. We welcome hearing from you and would enjoy meeting you.  Follow us on Facebook and Instagram to hear about the latest farm news and notice of sales within our Farm Store. Thanks for supporting our family farm! ~The Rosenberger-Ryan Family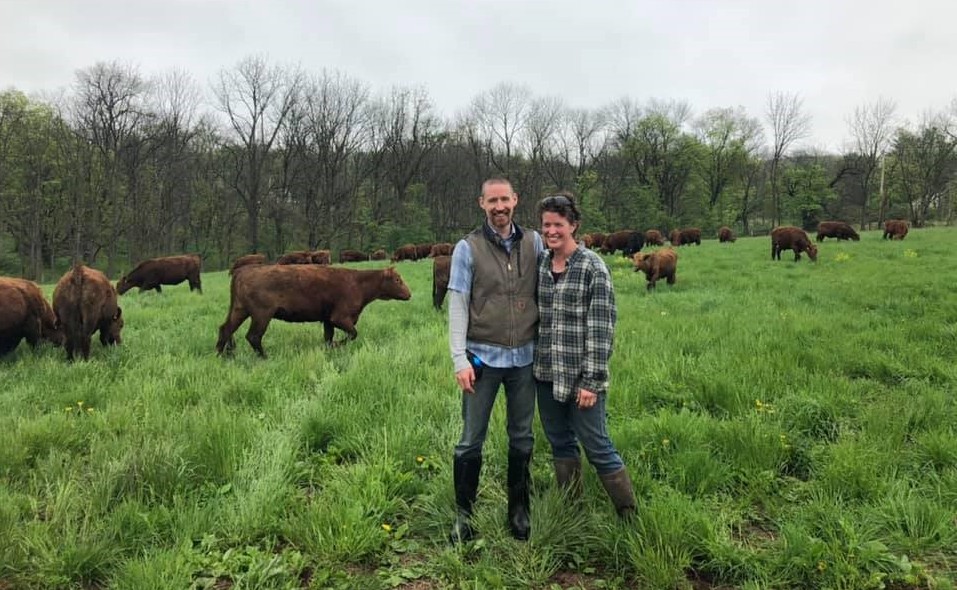 Post by Tricia Borneman, Blooming Glen farmer and co-owner. Photos provided by Tussock Sedge Farm. Tricia and her husband Tom have been farming together since 2000. Blooming Glen Farm is celebrating its 14th season bringing high quality certified organic vegetables, herbs, fruits and cut flowers to our local community.