25 Jan

The cost of an uninterrupted harvest

Enjoy this article by Brian Melito, MD, the fourth in a series of articles written by Blooming Glen Farm CSA members.

I wonder sometimes about my notions about food. Like my thought that eating according to the seasons might be a good idea. That being a good locavore, eating what the land provides, is a healthy and responsible way to live. That was easy in August, but this aint August. Our ancestors, the real locavores, were given little choice in that regard. No Giant or Landis or Whole Foods to go running to when the pantry was looking thin. For them, I imagine, a lot of energy was expended in planning and preparing for the long, harsh time between one harvest and the next.

That's it, the harvest. No wonder the harvest was given such reverence- it was the sole, fragile link to the next season of plenty, the narrow bridge over a long, cold, deadly sea of time. Our pursuit of food in the U.S. today, by comparison, more resembles sport or hobby- no apparent life or death issues in the mix. We have been blessed with the privilege of choice, the almost unimaginable condition of constant, uninterrupted harvest, 24/7, 365 days a year. This is a great thing, right?

I wonder about the cost of all of this, assuming there might be some cost. So, I go to the internet, that infinite repository of unsubstantiated information, and look at some numbers. I can't relate to them…

"Americans throw away 200,000 tons of edible food away every day." Hmmm, and it says an elephant weighs 6 tons, so that's 33,333 elephants a day… nope, can't really picture that. Let's try something else.

"Americans eat 815 billion calories of food per day." Yikes. Now I'm starting to feel a little bloated. Ok, so forget the internet…

Want a real picture of what it was like long ago? Spend a few hours in an old cemetery, and study the fading headstones. The difference between the old part of the cemetery and the new? Children. Lots and lots of them buried in the old part. Make it to age 5, you were good to go for about the same number of years as anyone living today. But those first few years of life- that's when a weak harvest or a harsh winter were especially cruel. So that's what our society set about to fix.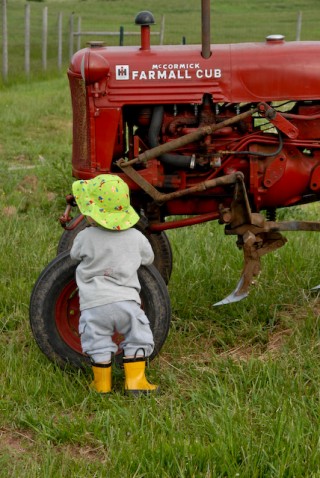 Now fast forward to today: every one of the over 30,000 items in the average supermarket has a pedigree that dates back to times when saving children was of primary importance to the survival of the community. Finding ways to make food available long after the harvest was the goal. Even the packages of chocolate coated, sugar infused, color enhanced, chemically stabilized kid food ("food" used very liberally here) had their origins in a very real and useful purpose: saving our children. Did I hear someone say "oops"?
Did we, maybe, swing the needle a little too far?
All right, give the internet another shot:
30% of American children are obese. In 1980, that number was 7%.
The latest data indicates that our children's life expectancy is now lower for the first time in many generations. Lower than yours, lower than mine.
Did I hear another "oops"?
Written by Brian Melito MD, Blooming Glen Farm CSA member since 2006 and a gardener since the 1960s.