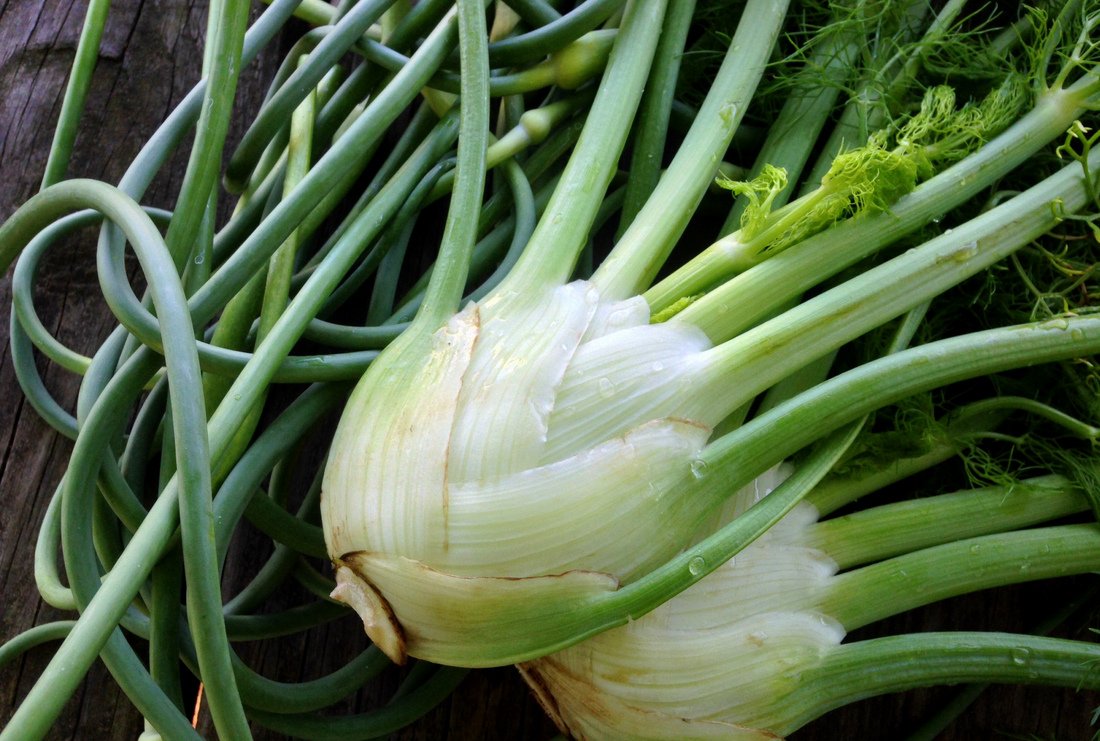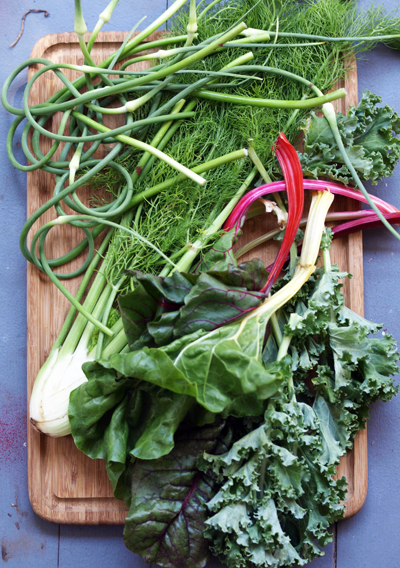 Greens are probably the best food to add to our diets to improve nutrition. They provide cancer-fighting vitamins & minerals, the fiber we need for heart & digestive health, & assistance to our body's detoxification processes. They're also really easy to add to our meals; a great way to start is by simply adding a handful of chopped up greens to whatever you're cooking — sauces, salads, soups, stir-fries, casseroles, just about everything! Another great strategy for getting more greens into our diets is to keep a green side on-hand; make the recipe below to serve with your meals throughout the week!
This recipe also makes use of two super flavorful ingredients that we've been finding on our shares lately, garlic scapes & fennel. Scapes have been called a "vegetable, aromatic & even herb all in one," & I would also put fennel in that unique (& delicious) category.  Both fennel & scapes also give us a nutritional boost with fiber, antioxidants, & phytonutrients.
Add your favorite plant-based protein to make the this dish heartier & more complete — chickpeas, seitan, or quinoa would be tasty.  You can also enjoy this recipe hot or cold.  Eat immediately after preparing as a hot side dish, or let cool & use as an ingredient in a whole grain wrap or mixed into a green salad.
Sautéed Greens with Scapes & Fennel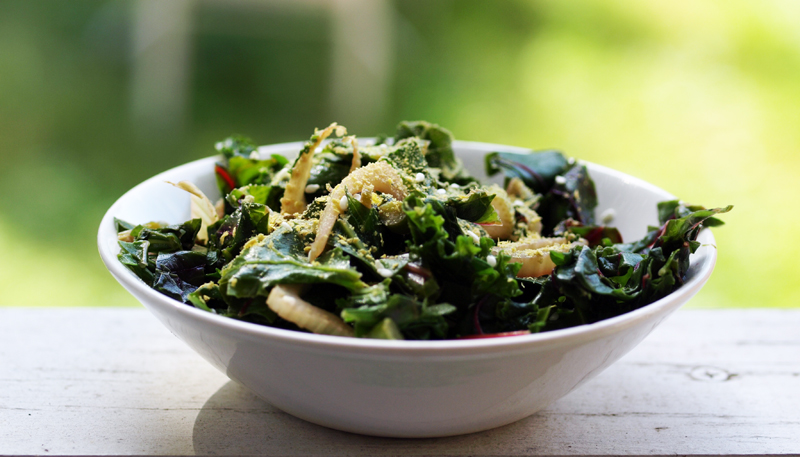 Ingredients
1 tbs cooking oil
5 garlic scapes, sliced
1 fennel bulb & stems, sliced up to fronds
1/2-cup white wine or broth
6-8 cups kale, chard, &/or collards, stripped from stems & chopped
1 tbs red wine or balsamic vinegar
Nutritional yeast or Parmesan cheese, & sesame seeds (optional)
Instructions
Heat oil, scapes, & fennel in skillet until veggies are tender, about 3-5 minutes. Add wine or broth & stir in greens until coated evenly. Allow greens to reduce about 5-7 minutes, stirring often & adding additional wine or broth if needed. Remove pan from heat & toss with vinegar. Serve with optional toppings.
Post & photos by Mikaela D. Martin: Blooming Glen CSA member since 2005, health counselor, & co-founder of Guidance for Growing, an integrative wellness practice in Souderton. Read more about healthy eating & living on her site, http://guidanceforgrowing.com