23 Jun

Roasted Beets & Kohlrabi with Fennel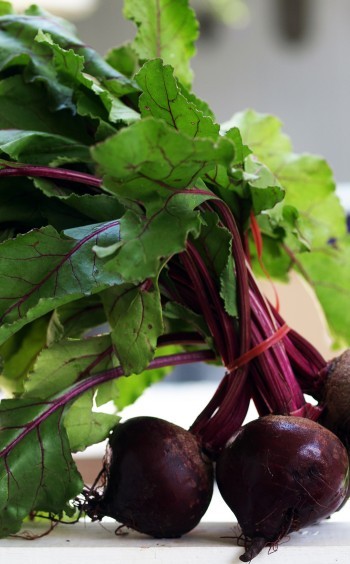 Beets are a staple veggie at the farm, making an appearance both at the beginning & end of the season each year. Like many root vegetables, beets have lots of vitamins & minerals, including those that help grow red blood cells (folate) & those that that help build sturdy & strong bones (manganese). Also like many root vegetables, much of the nutrition in beets lives in or near the skin, so skip the peeler & simply scrub them clean before eating.
Enjoy beets raw & cooked: Use slices of raw beets in a veggie dip or hummus, or dice them up small & add them to a green, grain or pasta salad. Use a grater to shred raw beets for slaws or to use in breads, muffins & even cookies! Of course, the sweetest way to eat beets is by roasting them. The simple recipe below combines beets with another CSA staple, kohlrabi. You can serve this dish as is, or use it as a base for a more hearty meal:
Serve chilled & topped with cooked quinoa & plain yogurt (pictured below)
Mix in chickpeas or black soy beans
Use as a pita filling with hummus
Top with plain yogurt or sour cream & minced chives
Serve on top of a chopped green salad
Combine with a cooked whole grain (brown rice, bulgur, farro, etc.)
Top with sunflower or sesame seeds
Roasted Beets & Kohlrabi with Fennel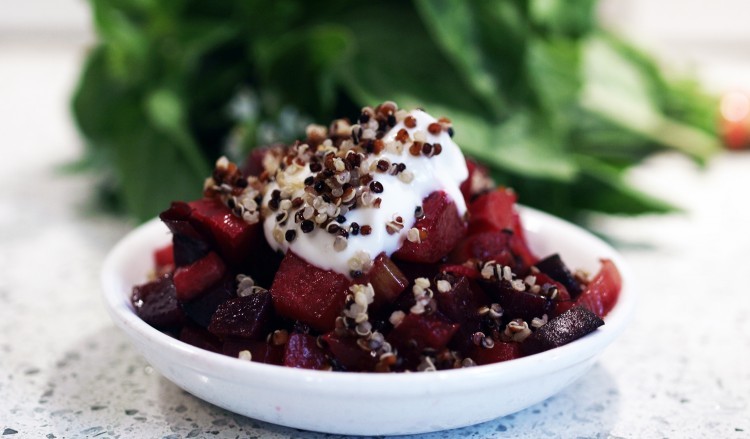 Ingredients
8 beets
8 kohlrabi
3 fennel
1-1/2 tablespoons grapeseed or other high-heat cooking oil
salt & pepper

Method
Preheat oven to 400-degrees. Trim tops off beets, scrub clean & dice. Trim, peel & dice kohlrabi. Slice fennel bulbs & stems, up to fronds. Toss beets, kohlrabi & fennel with a bit of grapeseed oil, salt & pepper.
Place vegetables in a baking dish, cover & bake for 25 minutes. Sprinkle with a little more salt & pepper, stir, recover & return to the oven. Bake until just tender, about 20 more minutes.

Post and photos by Mikaela D. Martin: Blooming Glen CSA member since 2005, board-certified health counselor, and co-founder of Guidance for Growing, an integrative wellness practice in Souderton. Read more about healthy eating and living on her site, http://guidanceforgrowing.com!