Are beautiful and bountiful sweet peppers taking over your fridge?  It won't be long before they are a distant memory. Use the tips below to put them to good use now, and to preserve some of their summer flavor to enjoy during the upcoming fall and winter months.  Bonus:  Most of these tips and ideas will also work poblanos as well.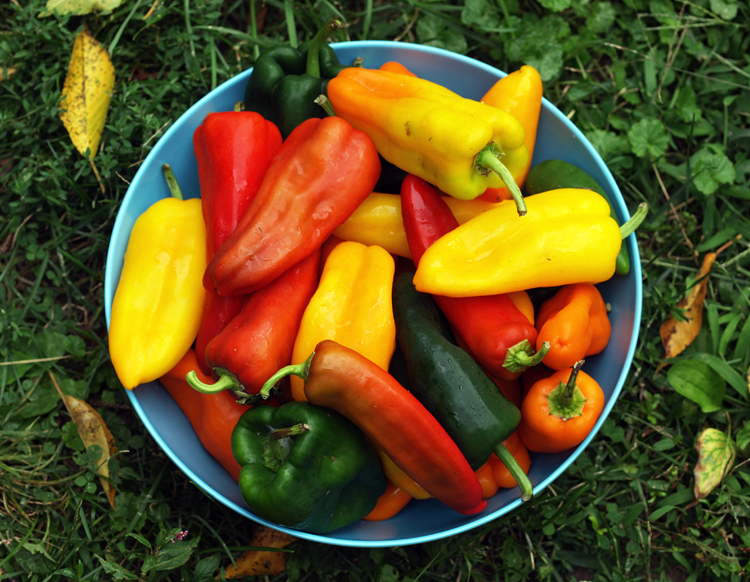 Rockin' raw peppers:  There's nothing like the just-picked taste of farm-fresh peppers (and raw veggies have a special nutritional profile), but eating a side of sliced peppers at every meal can certainly get a little boring.  Try mixing it up by using peppers as the base for a veggie salad; this Summer Pepper Salad also takes advantage of the season's cucumbers, while this one uses tomatoes.  Slice peppers thinly to add to wraps and sandwiches, or dice them up small for pasta and grain salads.  Gazpacho is a classic summer dish that you can always add extra peppers to.  You can also use raw peppers as the base for other cold soups, dips and dressings.
Peppers as a vessel:  Slice peppers in half, remove ribs and seeds, and then lightly steam or roast.  You can now use the pepper halves as a vessel in which to stuff all kinds of yummy eats.  We've posted a few stuffed pepper recipes here on the blog, including Freekah Stuffed Peppers, Poblanos and Mexican-style Quinoa and Green Pepper Dolmas.  I also love using eggs as part of a stuffing; this Baked Eggs in a Bell Pepper and Breakfast Stuffed Peppers use a whole egg cracked into pepper halves, while this Broccoli Quiche in Colorful Peppers uses an egg mixture.  Get creative with your stuffing fixins' — just about any veggie, meat, grain or bean combination will work, so the possibilities are near endless!
Preserving peppers:  The no-fuss method to preserving peppers is to simply slice them into spears, place them on a cookie sheet in a single layer and place in the freezer until they're frozen solid, and then transfer them to an airtight, freezer-safe container.  You can then use them in stir-fries, soups, sauces and other dishes.  Roasted peppers also freeze very well, holding their flavor and texture quite nicely; check out this method for roasting and freezing.  Roasted red peppers can be used on their own, or as an ingredient for soup, hummus, sauce, and pasta dishes.  And, of course, you can always make like Peter and pickle those peppers! 🙂

Post and photos by Mikaela D. Martin: Blooming Glen CSA member since 2005, board-certified health counselor, and co-founder of Guidance for Growing, an integrative wellness practice in Souderton. Read more about healthy eating and living on her site, http://guidanceforgrowing.com!