20 Aug

Asian Bulgur & Edamame Salad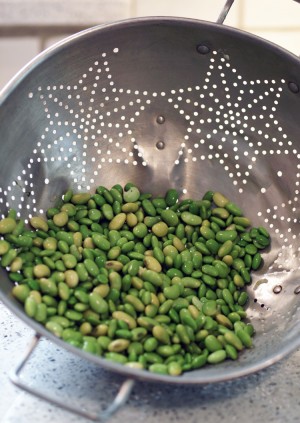 Fresh edamame is one of the unique foods us CSA members are lucky enough to receive each season, but what exactly is it and what the heck should we do with it? Edamame is simply an immature soybean, picked before it hardens on its branch. When it comes to soy foods, consuming them as close to their natural state as possible is a great rule of thumb. Edamame fits that bill perfectly, making it a fantastic addition to our meals.
As far as nutrition, edamame is considered by most as a "superfood," chock full of health-boosting properties: It's a good source of fiber, protein, thiamin, iron, magnesium, phosphorus and copper, and a very good source of vitamin K, folate and manganese. Hard to believe all that nutrition is in such a little, baby bean!
Although edamame has been included for thousands of years in Asian diets, it's relatively new to the American diet. The recipe below used an Asian-inspired dressing and healthy whole grains along with several CSA ingredients.
Ingredients
1 cup bulgur (use quinoa for gluten-free version)
1 bunch of edamame, shelled* (~1 cup)
1 sweet pepper, small diced (~1/2 cup)
1 poblano pepper, small diced (~1/2 cup)
1/4 cup shallots, minced (scallions would also be good here)
Dressing
1/4 cup rice-wine vinegar
1 tbs tamari
1 tbs sesame oil
1 tsp powdered ginger (or, use fresh if you have it)
2 tbs sweet chili sauce
1 tsp agave (optional)
cilantro for garnish (optional)
* Edamame is much easier to shell after cooking. Add beans to a pot of boiling water and blanch 4-5 minutes. Drain and immediately put pods in ice water. When cool enough to handle, simply squeeze the pod until the beans pop out.
Method
Bring bulgur to boil in 2 cups of water, reduce to simmer, cover and cook 12-15 minutes, until water is absorbed.
Add edamame, peppers and shallots to a large bowl. Add cooked bulgur and stir to combine.
Whisk together dressing ingredients, and pour over the salad mixture, stirring well to combine. Taste and adjust dressing seasonings, adding a bit of sweetener, if needed.
Let cool and serve garnished with cilantro.
Post sources and recommended links:
Edamame's nutritional profile on Nutrition Data.
Soy beans on World's Healthiest Foods.
12 easy edamame recipes on Eating Well.
Post and photos by Mikaela D. Martin: Blooming Glen CSA member since 2005, board-certified health counselor, and co-founder of Guidance for Growing, an integrative wellness practice in Souderton. Read more about healthy eating and living on her site, http://guidanceforgrowing.com!