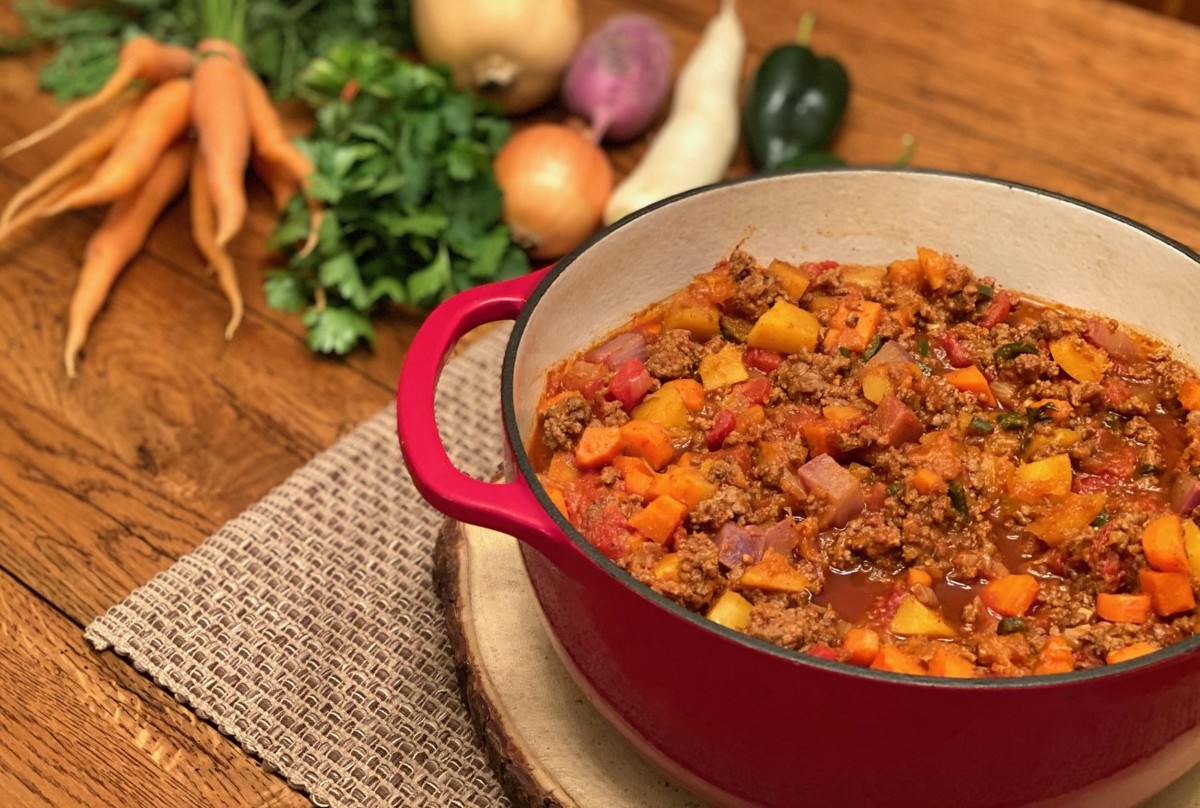 Fall is definitely in full swing as we begin the month of November.  The temperatures have dropped, the air is crisp, and the colorful leaves are blanketing the ground.  This week's share is full of amazing autumn vegetables that can be combined to create a delicious fall-themed chili.   This chili blends the flavors of butternut squash, carrots, onions, radishes, cilantro, and hot peppers from our shares.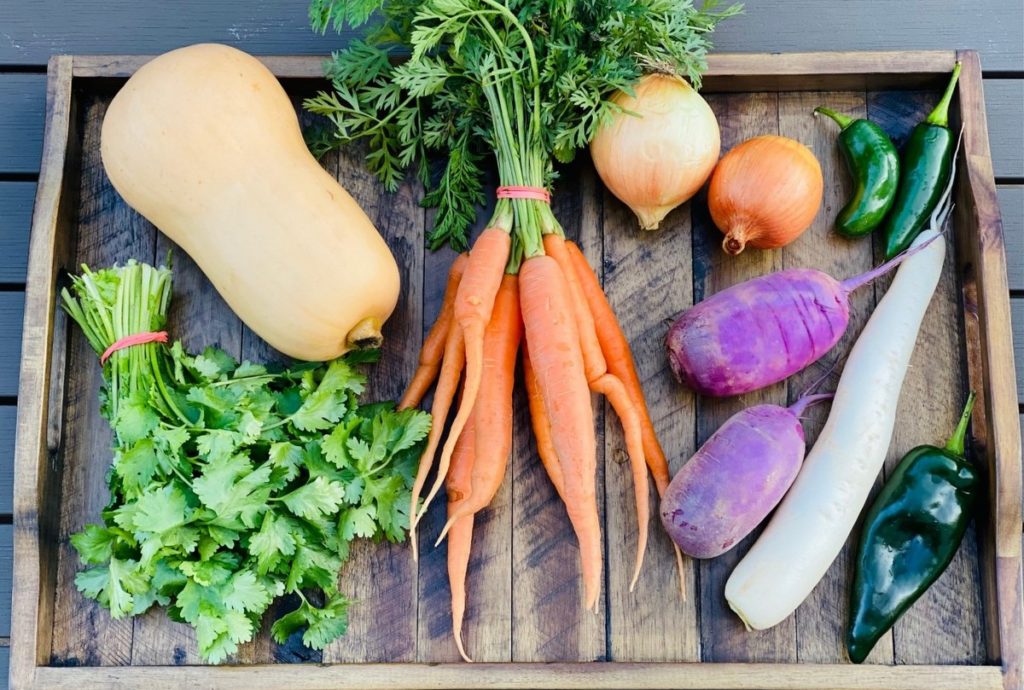 Ingredients:
2 Tbsp olive oil or avocado oil
1 medium yellow onion, chopped
2 cloves garlic, finely chopped
1 lb ground beef
1 cup carrots, diced
2 cups butternut squash, diced
½ poblano pepper, seeds removed and finely chopped*
1 cup daikon radish (white or purple), diced
1 Tbsp fresh cilantro, finely chopped
15 oz diced tomatoes
8 oz tomato sauce
½ tsp sea salt
¼ tsp black pepper
1 tsp cumin
1 Tbsp chili powder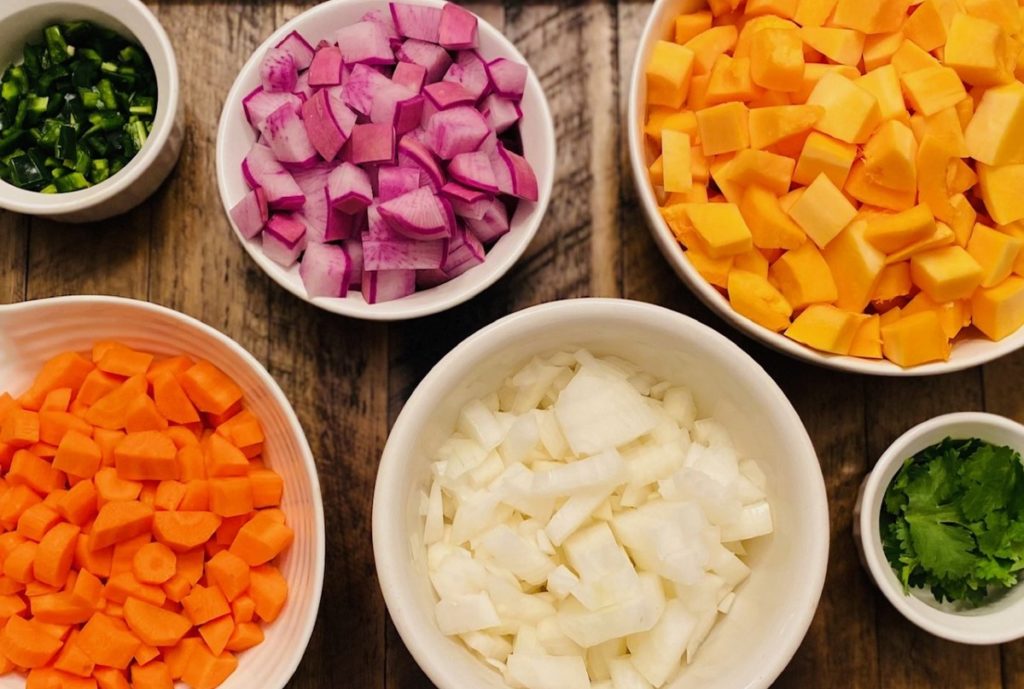 Heat oil in Dutch oven or large saucepan.
Add onions and cook for 5 minutes on medium heat. Stir frequently.
Add garlic and ground beef. Cook for 7-8 minutes or until beef is cooked through.  Stir well throughout cooking time, breaking up the beef as it cooks.
Add carrots, butternut squash, poblano pepper, radishes, cilantro, diced tomatoes, tomato sauce, and spices. Cover and cook for 20 minutes, stirring occasionally.
Serve with shredded cheese, sour cream, sliced jalapenos (pickled or fresh), fresh cilantro, or sliced avocado.
Enjoy!
*Feel free to use other hot peppers instead of the poblanos, but it will affect the spiciness of the chili.
**This recipe freezes well.  I like to double it, serve half and freeze the other half for a future meal.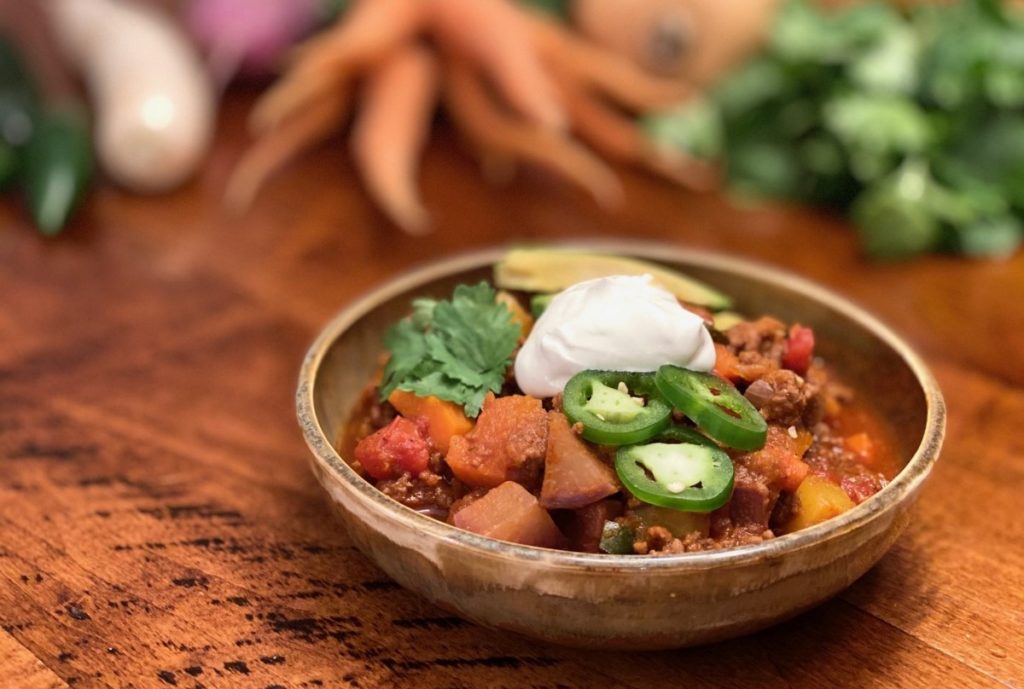 Recipe and photos by Stephanie Borzio.  Stephanie is a mom of three active boys and is an autoimmune warrior.  After battling her own health for several years, Stephanie found healing through food and lifestyle changes, including joining Blooming Glen Farm CSA of which she is a long time member.  She is a Board Certified Integrative Nutrition Health Coach who is passionate about sharing healthy living tips and real food recipes.  Instagram and Facebook: Tru You Essentials; Website: www.truyouessentials.com