27 Aug

Tomatillo Jalapeño Soup with Sweet Corn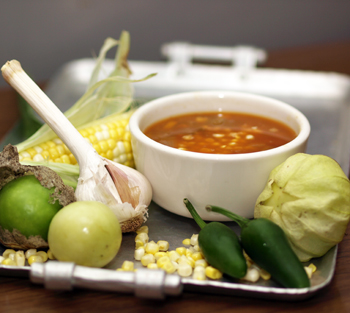 Tomatillos, a staple of Mexican cuisine, have been becoming more and more popular. Known for their unique husk, fresh colors and tart, citrusy flavor, tomatillos are high in the fiber that's essential for weight, cholesterol and blood sugar management as well as digestive health; vitamin C, which aids everything from our immune system to cancer preventions; and vitamin K, a bone- and blood-supporting vitamin normally found in dark, leafy greens. Their versatile and simple preparation options make getting this nutrition into our diets pretty easy!
Use tomatillos raw for classic Latin American salsas and sauces such as salsa verde and guacamole, chopped and sautéed in stir-fry, or cooked up for soups. The soup below pairs tomatillos with several other players in the Blooming Glen CSA share: flavorful and robust garlic and onion, jalapeño peppers that compliment the citrus flavor of the tomatillo, sweet peppers and corn that temper the tartness of the tomatillos, and potatoes that lighten the spice of the jalapeños.
Tomatillo Jalapeño Soup with Sweet Corn

Sauté 1 large onion, 7 cloves of chopped garlic, 4-6 thinly sliced jalapeños (use seeds for more spice), 1 cup chopped sweet pepper, 1 teaspoon sea salt, 1 1/2 teaspoon cumin and 1 tablespoon chile powder in grapeseed oil in a large, heavy-bottom pot until onion is soft and translucent.
Add 2 cups of chopped tomatillos (to prepare your tomatillos, peel off the husk and then wash the fruit to remove any sticky residue), 1 large diced potato, 4 cups of broth and 1 cup of water to the pot, heat to boiling, and then reduce heat to low. Cover and simmer for 15 minutes.
Stir in a 15-ounce can of cannellini beans, kernels from 3 small ears of sweet corn and 2 tablespoons lime juice. Serve with fresh bread (Bakers on Broad has excellent options, including gluten-free) and toppings such as cilantro, green onion, chives, plain yogurt, sour cream, broken baked tortilla chips and corn kernels.
Post and photo by Mikaela D. Martin: Blooming Glen CSA member since 2005, board-certified health counselor, and co-founder and -owner of Guidance for Growing, an integrative wellness practice in Souderton. Read more about healthy eating and living on her site, http://guidanceforgrowing.com!