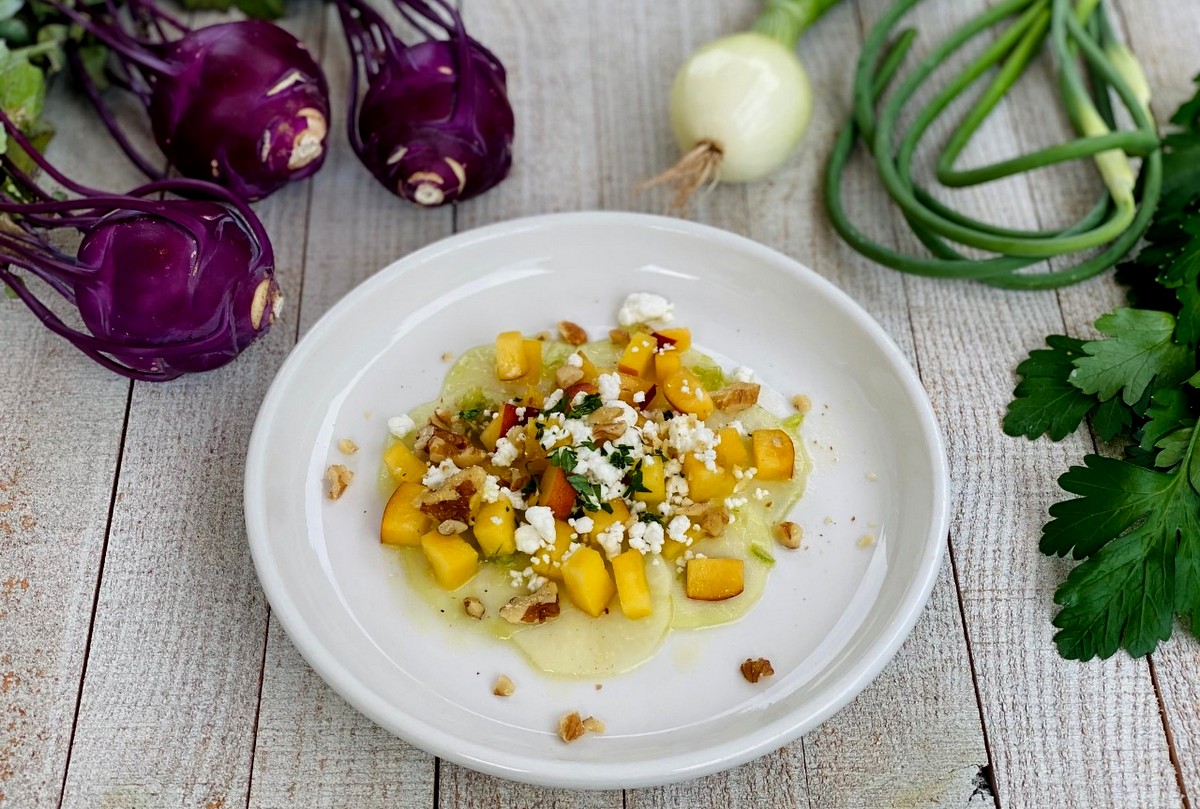 I had no idea what kohlrabi was until we joined Blooming Glen Farm CSA.  It was a wonderful treat many years ago that we still enjoy each season, thanks to our amazing farmers.  I love kohlrabi raw, so this recipe showcases the crisp, juicy texture of the kohlrabi bulb in a "carpaccio" style dish.  Paired with sweet baby onions, the curly garlic scapes, and some fresh parsley from this week's share, the thinly sliced kohlrabi makes a beautiful and tasty side dish.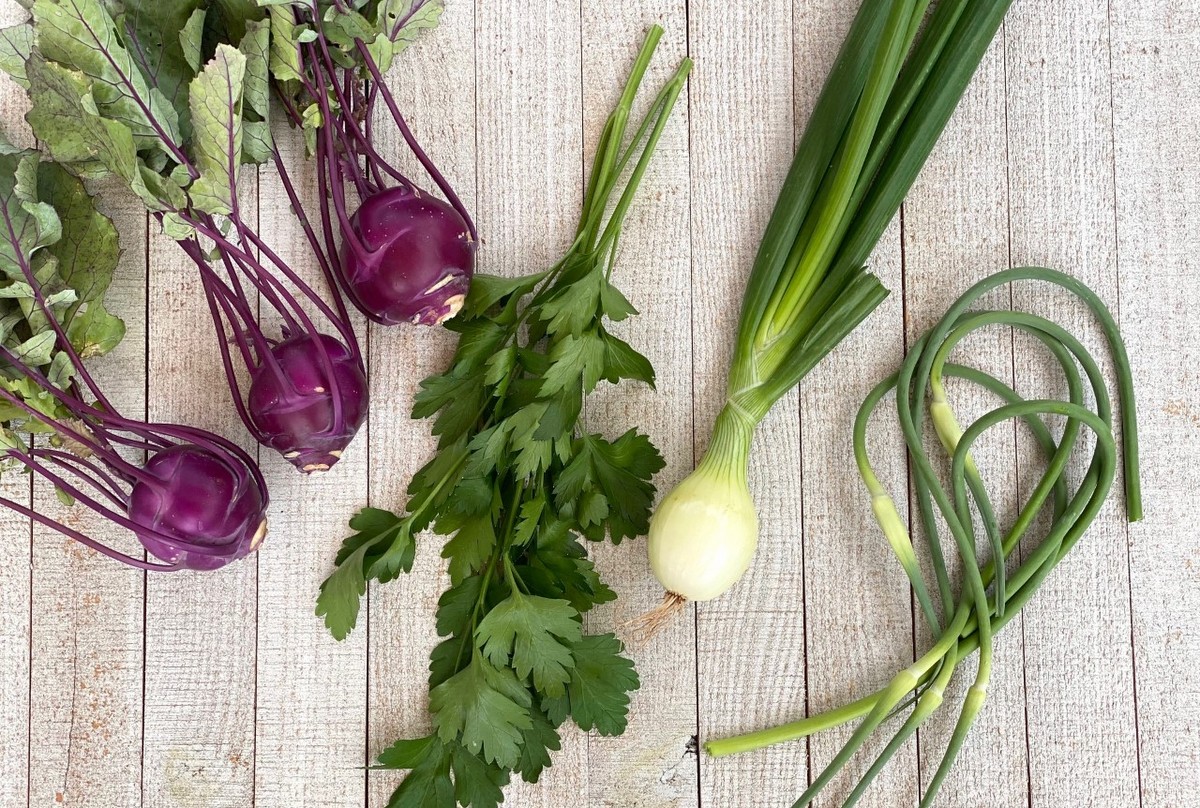 Kohlrabi "Carpaccio"
Ingredients:
1 bunch kohlrabi, stems removed
½ sweet onion (bulb), chopped
2 garlic scapes, chopped
¼ cup olive oil
2 Tbsp apple cider vinegar
1 lime, juiced
2 tsp honey
½ tsp sea salt
Pinch black pepper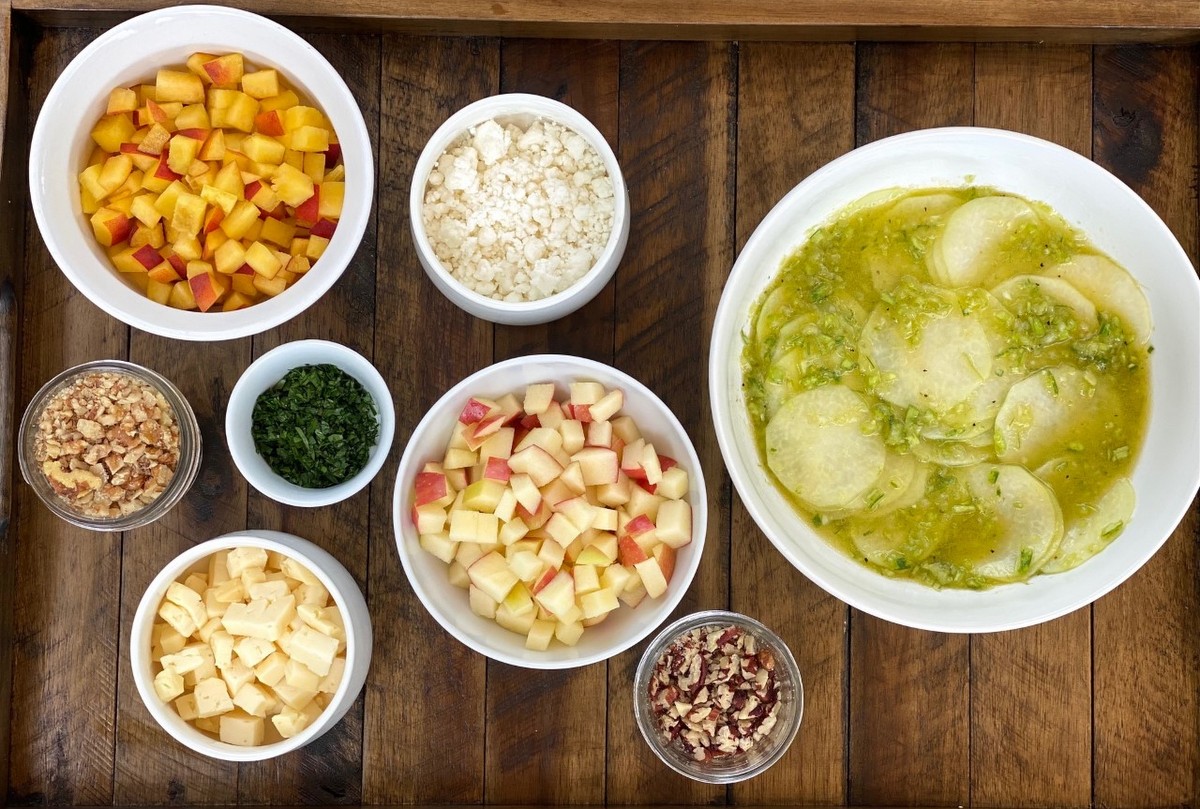 Toppings:
Fresh parsley, finely chopped
Fruit (peach, apple, pear), chopped into cubes
Nuts (walnuts, almonds, pistachios, etc), chopped
Crumbled cheese (goat, feta, blue, etc)*
*This week's cheese share, Red Cat from Birchrun Hill Farm, works well for this.
Directions:
Peel kohlrabi bulbs. Thinly slice into rounds using a mandolin (set to 1/16 inch setting, or thinnest setting).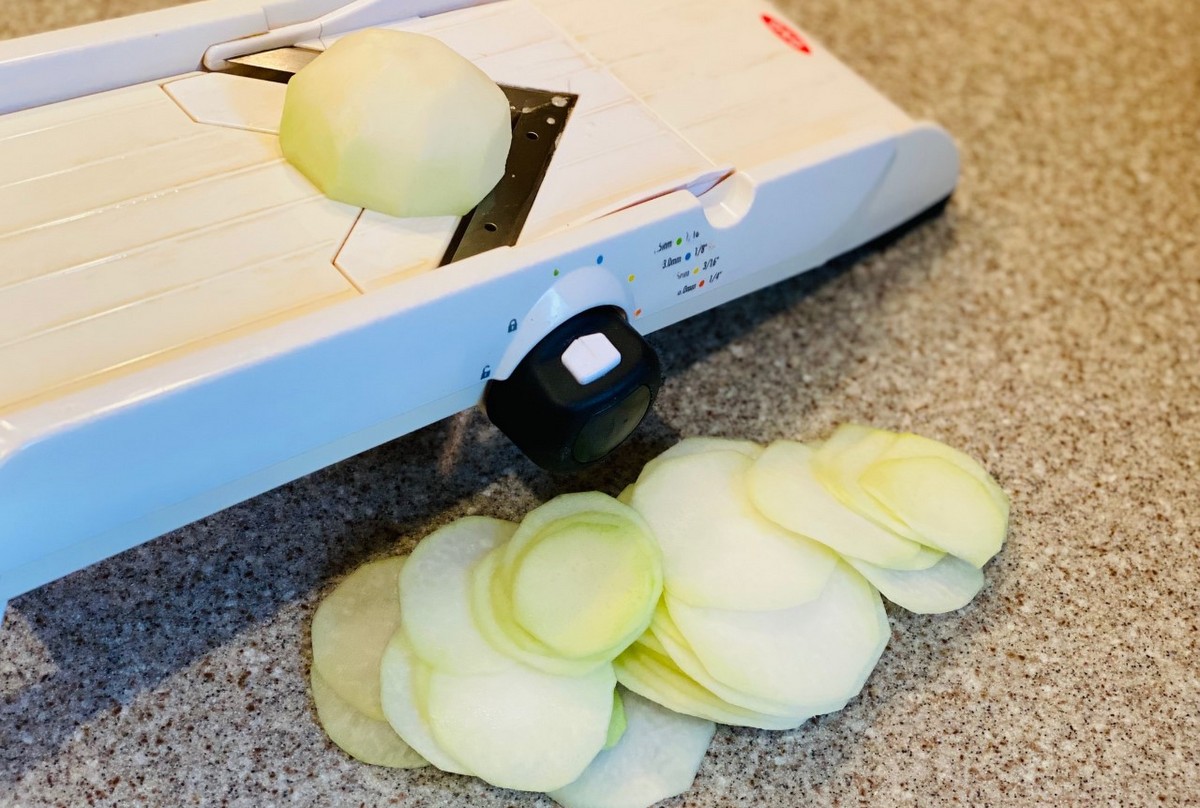 In a food processor, pulse the sweet onion and garlic scapes until finely chopped.\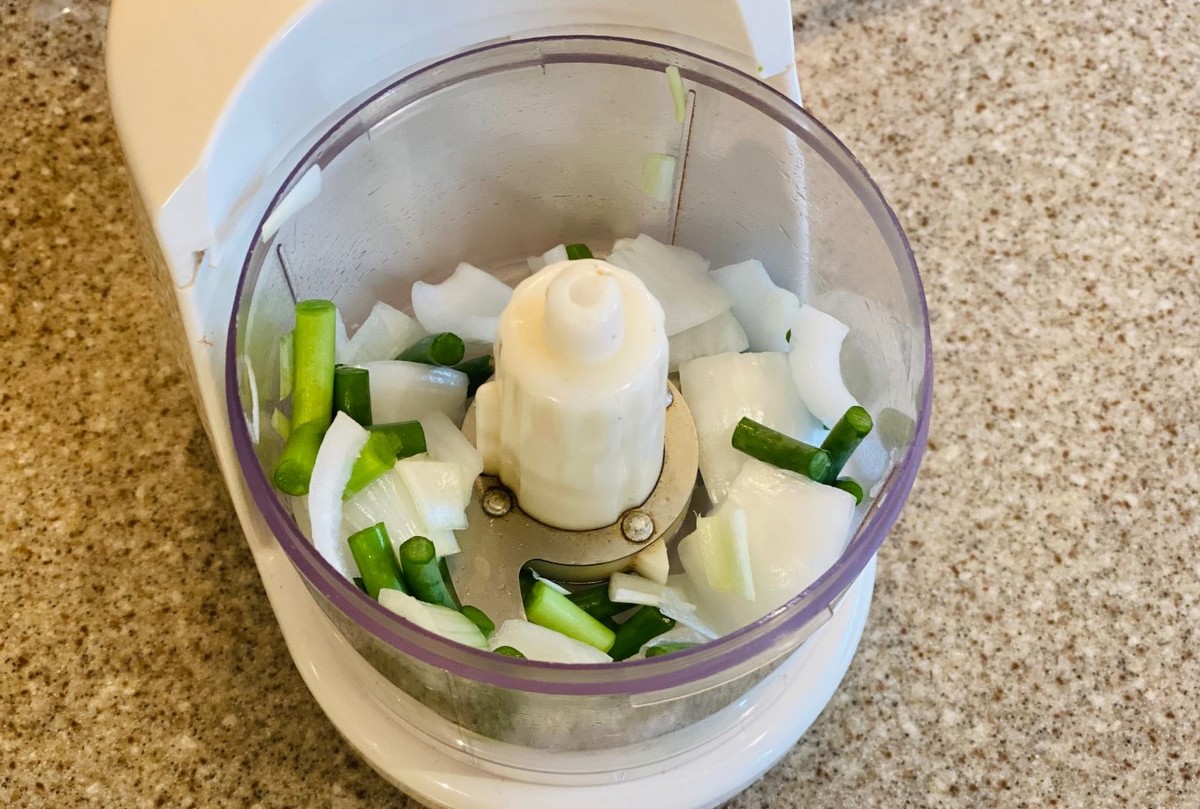 Whisk together the marinade- olive oil, apple cider vinegar, lime juice, honey, sea salt, and black pepper.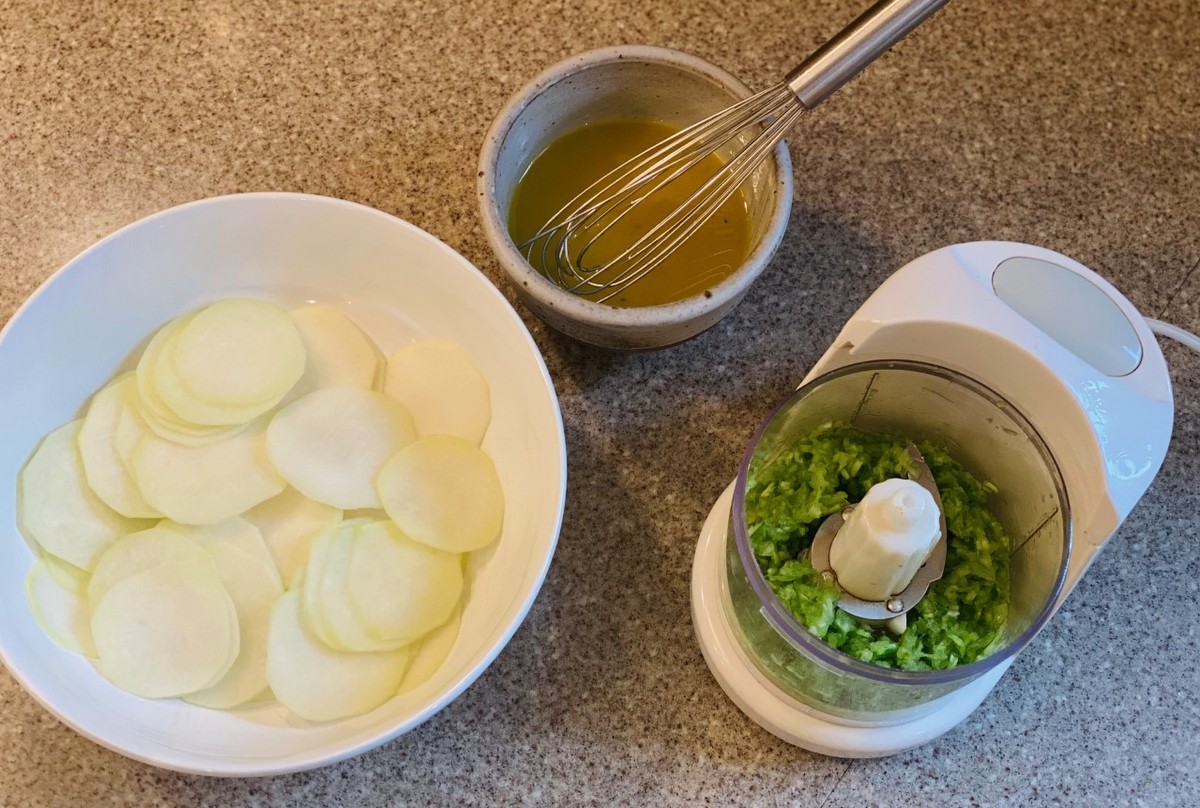 Add the chopped onion and garlic scapes to the marinade and mix well.
Place kohlrabi slices in the marinade. Make sure all slices are covered well and are not stuck together.  Set aside for 30 minutes.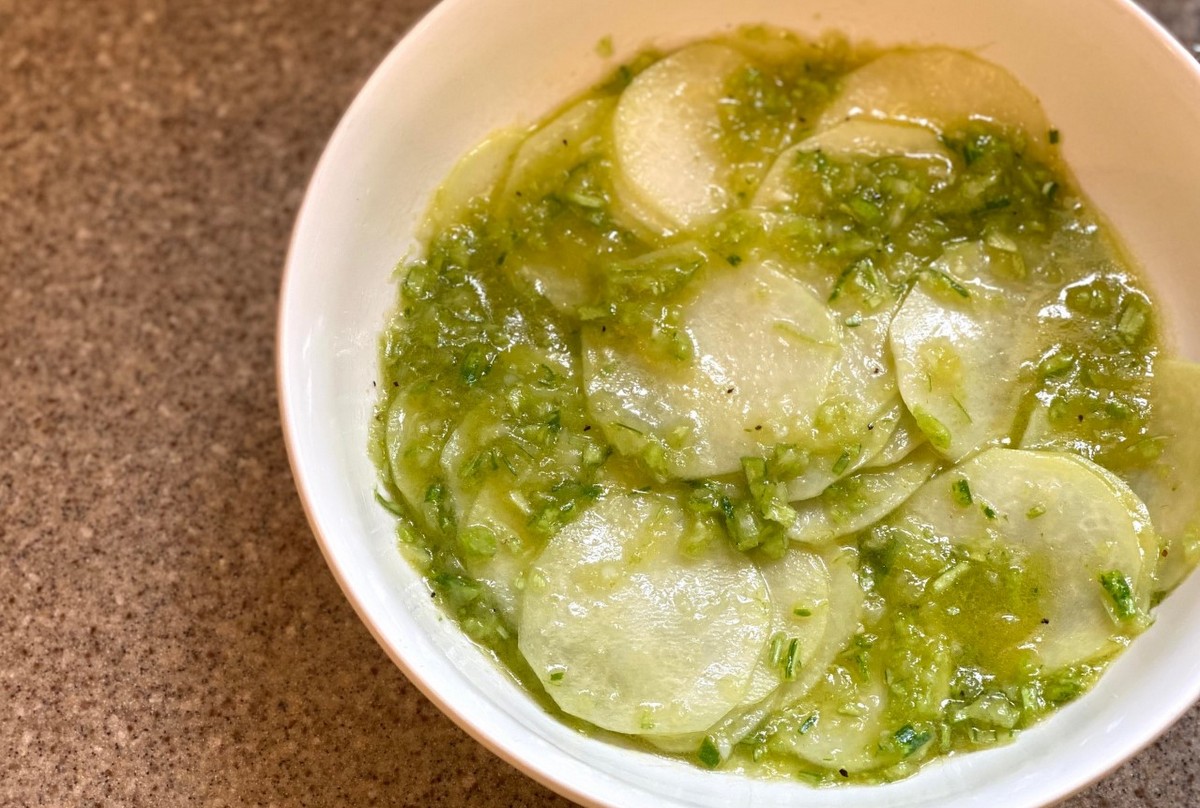 Once done marinating, gently place about 8-10 kohlrabi slices on each plate in a circular, overlapping pattern.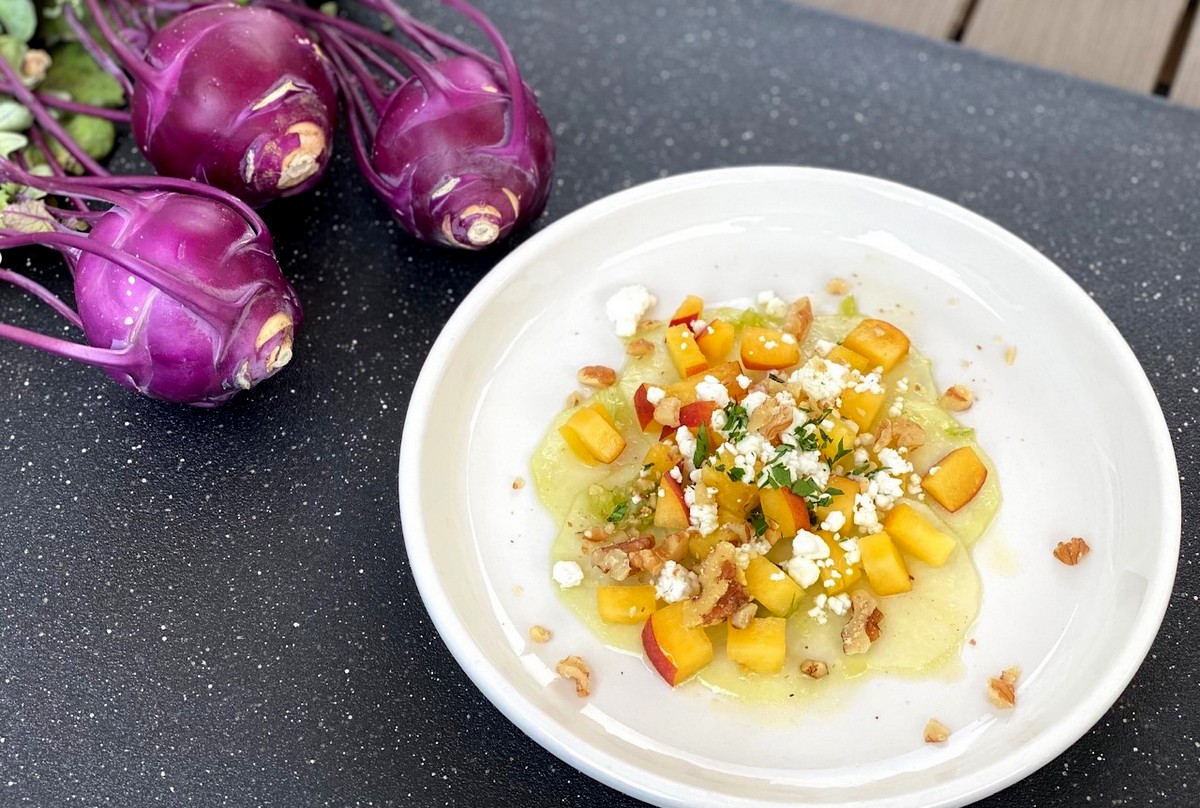 Sprinkle each plate with your choice of fruit, nuts, cheese, and parsley.
Drizzle with extra marinade if desired.
Enjoy!
Recipe and photos by Stephanie Borzio.  Stephanie is a mom of three active boys and is an autoimmune warrior.  After battling her own health for several years, Stephanie found healing through food and lifestyle changes, including joining Blooming Glen Farm CSA of which she is a long time member.  She is a Board Certified Integrative Nutrition Health Coach who is passionate about sharing healthy living tips and real food recipes.  Instagram and Facebook: Tru You Essentials; Website: www.truyouessentials.com