07 Jun

Kohlrabi Dal with Aromatic Rice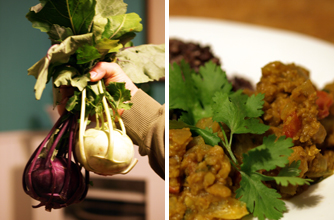 Kohrabi is a member of the Brassica oleracea, or cabbage, family.  Hugely popular centuries ago, kohlrabi has made a resurgence over the past several years, increasing in availability, thanks to its easy-to-grow nature.  As with most veggies, kohlrabi is low in calories, fat, and cholesterol, is high in fiber, and is super versatile. It's a good source of thiamin, folate, magnesium, and phosphorus, and a very good source of vitamins C and B6, potassium, copper and manganese.
Kohlrabi can be eaten raw or cooked.  Its mild taste (much more modest than it's broccoli and cabbage family members) makes it a great ingredient for slaw and salad recipes.  It's also a very popular ingredient in Indian cooking, where it becomes tender and takes on the many exotic flavors of Indian spices.  You can click here for a raw Kohlrabi and Turnip Slaw recipe from Blooming Glen, and read below for a cooked Kohlrabi Dal with Aromatic Rice recipe.
Want to know more about kohlrabi? Here are some recommended links:

Kohlrabi Dal with Aromatic Rice
Ingredients
1 cup brown basmati or brown jasmine rice
1 kohlrabi (about 2 cups), plus greens, diced or chopped
2 cups red lentils
2 tsp tumeric, divided
1 modest splash grapeseed oil
2 cloves garlic, minced
1 teaspoon mustard seeds
1 teaspoon cumin seeds
1 large onion (about 2 cups), chopped
1 large tomato (about 2 cups), diced
1/2 teaspoon chili powder
1 teaspoon cumin powder
1 teaspoon coriander powder
1 teaspoon garam masala powder
1 teaspoon salt
chopped cilantro, optional
shredded coconut, optional
Method
Prepare rice as directed on package.
Combine kohlrabi, lentils, and half the turmeric with 3 cups of water in a pot. Bring to a boil and reduce heat to low. Simmer until the lentils (dal) is tender, about 20 to 25 minutes. Salt to taste and set aside.
While the kohlrabi and dal are cooking, heat oil in a deep skillet. Add garlic, mustard seeds and cumin seeds. When the seeds begin to pop, add the onion and remaining turmeric and sauté until onions start to soften, about 2-3 minutes (add a little water, if needed).  Add the tomato, mix well, and cook until tender. Stir in the kohrabi-dal mixture, chili powder, cumin powder, coriander powder, and garam masala powder, and cook until flavors mix, about 5-10 minutes. Add salt, stir well, and adjust to taste.
Divide kohlrabi dal and rice into 6 servings, top with chopped cilantro leaves and/or shredded coconut.
Post and photo by Mikaela D. Martin: Blooming Glen CSA member since 2005, board-certified health counselor, and co-founder and -owner of Guidance for Growing, an integrative wellness practice in Souderton. Read more about healthy eating and living on her site, http://guidanceforgrowing.com!