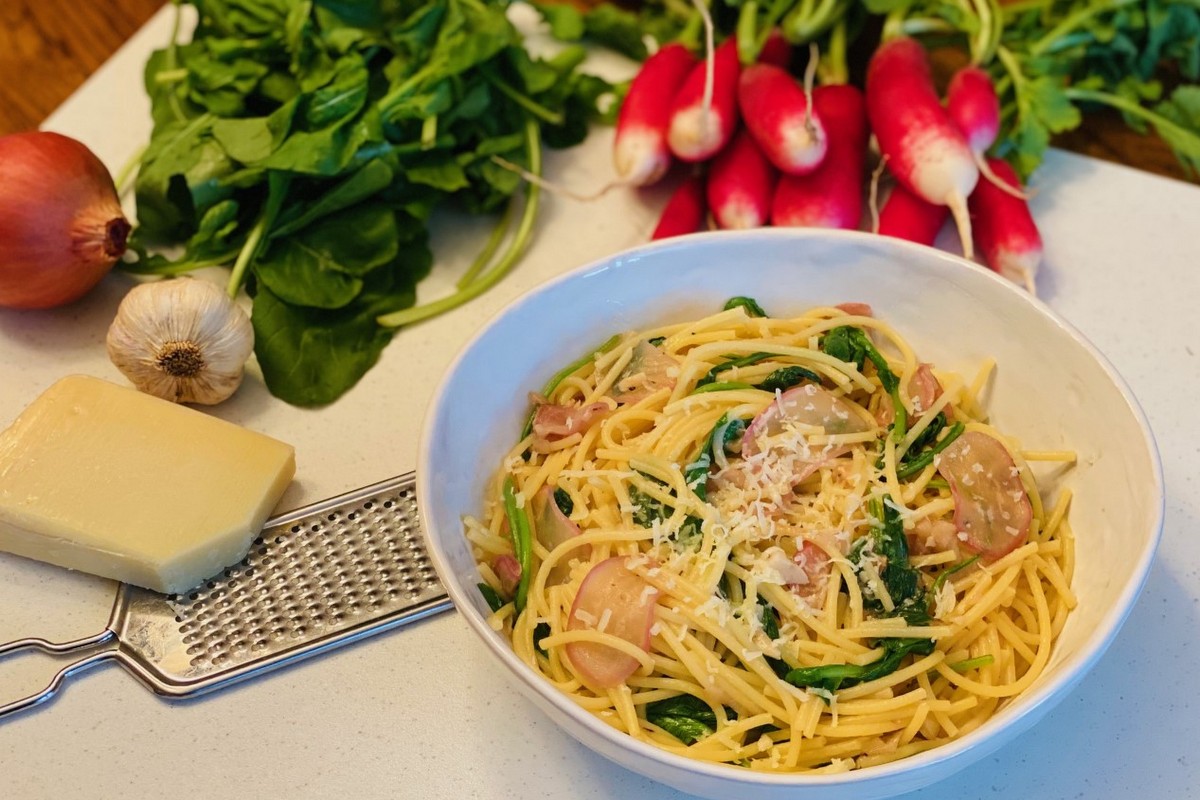 The arugula from the farm is one of my favorites!  Its mild peppery flavor is divine and I wanted to showcase it in this week's recipe.  Combining the arugula, red onion, and the French breakfast radishes in a simple, but unbelievably tasty pasta dish was what I dreamed of.  This recipe came together just as I imagined and really showcases the radishes and arugula in a unique way.  Enjoy this flavorful dish alone or with a grilled or roasted protein.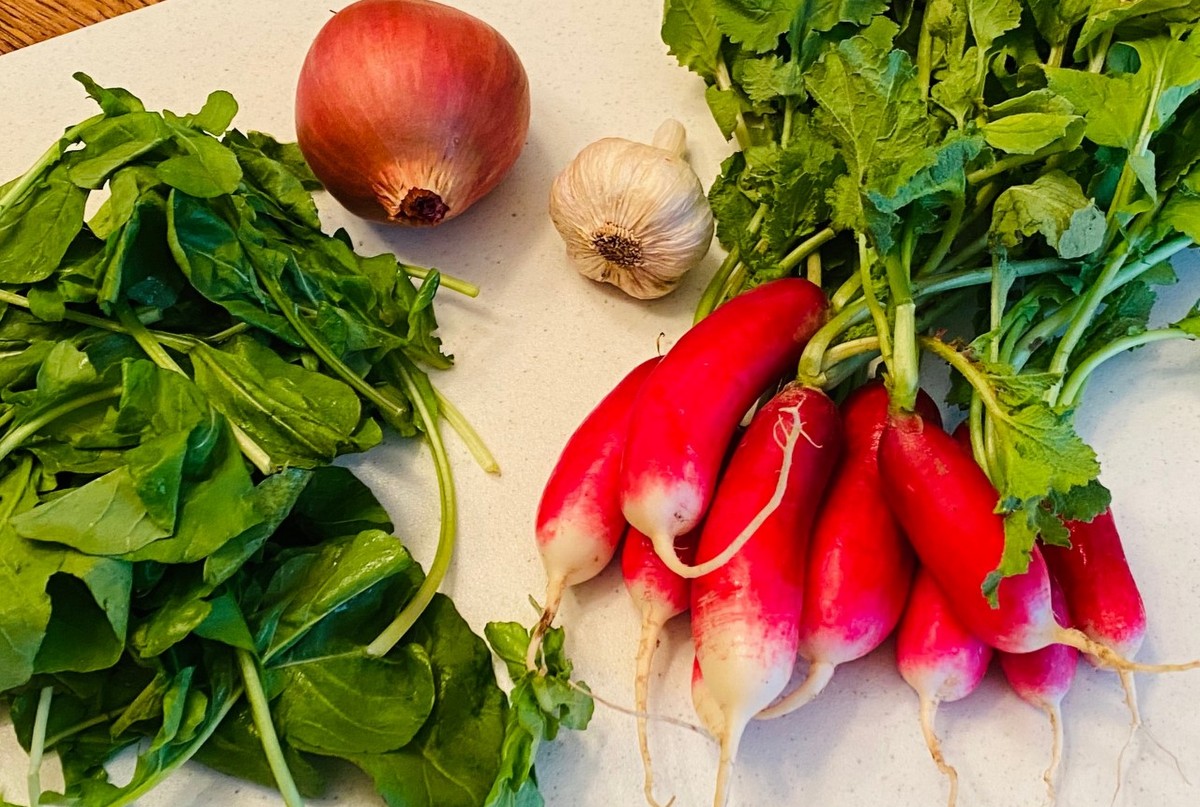 Pasta with Arugula and Radishes
Ingredients:
1 lb pasta *
2 tsp sea salt, divided
3 Tbsp olive or avocado oil
½ large red onion, thinly sliced **
6-8 French breakfast radishes, thinly sliced **
3 large cloves garlic, finely chopped
½ tsp black pepper
½ lb arugula
5 Tbsp parmesan cheese (plus more for garnish)
*I used spaghetti, but you can use whatever pasta you choose.
**I used a mandolin set on the lowest setting to get thin, even slices.
Prep all ingredients before starting to cook anything. Wash, slice, and chop all produce.
Bring a large pot of water to a boil. Add 1 tsp salt.
Once water has come to a rolling boil, add pasta and cook according to package instructions.
While pasta is cooking, begin cooking the produce.
In a large sauté pan, heat oil. Add onions and radishes.  Cook on medium heat for 3-4 minutes.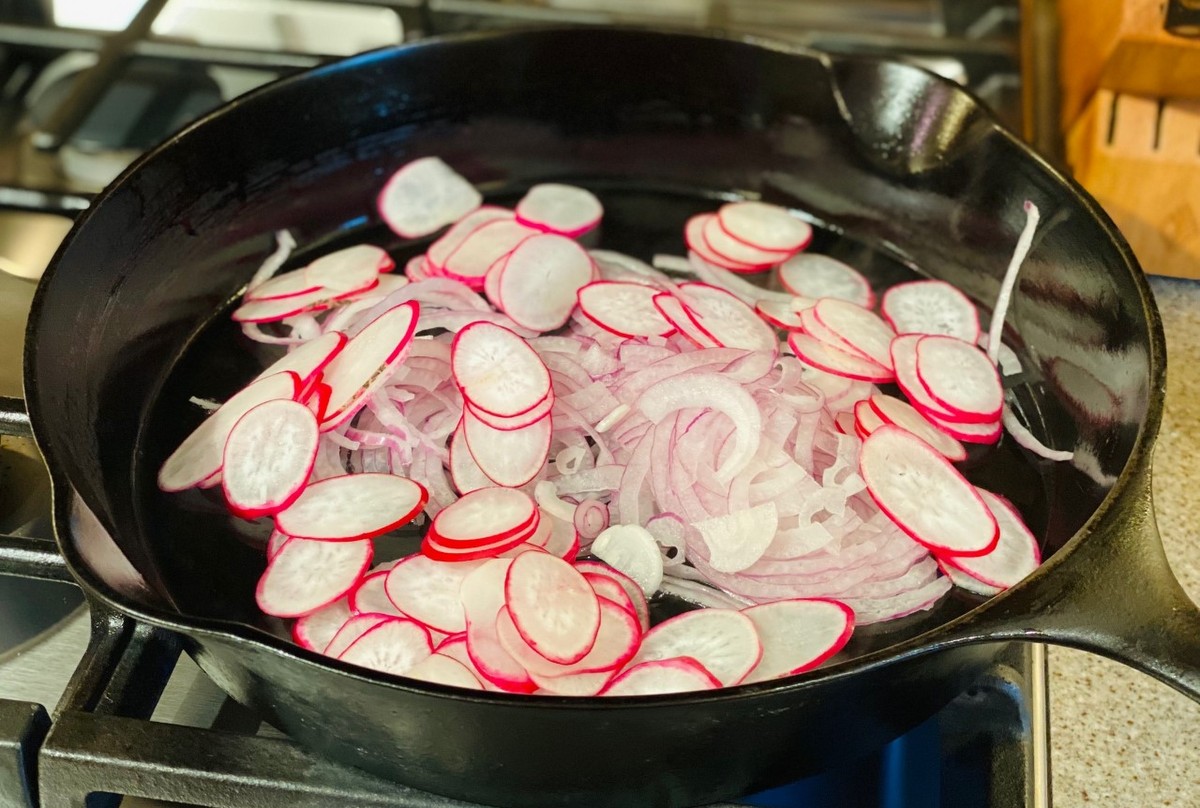 Add garlic and cook for an additional 2-3 minutes. Stir constantly.
Remove ½ cup pasta water from large pot. Pour into sauté pan and mix well.
Add 1 tsp salt and ½ tsp pepper to the sauté pan. Cook for 1 more minute.
Place arugula in colander in sink. Drain pasta, pouring hot pasta water over the arugula to quickly wilt it.
Add drained pasta and wilted arugula to sauté pan. Mix well to combine.
Add parmesan cheese and toss to coat.
Garnish with freshly grated parmesan and serve immediately.
Recipe and photos by Stephanie Borzio.  Stephanie is a mom of three active boys and is an autoimmune warrior.  After battling her own health for several years, Stephanie found healing through food and lifestyle changes, including joining Blooming Glen Farm CSA of which she is a long time member.  She is a Board Certified Integrative Nutrition Health Coach who is passionate about sharing healthy living tips and real food recipes.  Instagram and Facebook: Tru You Essentials; Website: www.truyouessentials.com