14 Oct

Lemon & Leek Kale Salad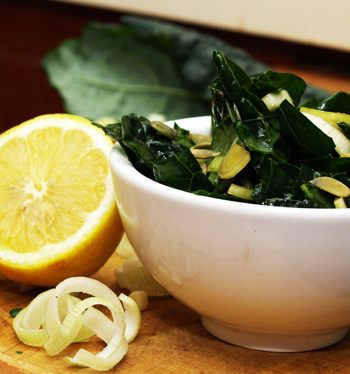 Kale shares similar health benefits with its friend, Swiss chard. In addition to being a cancer-fighting and heart health-promoting superhero (thanks to all those antioxidants), kale's omega-3 and enormous vitamin K content make it a great tool to fight against the inflammation that's linked to so many chronic health conditions.
My favorite benefit of kale though, is its detoxification abilities. Kale's glucosinolates make isothiscyanates, which studies have shown assist our cell's detox activities. The nutrition and compounds in kale assist in eliminating the toxic molecules in our body caused simply from the hazards of daily living; pollution, medication, processed food chemicals, etc.  We all could benefit from a little cleansing, right? 🙂
Kale is most often eaten cooked, but there are health benefits to eating our foods raw. The recipe below uses the acidity in fresh lemon juice to help "cook" the kale, leaving it a nice, soft and chewy texture.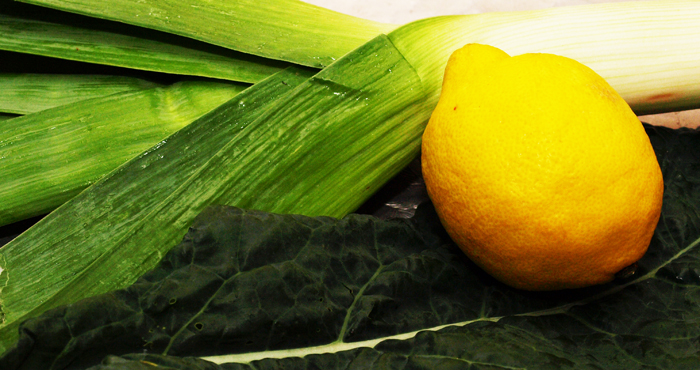 Lemon & Leek Kale Salad
Add dressing ingredients in a large bowl, stir until combined:
1 tablespoon olive oil
1 tablespoon tamari sauce
Juice and zest of one lemon
1/2 teaspoon of honey (use agave for vegan version)
salt and pepper to taste
Add to bowl:
1 bunch of kale (~20 leaves), stems removed, cut into bite-sized chunks or strips.
1 leek, white part sliced in half lengthwise and then into thin half-moons.
Stir into the dressing to well coat. A great method is to use your hands and "massage" the leaves with the dressing. Allow to marinate in fridge until ready to eat (ideally 4-8 hours, but it'll be tasty after even just 30 minutes).
Stir in 1/4 cup seeds and/or chopped nuts (sesame and pumpkin seeds or slivered almonds are a great choice) right before serving.
Post and photo by Mikaela D. Martin: Blooming Glen CSA member since 2005, board-certified health counselor, and co-founder and -owner of Guidance for Growing, an integrative wellness practice in Souderton. Read more about healthy eating and living on her site, http://guidanceforgrowing.com!