04 Oct

Cider-Braised Cabbage and Apples

Cabbage and apples are a classic combination–and it's no coincidence since they are both staples of the fall and winter diet. This week, the Blooming Glen Farm cabbage of choice is the crinkly-leafed savoy. Savoy cabbage comes from Northern Italy, where it is known as cavolo verza.

The inspiration for this recipe came from one of my favorite food blogs, Nourished Kitchen. I took some liberties, though, replacing onions with leeks and green cabbage with savoy. Because savoy is sweeter and more tender than other cabbages, I eliminated one apple and some cooking time from the original recipe.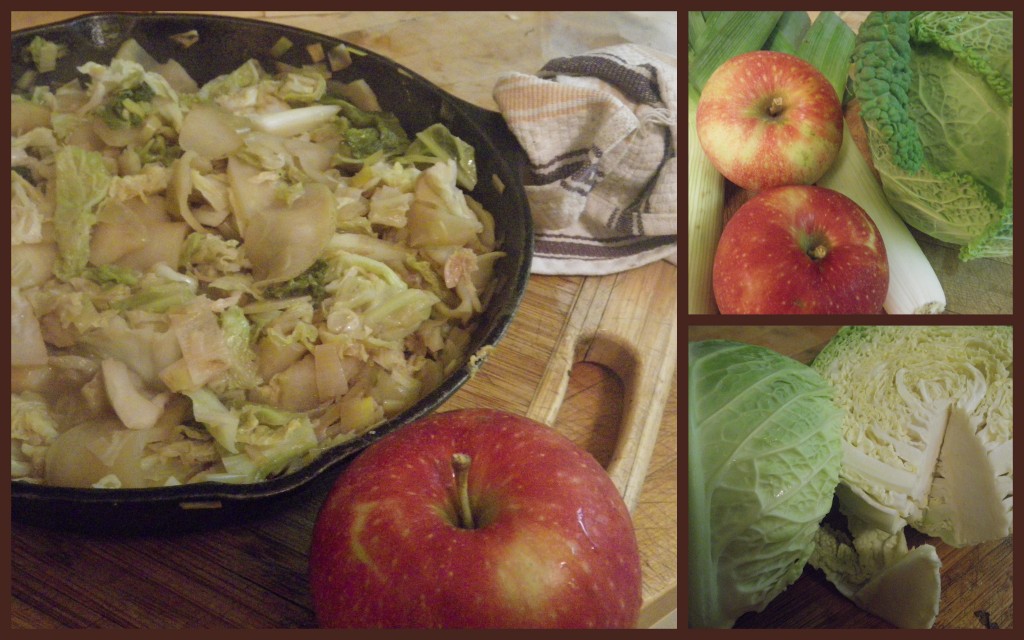 Cider-Braised Cabbage and Apples
Cut the roots and most of the greens off 3 leeks, slice lengthwise, and rinse any grit from between the layers. Slice crosswise thinly and fry in a hot skillet with 2 tablespoons of butter. When the leeks begin to brown, add 1 medium apple, cored and thinly sliced. Cook for another 5 minutes until apples start to soften.
Reduce heat to medium. To the skillet, add 1 savoy cabbage, cored and thickly sliced and 1 bay leaf. Stir to bring apples and leeks to the top. As the cabbage begins to wilt down, pour 1-1/2 cups apple cider into the skillet. Simmer for about 15 minutes until apples and cabbage are soft and most of the liquid is evaporated. Sprinkle on 2 tablespoons apple cider vinegar and 1/2 teaspoon sea salt, toss to combine, and remove from heat.
Pair this dish with pork, and you've got yourself a time-honored flavor combination that can't be beat (I chose a juicy bratwurst). If pork isn't your style, it would also go very nicely with a roast chicken and/or savory white cannellini beans.
Text and photography by Kate Darlington – Blooming Glen Farm second year intern, fresh food enthusiast, and budding food blogger. She also writes for the Digging Deep Campaign as well as for her personal blog, Growing Things.