19 Jul

Stuffed Pattypan Squash

You might have seen them at the market or in your CSA share, and wondered what are those flying-saucer shaped squashes? Depending on where you're from, they go by any number of different names. When we farmed in Oregon it was called sunburst squash, here we call it pattypan squash, but it also goes by scallop squash, white squash, button squash, granny squash or custard squash. Their light green or bright gold rinds remain thin and edible. Their insides are white, with a mild, buttery flavor. It's shape is whimsical and versatile- you can chop it up and use it like regular zucchini, or if you want to preserve its character, stuff it whole.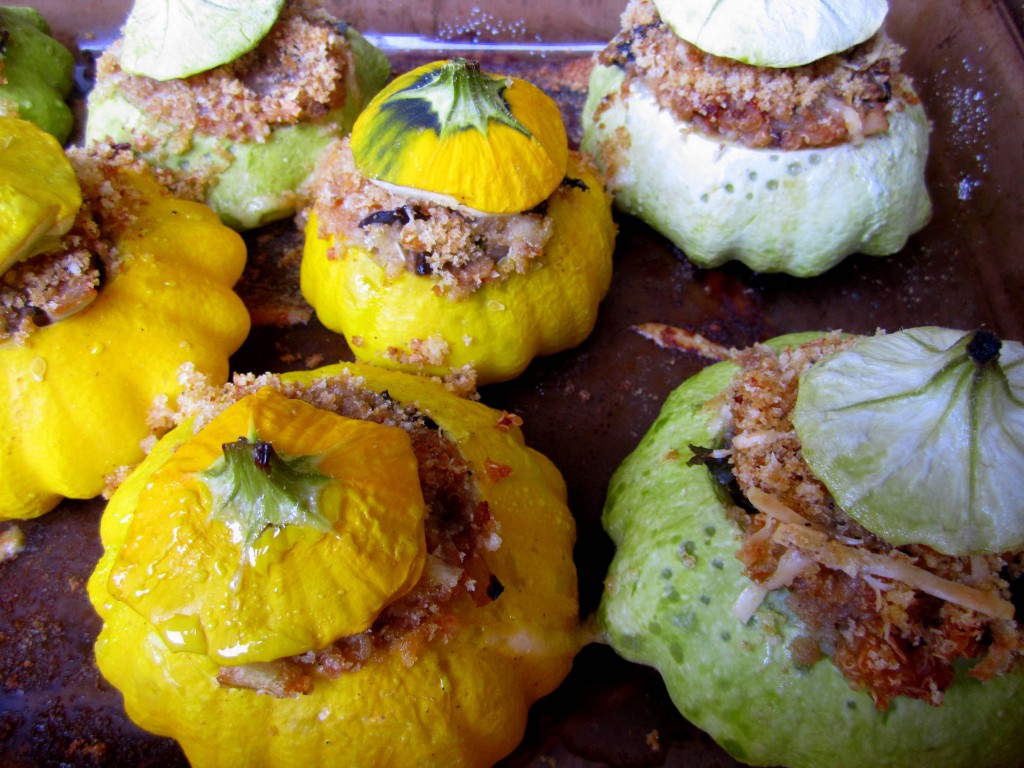 Stuffed Pattypan Squash
I used three pounds of pattypan squash, 8 squash, each about the size of my fist, or smaller. You could do less, larger squash, and just adjust the cooking time accordingly.
Cook 1/2 cup quinoa in 1 cup water, or for more flavor I used homemade chicken broth. Feel free to substitute your grain of choice.
Meanwhile pre-boil the whole patty pan squash for about 5 min, just to soften them a bit and make cutting them easier.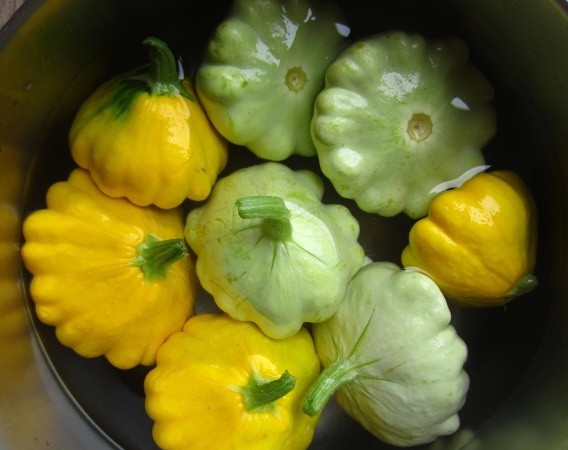 To cut, just imagine you are carving the top off a pumpkin. Insert your knife at an angle and remove the cap. Scoop out the insides with a spoon, being careful not to pierce the wall. (Though have no fear, I did, and things still turned out just fine). Put prepared pattypans in a baking dish. I oiled the inside of each and salt and peppered them.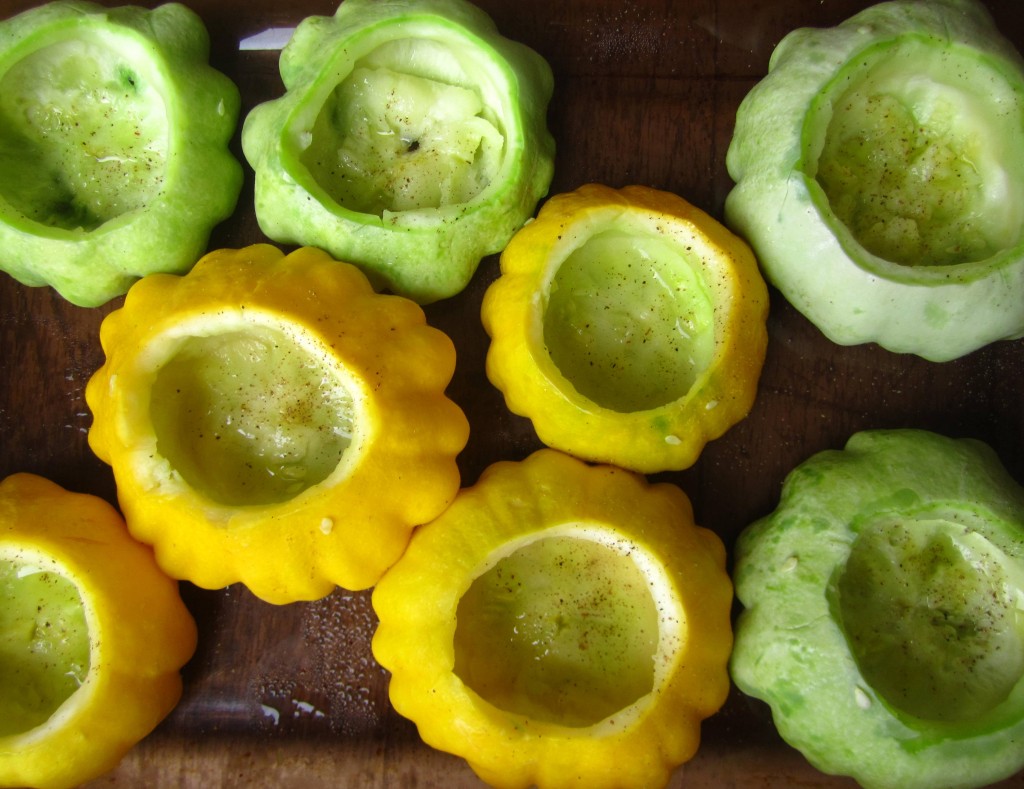 Add a tablespoon or two of olive oil to a pan, heat up and saute 1/2 of a large sweet onion, diced, 4 cloves fresh garlic, diced, and cook until the onions begin to sweat. Add 1 asian eggplant, diced, and one chopped tomato. Cook for a few minutes then add 1 1/2 cups Swiss Chard, cut into thin strips. You can also add any fresh herbs you like- I used a few sprigs of basil and thyme. Salt and pepper to taste.
The great thing about making a stuffing for a squash, or even stuffed peppers, you can pretty much use whatever you have on hand. If you prefer to go the meat route, I think sausage or ground beef would work well also.
After sauteing the vegetables, stir in the quinoa, taste and adjust seasoning to your preference. Fill the squash to the brim with the quinoa mixture. To top it off, I combined a cup of bread crumbs with some melted butter and parmesan cheese. Then after oiling and seasoning the lids, I re-capped the cuties, added a bit of water to the bottom of the baking dish, and covered with foil. Bake at 375 for 35 minutes or so, until squash is soft, but not mushy. I removed the foil for the last 10 minuted to get a bit of browning.
Enjoy!
Photos and text by Tricia Borneman, Blooming Glen farmer and co-owner.