17 Aug

Tomato Soup with Roasted Garlic and Sweet Peppers

With the cooler days and nights of late summer, I find that instead of craving quickly cooked meals and cold salads, I have been turning to more warm, comforting dishes. The appearance of soups and stews on the table is a delightful reminder of the fast approaching fall season!

Tomato soup is that perfect transitional late-summer meal. Alongside a good grilled cheese, you can't match the freshness and comfort of this classic dish. My recipe uses whole milk for creaminess (not as heavy as those recipes that call for cream), roasted garlic and sweet peppers to add a depth of flavor, and a topping of balsamic vinegar and fresh corn for some sweetness.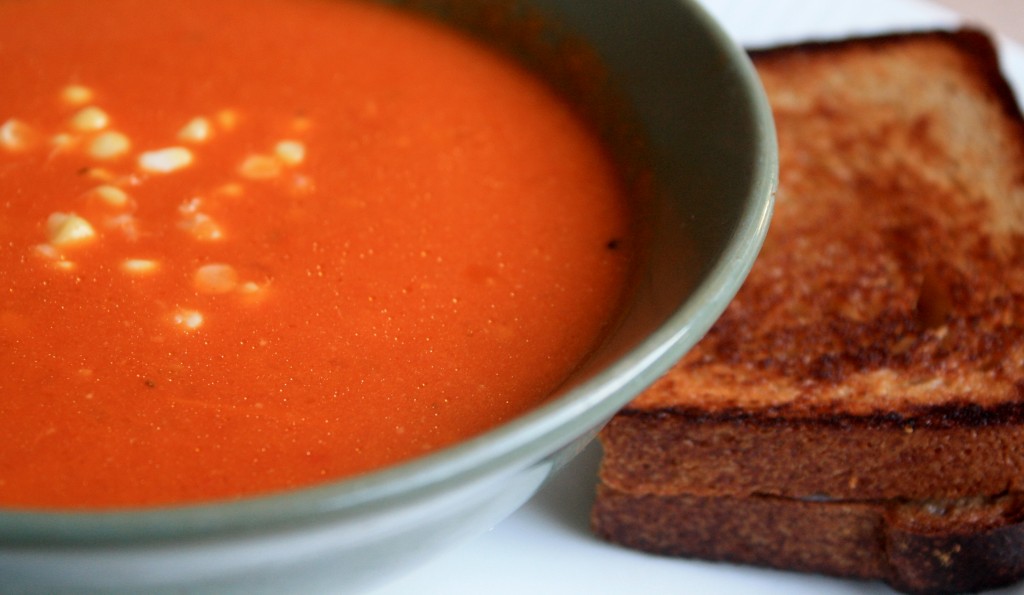 Tomato Soup with Roasted Garlic and Sweet Peppers
-Preheat oven to 400 degrees
-Quarter approximately 3 pounds of red tomatoes and place on baking sheet with 4 or 5 (about 3/4 of a pound) of sweet peppers, seeded and diced, and 5 or 6 unpeeled garlic cloves. Roast in oven for 20 minutes or so until veggies are tender.
-Meanwhile, in a large pot, melt 4 tablespoons of butter and saute 1 white onion until translucent. Stir in 2 heaping tablespoons of tomato paste.
-Pour 4 cups of chicken or veggie stock over onions and bring to boil. Then turn down to a medium-low heat.
-Dump roasted veggies into pot with stock and onions, making sure to remove garlic skins beforehand. Puree with an immersion blender. **If you don't have one of these you can simply put the mixture into a blender, food processor or food mill.
-Add in 1 cup of whole milk (or half a cup of heavy cream if you prefer) and 2 tablespoons of balsamic vinegar
-Let cook on medium-low heat for 20 minutes to let flavors meld. Stirring occasionally.
-Top with a splash more of balsamic and some fresh, sweet corn. Serve along side your favorite version of grilled cheese. ENJOY!
Recipe and photos by Jana Smart- Blooming Glen Farm employee and frequent creator of creative recipes using farm fresh seasonal ingredients. Check out more of her recipes on her food blog http://www.agrarianeats.blogspot.com/