02 Aug

Salsa Fresca and Chicken Tostadas

With beautiful tomatoes, spicy peppers, pungent onions, and zesty cilantro all in one share, a batch of fresh salsa was calling my name last night.

There are several hot peppers to choose from this week. I used a serrano pepper, a variety of chili that originated in the mountainous regions of Mexico. It is the pepper traditionally used in making pico de gallo and salsa. It is hotter than a jalapeno and has a nice bright flavor for use in raw recipes.

This recipe makes a "medium" salsa, but can be adapted to be as spicy or mild as you like. Omit the hot pepper all together if you've got a sensitive mouth, or kick it up a notch by including the seeds or more than one hot pepper.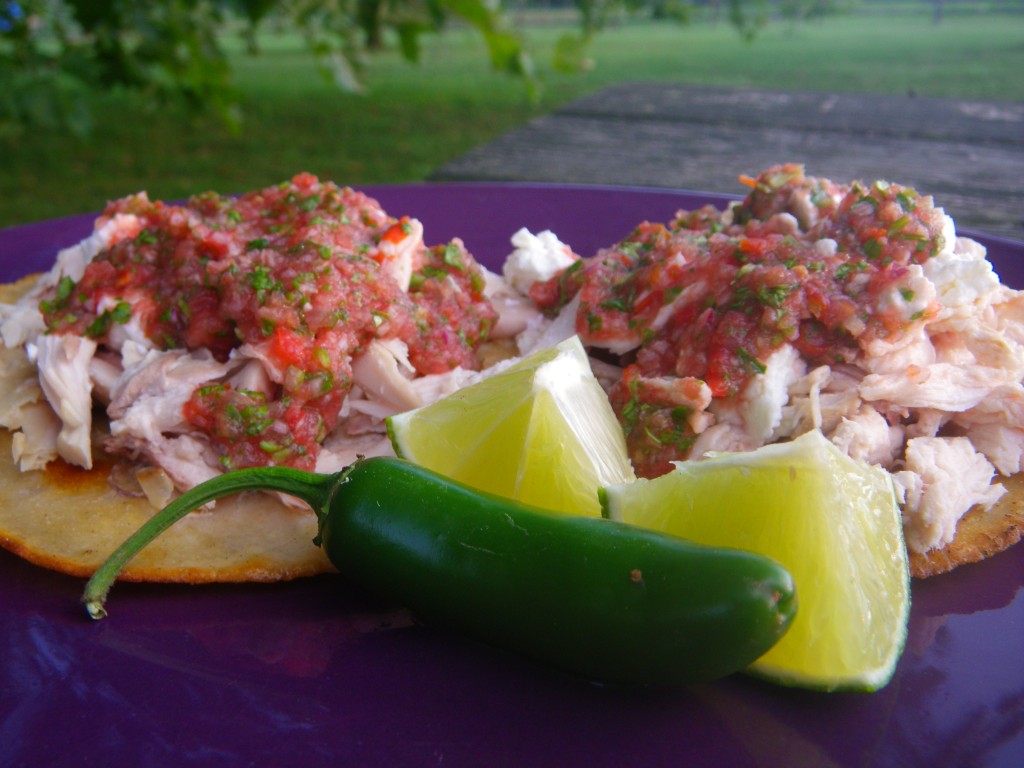 Salsa Fresca
In a food processor, pulse together: 1 pound red tomatoes (about 2 medium-sized tomatoes), cored and chopped; 1 torpedo onion, greens cut off and bulb chopped; 1 serrano pepper, stem and seeds removed; 1 handful cilantro; 1 garlic clove; juice of one lime; and a pinch of salt, to taste.
Voila! You've got salsa!
Now you can top these ultra-simple tostadas with a dollop of the salsa for a quick and fresh dinner. They are a great way to use up leftovers from a roasted Ledamete Grass chicken, and perfect for a summer night when the last thing you want to do is slave away over a hot stove.
Chicken Tostadas
Heat 2 tablespoons vegetable oil in a cast iron or non-stick pan. When the oil is sizzling hot, lightly fry 4 corn tortillas (one at a time) in the oil–about 50 seconds per side, until just golden brown and starting to puff up. Place fried tortillas on a paper towel or newspapers to absorb extra oil.
Top fried tortillas with 2 cups shredded cooked chicken, shredded or crumbled cheese (I like cotija, a mild Mexican cheese, but cheddar, jack, or chevre also work well), a big dollop of your salsa, and a squeeze of lime.
Text and photography by Kate Darlington – Blooming Glen Farm second year intern, fresh food enthusiast, and budding food blogger. She also writes for the Digging Deep Campaign, as well as for her personal blog, Growing Things.