23 Sep

Stuffed Peppers: Poblanos & Mexican-style Quinoa

Swimming in poblanos? Try these little poblano boats to deliciously deliver one of nature's greatest superfoods, quinoa, to your awaiting taste buds and belly! Quinoa (pronounced KEEN-wah) easily incorporates the seasonings and spices with which it's cooked without losing its own taste and texture, making it a great companion to the robustly flavorful poblano.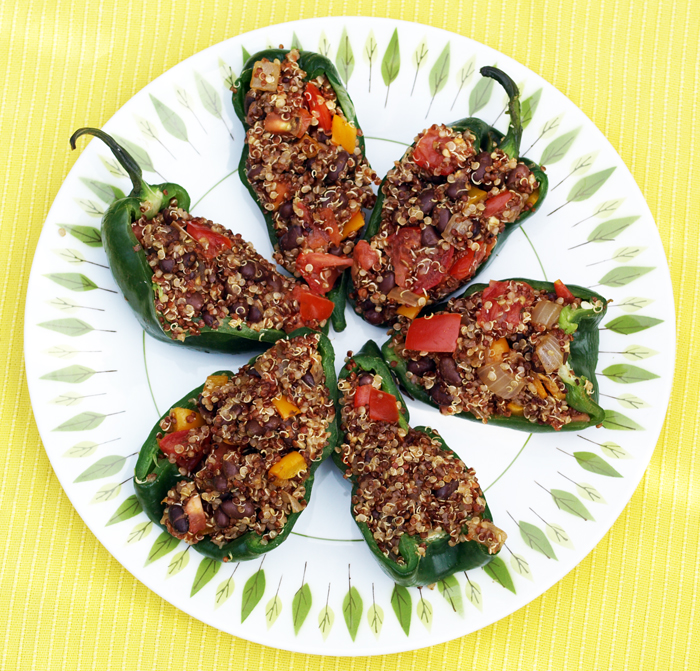 Technically a seed, though often grouped with whole grains, quinoa is tightly packed with essential micronutrients magnesium and mangnese and delivers a healthy dose of fiber. Quinoa also contains all nine essential amino acids, making it a source of complete protein — in fact, it's considered to have the most complete amino acid profile of all grains.  Start reaping quinoa's benefits today with the stuffed pepper recipe below.  Two or three pepper halves work as a main course, or serve just one as an appetizer or side.
Stuffed Peppers: Poblanos & Mexican-style Quinoa
B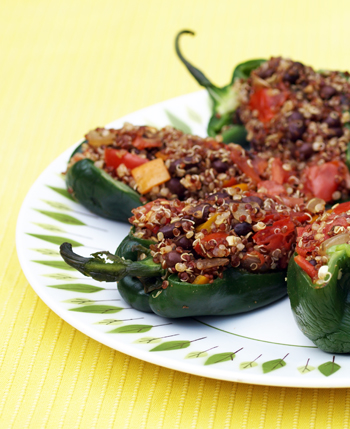 oil 1 cup of water and 1/2 cup your favorite quinoa (a mix of red and yellow is pictured), cover pot and lower to a simmer until quinoa is cooked through, about 12 minutes.
Slice 3-4 poblano peppers in half lengthwise and remove seeds.  Steam pepper halves in a steamer basket until tender-crisp, about 3 minutes. Set aside on a plate.
In small a frying pan, sauté until just soft (about 5 minutes):
1/4 onion
1/4 cup sweet frying peppers
2 cloves minced garlic
1 teaspoon ground cumin
1 teaspoon oregano
1/2 teaspoon smoked paprika
Stir in 1/2 cup cooked black beans and 1/4 cup chopped tomato and heat through.  Keep mixture warm until quinoa is done cooking.
Combine quinoa and vegetable-bean mixture, stirring well. Stuff pepper halves with mix, and enjoy hot or at room temperature. Serve with salsa, guacamole or avocado, cheese, sour cream, cilantro and/or lime wedges.
Post and photo by Mikaela D. Martin: Blooming Glen CSA member since 2005, board-certified health counselor, and co-founder and -owner of Guidance for Growing, an integrative wellness practice in Souderton. Read more about healthy eating and living on her site, http://guidanceforgrowing.com!