21 Aug

Rice & Beans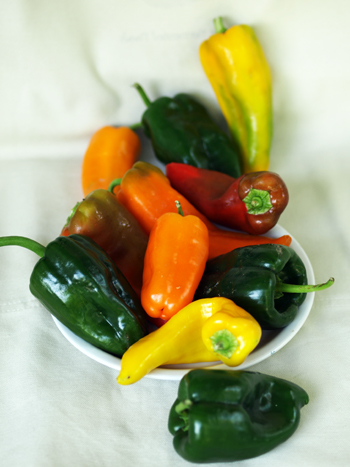 From Cuban black beans with yellow rice to Indian ramjah (kidney beans) with basmati rice, rice and beans is a classic, versatile dish that's found throughout most cultures around the globe. Rice and beans are hearty, inexpensive, and super adaptable, making them a worthwhile addition to anyone's kitchen repertoire. The key to making this not only a belly-filling meal, but also a nourishing and nutritious one is using whole grains and loading up on veggies. The recipe below uses heart-healthy brown rice, and loads of Blooming Glen Farm-fresh veggies that are packed with vitamins and minerals. The black beans bring plant-based protein, making this a nice rounded and complete meal.
As with many recipes on this blog, the one below is very much open for alterations, depending on your particular tastes, what you have available in your pantry, and what veggies you may need to use up from your share.  I've added lots of peppers to this version, since they're abundant right now. The poblano peppers add a tiny bit of heat, while the frying peppers bring in some sweetness.  Greens are always a good thing to add to your meals; using them here brings in a satisfying chewiness, perfectly complimented by the soft peppers and beans.  Corn would be a nice addition and so would zucchini — feel free to use up whatever vegetables you have on hand!  You can substitute pinto or other beans in place of the black beans. You can even skip the rice and serve the beans over baked or smashed potatoes (leave skins on) or another whole grain. Experiment and have fun 🙂
Recipe note: I make rice and beans by first getting the rice going in a rice cooker, then moving on to the prep and cooking of the beans.  In most cases, by the time the beans are done, so is the rice.
Rice & Beans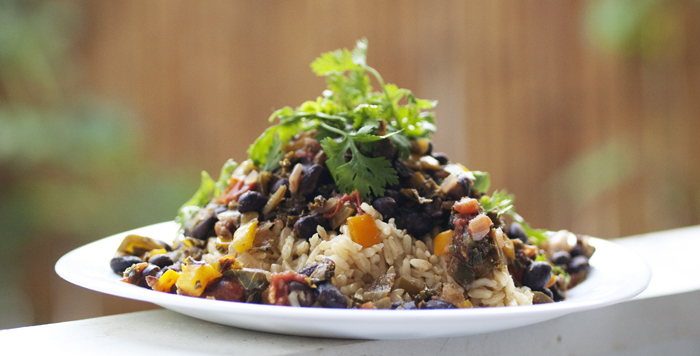 Ingredients
2 teaspoons grapeseed oil
1 medium onion, peeled and chopped (~1 cup)
3 garlic cloves, minced
1 tablespoon ground cumin
1 teaspoon oregano
1 teaspoon smoked paprika
4 poblano peppers, seeded and chopped (~1 cup)
4 sweet peppers, seeded and chopped (~1 cup)
1+ jalapeño pepper, seeded and chopped (optional)
1+ cup kale, chopped fine
2 large tomatoes, seeded and chopped (~2 cups)
2 15-oz cans black beans, rinsed and drained
1+ cup broth (No-Chicken Broth is good here)
2 teaspoons maple syrup
3 cups hot cooked brown rice*
Fresh cilantro (optional)
* I prepare rice for this recipe with broth, rather than water.
Method
Heat oil in a large skillet. Add onion and cook for a minute or two, until they begin to soften. Add garlic and spices, cook for one minute more. Add peppers. greens, and tomatoes, stir well, and cook until veggies are tender, about 8-10 minutes.
Meanwhile, mash 1/2-cup of the beans.
Add mashed beans, whole beans, broth, and maple syrup to the skillet. Turn up heat and bring to boil, stirring frequently. Reduce heat, cover and simmer 15 minutes, stirring occasionally. Uncover and simmer until reduced to desired thick consistency, about 5-10 minutes. Salt and pepper to taste. Serve over rice, topped with cilantro.
Post and photos by Mikaela D. Martin: Blooming Glen CSA member since 2005, board-certified health counselor, and co-founder of Guidance for Growing, an integrative wellness practice in Souderton. Read more about healthy eating and living on her site, http://guidanceforgrowing.com!