07 Aug

Eggplant & Summer Veggie White Bean Pasta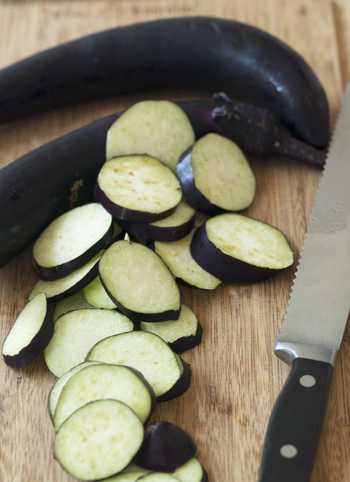 Over the years, I've discovered that one of the benefits of belonging to a CSA was an unexpected one: It puts me out of my comfort zone. When shopping at the super market for produce, I — like most of us, I'm sure — pretty much stuck to the same vegetables and fruit that I always ate. The standard peppers, carrots, broccoli, and spinach were tasty, and I honestly didn't even realize there was so much I was missing out on until my first season at Blooming Glen.  A part of being out of my comfort zone was not only discovering new foods (French breakfast radishes, who knew we were destined to be together forever?), but also being faced with foods that I traditionally didn't like.
At the top of this list was eggplant: A vegetable that I tried to prepare at home once or twice, but in the end could only ever eat if it was restaurant prepared, breaded and fried and smothered in marinara sauce, á la Eggplant Parm.  At first, I simply gave away the eggplant from our share to family or neighbors — good riddance!  But, after seeing the array of different eggplant at the farm, noticing just how pretty they are, and knowing how important and beneficial variety in one's diet is… I decided to challenge myself to find a way to make a relationship with me and eggplant work 🙂
In the end, after a little experimentation, with some failures and some successes, it turns out that grilling has been the easiest and tastiest way for me to incorporate this pretty purple veggie into meals. Once grilled, you can use the slices for sandwiches and wraps, chop them up to use with grain and vegetable sides, add them to omelets or salads — the possibilities are endless. I grill them as soon as I get them home, then store them in the fridge for easy use. The recipe below calls for using grilled eggplant; here's a down-and-dirty grilling method:
1) Lightly spray a grill pan over medium-high heat. 2) Cut eggplant into thin disks, place on a grill pan, spray lightly with cooking oil, sprinkle with salt and pepper. 3) Cook until grill marks appear, about 3-4 minutes, toss, then cook for another couple minutes. The eggplant will significantly reduce as the moisture is cooked out.
Nutritionally speaking, eggplant is low in sodium and calories, and high in fiber. However, all of its disease-fighting and health-building phytonutrients, vitamins, and minerals reside in it's skin. Most notably, eggplant skin contains nasunin, a phytonutrient found to protect the fats in brain cell membranes, and chlorogenic acid, which has been found to benefit anti-cancer, antimicrobial, anti-LDL (bad cholesterol) and antiviral activities. So, when preparing your eggplant, be sure to keep the skin on!  For more eggplant ideas and a recipe for Baba Ganoush, click here.
Eggplant & Summer Veggie White Bean Pasta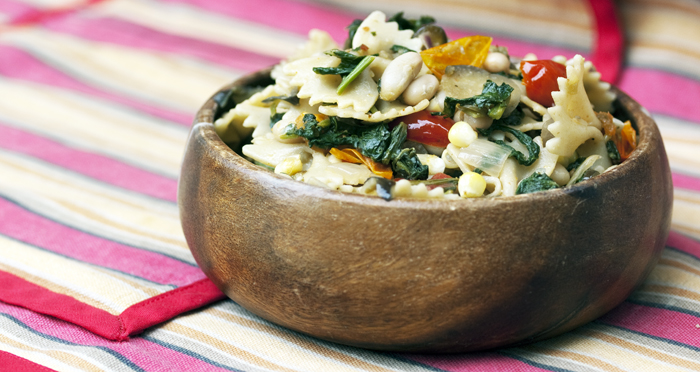 Ingredients
2 cups whole wheat pasta (bow-tie pictures)
2 eggplant, grilled, cut into bite-size pieces
1+ bunch broccoli rabe, large/thick stems removed*
4 cloves garlic, minced
1 torpedo onion, diced
1 cup cherry tomatoes, halved (quarter larger ones)
Kernels from 1 ear of corn
3/4 cup white beans
Crushed red pepper
Salt
Pepper
Nutritional yeast (or Parmesan cheese)
Balsamic vinegar (optional)

* Other hearty greens can be substituted, including kale, collards, or Swiss chard. If using more delicate greens, such as arugula, spinach, or dandelion greens, skip the blanching process below.
Method
Bring a medium pot of water to boil. Blanch raab for ~60 seconds, drain, reserving water to cook pasta. Set raab aside and cook pasta.
Heat a teaspoon of grapeseed oil in a medium pan over medium-high heat. Add garlic, sauté for a minute. Add onion, crushed red pepper, and a pinch of sea salt, sauté for a few minutes, until onions turn translucent and soft. Add tomatoes, stir well, and allow to cook down a bit, about 3-4 minutes, stirring occasionally. Chop raab, then stir into the pan, with corn kernels and pinch of sea salt, cook for a couple minutes. Add eggplant and beans, stir well to combine and let cook for a 5-6 minutes, until heated through. Salt and pepper to taste.
To cooked pasta, add 2 tablespoons olive oil, stirring to coat well. Add veggies to pasta, stirring gently to combine everything. Serve topped with nutritional yeast or Parmesan cheese. A light sprinkle of high quality balsamic vinegar is really yummy, too 🙂
Post and photos by Mikaela D. Martin: Blooming Glen CSA member since 2005, board-certified health counselor, and co-founder of Guidance for Growing, an integrative wellness practice in Souderton. Read more about healthy eating and living on her site, http://guidanceforgrowing.com!