31 Jul

Summer Veggie Noodle Bowl
One of the most common barriers to health eating that I hear is time. Between family & friends, work & school, hobbies & activities, there just never seems to be enough time, does there?
There are two tricks that I always recommend — and use myself: 1) A little meal planning & food prep each week, and 2) A repertoire of quick, simple, & adaptable recipes.  The Summer Veggie Noodle Bowl here serves double duty, playing a part in both of those tricks!  Prepare a big batch at the beginning of the week & reheat for lunches or dinners throughout the week, & when the seasons (or contents of your pantry) change, simply adapt the ingredients to what's available.  Bonus: this dish taste great both hot & cold.
Summer Veggie Noodle Bowl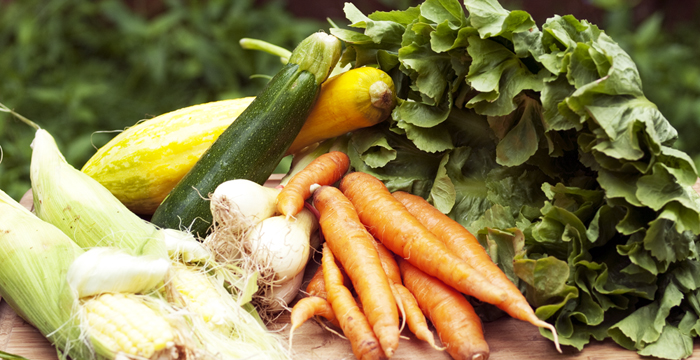 Sauce
2/3 cup rice vinegar
1/2 cup tamari or liquid aminos
2 TBS sesame oil
3 TBS agave (or other sweetener)
6 gloves garlic, minced
1/2+ tsp crushed red pepper
Noodle bowl
1 package (~10 oz) brown rice vermicelli*
1 tsp sesame oil
1 cup onion, chopped
2 cups zucchini &/or summer squash, shredded or julienned
2 cups carrots, shredded or julienned
kernels from 2 ears of corn
1 head escarole, chopped
1 can (~1-3/4 cups) black soy beans**
Sesame seeds for garnish
* Or 1 package (~9 oz) whole grain soba noodles or 1 package (~8 oz) whole wheat angel hair pasta.  Or, change it to a whole grain bowl & use any whole grain (brown rice, quinoa, bulgur, etc.)
** Or shelled edamame, chickpeas, adzuki, other bean, or any other protein of your choice.
Directions
In a small bowl, whisk together the sauce ingredients until combined & then set aside.
Prepare noodles per package instructions, drain & stir in a small splash of sesame oil to prevent sticking.
Heat oil in a large skillet over medium-high heat. Sauté onions for 3-4 minutes, until translucent. Add zucchini, carrots, corn, escarole, & 1/3* of the sauce & sauté for 5-7 minutes, until heated through. Stir in beans & sauté another 5 minutes, until beans are heated & escarole is cooked down. Stir in noodles & 1/3* of the sauce. Cook for 2-3 minutes, stirring often, until everything is heated through. Garnish with sesame seeds & serve immediately.
* If you're making a batch that will be reheated, reserve 1/3 of the sauce for reheating.  Otherwise, use 1/2 the sauce while cooking the veggies & 1/2 the sauce when stirring in the noodles.

Post and photos by Mikaela D. Martin: Blooming Glen CSA member since 2005, board-certified health counselor, and co-founder of Guidance for Growing, an integrative wellness practice in Souderton. Read more about healthy eating and living on her site, http://guidanceforgrowing.com!