05 Jul

Roasted Fennel Couscous Salad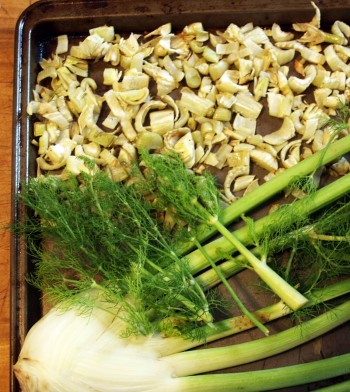 Fennel is a spice commonly used in Mediterranean cuisine. Both the bulb and fronds of the versatile fennel can be used, and it's enjoyed both raw and cooked. Fennel is a very good source of fiber, vitamin C, folate, potassium and manganese, but its real star power comes from its unique combination of phytonutrients. Like radicchio, kale, and Swiss chard, the phytonutrients in fennel gives it "strong antioxidant activity."
We've posted a few recipes here on the blog that feature fennel. It's used raw in a crunchy and bright Escarole Salad with Fennel and Orange recipe, and it's used cooked in a sweet Caramelized Fennel and Onions recipe. The couscous salad recipe below feature roasted fennel and capitalizes on its Mediterranean roots, while also including several other items from this week's share (Swiss chard, Walla Wall onion, cucumber, and basil; sweet peppers will be in the share soon). It makes for a great addition to any potluck, picnic, or brunch table!
References and recommended links:

Roasted Fennel Couscous Salad
Ingredients
Dressing:
1/2 tsp cumin
1/4 tsp cinnamon
1/3 cup fresh lemon juice
1/3 cup fresh orange juice
zest from 1 lemon
1 tbs fresh ginger, minced
1 tbs agave
1/4 cup olive oil
Salad:
2 cups whole wheat couscous
3 cups water
1/4 tsp tumeric
2 fennel bulbs, chopped
1/3 cup fennel fronds, chopped
2 red, yellow and/or orange sweet peppers, diced
1/2 cup Swiss chard, stems removed, leaves sliced very thinly, chiffonade-style
1/2 cup Walla Walla sweet onion, chopped
1/2 cup cucumber, diced
1/2 cup dried Turkish figs, sliced
1/2 cup dried Turkish apricots, sliced
1/2 cup raisins
1 cup pistachio kernels, chopped
1/2 cup fresh basil, chopped
zest from 1 orange
Method
In a saucepan boil water. Add turmeric and couscous. Reduce to a simmer, cover, and cook until the water has been absorbed, about 10 – 15 minutes. Remove from heat, let sit covered for 10 minutes, and then fluff with a fork to break up any clumps of couscous.
Preheat oven to 350-degrees. Spread fennel onto a baking sheet, lightly spray with grapeseed oil, and sprinkled with salt and pepper. Roast in oven until edges begin to brown and bulbs begin to soften, about 15 minutes.*
Soak the raisins in warm water until they're plumped up, about 15 minutes.
Combine all dressing ingredients and whisk together. Add salt and pepper to taste.
Combine the couscous and fennel with the remaining salad ingredients and stir to combine. Toss the dressing with the salad until until all the dressing is absorbed.
* Note: Make an extra batch of roasted fennel while you have the oven on!  Roasted fennel is a yummy addition to just about any green salad or grain dish.  It also sits atop a pizza or in a quiche very well.  Most simply, it's tasty as is.
Post and photos by Mikaela D. Martin: Blooming Glen CSA member since 2005, board-certified health counselor, and co-founder and -owner of Guidance for Growing, an integrative wellness practice in Souderton. Read more about healthy eating and living on her site, http://guidanceforgrowing.com!