06 Sep

Herbed Pork Chops with Dijon Swiss Chard

Wet weather aside, I'm welcoming the cooler temperatures of late because they have allowed me to reacquaint myself with my kitchen. It seems like I've taken a hiatus recently from actually cooking. Instead of cooking meals, I've been favoring anything fresh I can throw into the same bowl. Now that it's not 100 degrees in my kitchen, I'm a bit more excited to prepare a real dinner.

And what better way to celebrate my reintroduction to cooking than with juicy pork chops, fragrant herbs, and creamy swiss chard? This meal is easy, quick, and heavenly. It's got all the advantages of a one-pot meal, but all the elegance of a steak house entree. The perfect end to a day spent working in the rain. (I could barely manage to squeeze in the photo shoot before scarfing it down).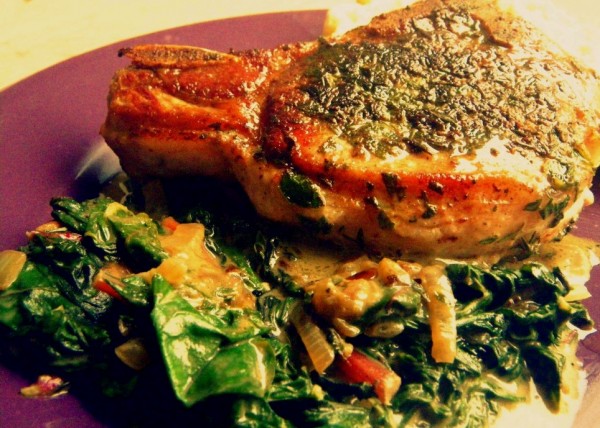 Herbed Pork Chops with Dijon Swiss Chard
Rub both sides of 2 pork chops with salt, pepper, and 2 tablespoons of fresh chopped sage and thyme (both can be found in the Discovery Garden during your CSA pick-up, or at our farmstand at market).
Heat 1 tablespoon butter and 1 tablespoon olive oil in a heavy skillet over medium-high heat. When butter is melted, add pork chops. Sear chops, about 4 minutes per side, until there is a nice crust of fried herbs and meat is just cooked through. Remove from pan and cover with foil to keep warm.
Using the same pan, reduce heat to medium and add  1/2 yellow onion, chopped. Cook until translucent. Add 3/4 pound swiss chard, stems removed and leaves roughly chopped. When chard has partially wilted, stir in 3 tablespoons dijon mustard and 1/4 cup half-and-half or whole milk. Continue cooking the chard until it is fully wilted and the sauce has thickened a bit.
Top a mound of chard with a pork chop and drizzle any remaining sauce from the pan on top. Fluffy homemade biscuits drizzled in local honey make a divine addition to the meal, but it would go equally well with some crusty bread or steamed rice. (Serves 2)
Text and photography by Kate Darlington – Blooming Glen Farm second year intern, fresh food enthusiast, and budding food blogger. She also writes for the Digging Deep Campaign as well as for her personal blog, Growing Things.