26 Jun

Raw Mediterranean Squash & Greens Salad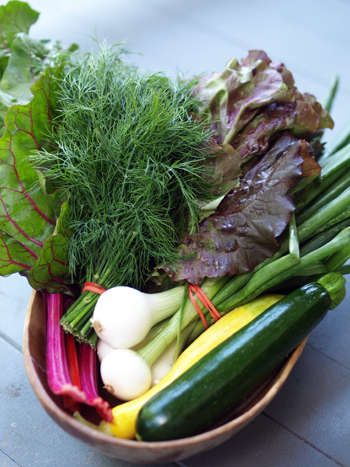 Happy Summer! As the temperatures rise this season, many of us find it harder to crank up the stove top or oven to get meals onto the table. This is a natural time of year to crave cooler, fresher ingredients that require little-to-no cooking — and eating these raw foods do provide us with benefits:
Eating our foods in a more raw form provides a different nutritional profile than eating a food cooked. For instance, ounce-for-ounce, raw Swiss chard has almost twice the amount of Vitamin C and almost three times the amount of Vitamin K than cooked Swiss chard. Similarly, raw zucchini offers much more folate and Omega-3 fatty acids than its cooked counterpart. Many people also find raw foods cleansing, as they often promote efficient digestion and a happy gut. Raw food also encourages us to slow down while eating, simply because it takes us longer to chew, which is a wonderful way to support portion control and mindful eating. All those benefits, and fresh, raw veggies also taste great (especially those from Blooming Glen 😉 )!
The recipe below uses lots of raw veggies from this week's share, including summer squash, zucchini, green onion, dill, lettuce, and Swiss chard. By shredding the zucchini and chopping the greens, we're helping out our belly a bit, making it easier to digest those veggies. As always, feel free to use this recipe as a base, an experiment with whatever vegetables, greens, and beans you happen to have on hand in the coming weeks.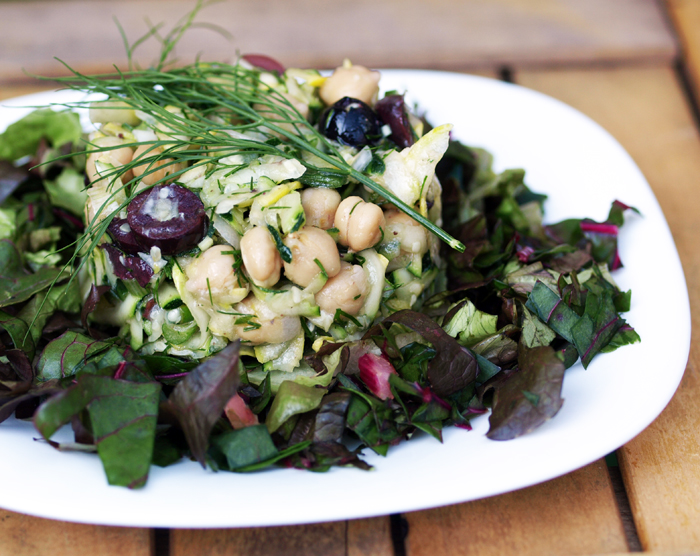 Mediterranean Shredded Squash Salad
Ingredients
3 zucchini and/or squash, shredded
1 can chickpeas, drained and rinsed
1 green onion including greens, chopped
12-15 kalamata olives, sliced
5-6 sprigs dill, chopped (basil would also be good)
Chopped lettuce and/or Swiss chard
Dressing
1/4 cup olive oil
zest and juice of 1 lemon
1 garlic scape, minced
sea salt and ground black pepper
Optional: Pine nuts, capers, dried figs, dried apricots, feta cheese
Method
In a small bowl (I use a glass measuring cup), whisk together the dressing ingredients. In a larger bowl, combine all the other ingredients, except for the lettuce/chard. Pour the dressing over squash mixture and stir to combine well. Place a handful of chopped greens on a plate, top with a big scoop of the squash salad. Serve with optional toppings.
Post and photos by Mikaela D. Martin: Blooming Glen CSA member since 2005, board-certified health counselor, and co-founder of Guidance for Growing, an integrative wellness practice in Souderton. Read more about healthy eating and living on her site, http://guidanceforgrowing.com!