20 Sep

Roasted Fennel and Leek Soup

This week marks the official beginning of fall, and both the weather and veggies seem to agree with the calendar. This is a perfect soup for the transitioning season. It is rich and creamy without being too heavy. When roasted, fennel becomes deeply sweet (totally different from the crisp and refreshing taste of raw fennel) and leeks develop a wonderful caramelized flavor. Celeriac lends body and depth to this creamy soup. A touch of tangy blue cheese and crunchy chickpea crackers make it complete.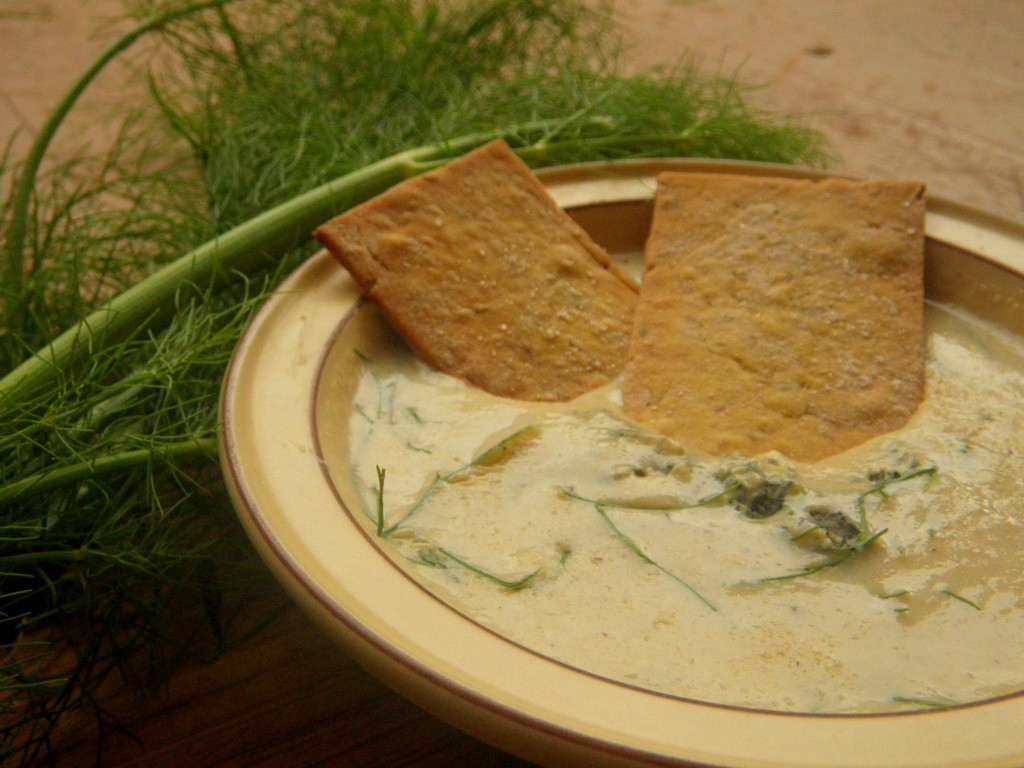 Roasted Fennel and Leek Soup
Cut off most of the green parts of 2 fennel bulbs and 3 leeks (save a few of the fennel fronds for garnish). Slice the leeks in half long-ways and run the layers under water to remove grit. Chop fennel bulbs and leeks into 1-inch chunks.
Cut away the ugly outside of  1 celeriac and chop into 1/2-inch chunks. Combine with fennel and leeks and toss with a sprinkle of salt and enough olive oil to coat. Spread veggies in a single layer on a cookie sheet and roast in a 400 degree oven for about 30 minutes (stirring once or twice) until they begin to brown and caramelize.
When the veggies are done roasting, combine them with 4 cups of milk, 1 teaspoon salt, 1 teaspoon cracked black pepper, and 1/2 teaspoon dried mustard powder. Heat until milk is hot, but do not boil. When heated through, use an immersion blender or food processor to puree until smooth. Adjust salt and pepper to taste.
Garnish with chickpea crackers (recipe below), crumbled blue cheese, and a sprinkle of chopped fennel frond for an added touch of the gourmet.
Gluten-Free Chickpea Flour Crackers
Combine 1 cup chickpea flour, 2 tablespoons sesame seeds, 1 teaspoon fennel seeds, 2 teaspoons olive oil, and 1 teaspoon salt in a small bowl. Slowly stir in 1/4 cup water until a thick dough is formed. Roll dough out into a thin layer (1/8 inch or so) on a cutting board and cut into cracker-sized pieces. Line a cookie sheet with parchment paper or a silicone baking mat. Bake for 20 minutes at 400 degrees until golden brown and crisp (I did this at the same time I was roasting the veggies).
This recipe is easily adaptable–replace fennel seeds with chopped herbs, sprinkle with parmesan cheese, etc. Cut into thinner strips for a salad garnish, or into wedges for dipping into hummus or spinach dip.
Text and photography by Kate Darlington – Blooming Glen Farm second year intern, fresh food enthusiast, and budding food blogger. She also writes for the Digging Deep Campaign as well as for her personal blog, Growing Things.