12 Oct

Butternut Squash & Leek Casserole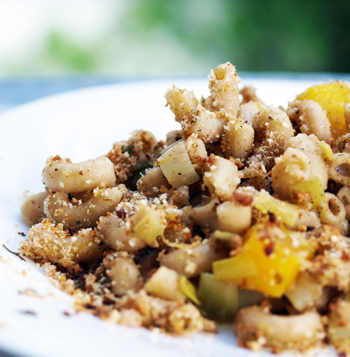 Nothing says autumn harvest like a butternut squash, right? Like its buddy, the delicata squash, butternut is low in calories, carbs, and fat, and high in vitamins A and C. Butternut squash also provides a very healthy dose of the minerals, potassium and manganese, and is a good source of vitamin E, thiamin, niacin, vitamin B6, folate, calcium, and magnesium. Additionally, the carotenoids that provide its gorgeous color also deliver antioxidant and anti-inflammatory properties. As if that weren't enough, butternut squash also lives up to its silky, delicious, buttery name. Beauty and brains — you just can't beat it!
Butternut squash tastes divine after roasting, which really brings out its sweetness. It also makes a great soup, where you can add savory elements for a great depth of flavor — a loaf of Bakers on Broad bread completes this tasty meal! Finally, pair butternut squash with whole grains; the smooth texture of the squash makes an excellent partner to hardy whole grains. The cool weather inspired the butternut squash casserole recipe below, which also uses in-season leeks. Let the oven warm up the house and serve this comfort food with a side of green's from this week's share.
References and recommended links:

Butternut Squash & Leek Casserole
Ingredients
1 tbs grapeseed oil
3 leeks, sliced into half-moons
1 butternut squash, peeled, seeded and cut into 1-inch pieces
1 can coconut milk
1/4+ tsp cayenne pepper
Salt and pepper to taste
1-2 tbs chopped herbs (rosemary, sage, and/or thyme work great)
1 box (13.25oz) dried whole wheat elbow macaroni
1/2 cup whole wheat bread crumbs
Method
Preheat oven to 350-degrees. Lightly spray a 9- x 13-inch casserole dish with grapeseed oil.
Heat oil in a heavy-bottom pot over medium heat. Add leeks and cook, stirring often, until softened, about 5-7 minutes. Add squash, coconut milk, cayenne, salt, and pepper and turn up heat to a boil. Cover, reduce heat, and simmer until squash is tender, about 15-20 minutes. Stir in herbs and simmer another minute.
Meanwhile, cook macaroni al dente, about 7 minutes. Rinse in cold water, drain, and put into a large bowl. Transfer squash mixture to bowl with macaroni. Add salt and pepper and toss to combine. Transfer to casserole dish and top with bread crumbs. Bake until it begins to brown and is cooked throughout, about 25 minutes.
Post and photos by Mikaela D. Martin: Blooming Glen CSA member since 2005, board-certified health counselor, and co-founder and -owner of Guidance for Growing, an integrative wellness practice in Souderton. Read more about healthy eating and living on her site, http://guidanceforgrowing.com!