According to Ayurvedic tradition, every meal should contain all six tastes: sweet, sour, salty, bitter, astringent, and pungent. Leaving one out will leave us unbalanced and under-nourished. Have you ever felt unsatisfied at the end of a meal, even though you are completely full? You were probably missing one of these key tastes.
We obviously don't have a problem getting in the sweet and salty, but I know I shy away from the bitter. However, bitter foods have tremendous health benefits. They have a drying and cooling effect on our bodies (and what could be better in the recent heat and humidity?). They cleanse and detoxify our immune systems. They also help to manage food cravings.
I have to admit, I've been nay saying escarole for a while now – its bitter taste didn't appeal to me and with so many other vegetables to choose from, it has been easy to leave escarole off the plate. But this week, I was reminded of the Ayurvedic taste-balancing philosophy, and was inspired to face my escarole fears.
Typically, escarole is eaten cooked, which diminishes its bitterness, but I couldn't bear the thought of preparing a hot dish in this weather. This salad balances the bitterness of escarole with sweet fennel and oranges, pungent chive blossom vinegar, and rich olive oil.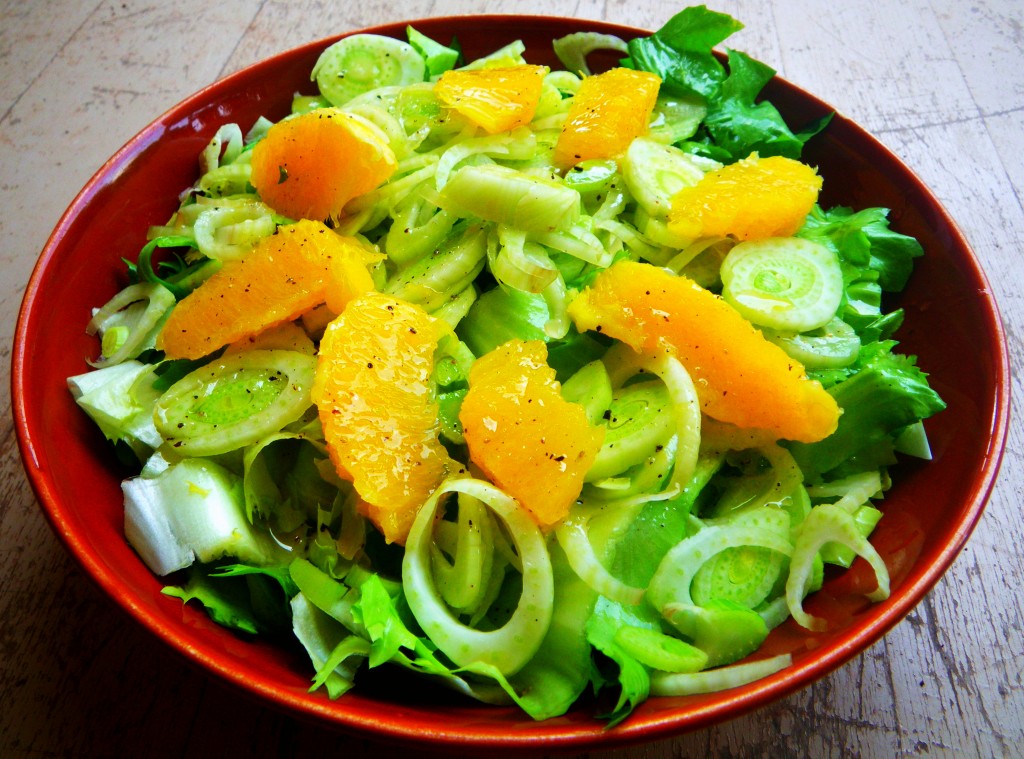 Escarole Salad with Fennel and Orange
Chop or tear the leaves of one head of escarole, removing any yellowed outer leaves, much like you would a head of lettuce.
Cut off the stalks and bottoms of three bulbs of fennel, thinly slicing the bulbs across their width. To supreme (a fancy chef word for section) two oranges, first peel them with a paring knife, making sure to remove the white pith. Holding an orange over a bowl to catch the juice, slice between the white membranes of each segment, lifting the slice of orange out with the knife.  Save the juice and toss orange segments with the fennel and escarole.
In a small bowl or measuring cup, whisk together reserved orange juice with two tablespoons chive blossom vinegar*, ¼ cup olive oil, one teaspoon salt, ½ teaspoon fresh ground pepper. Pour the vinaigrette over salad and toss.  
*To make this simple infused vinegar, stuff a jar full of cleaned chive blossoms. Pour distilled white vinegar over the blossoms and leave to steep for at least one week. If you don't have it or can't make it, replace the vinegar in the salad recipe with white wine vinegar and add a sprinkle of chopped spring onions or whole chive blossoms to the salad.
Text and photography by Kate Darlington – Blooming Glen Farm second year intern, Colorado native, and food lover.