12 Jul

Stir-Fried Eggplant and Basil

While the farm crew was wilting in last week's hot weather, our heat-loving summer crops were having a hay day. You'll notice one of them, eggplant, in this week's share for the first time. The elongated Oriental variety can be used just like the classic Italian eggplant, and I actually prefer it because it is thinner skinned, more convenient to cut, and has fewer seeds. This recipe takes inspiration from the vegetable's Asian heritage and from the giant basil patch open to the CSA this week.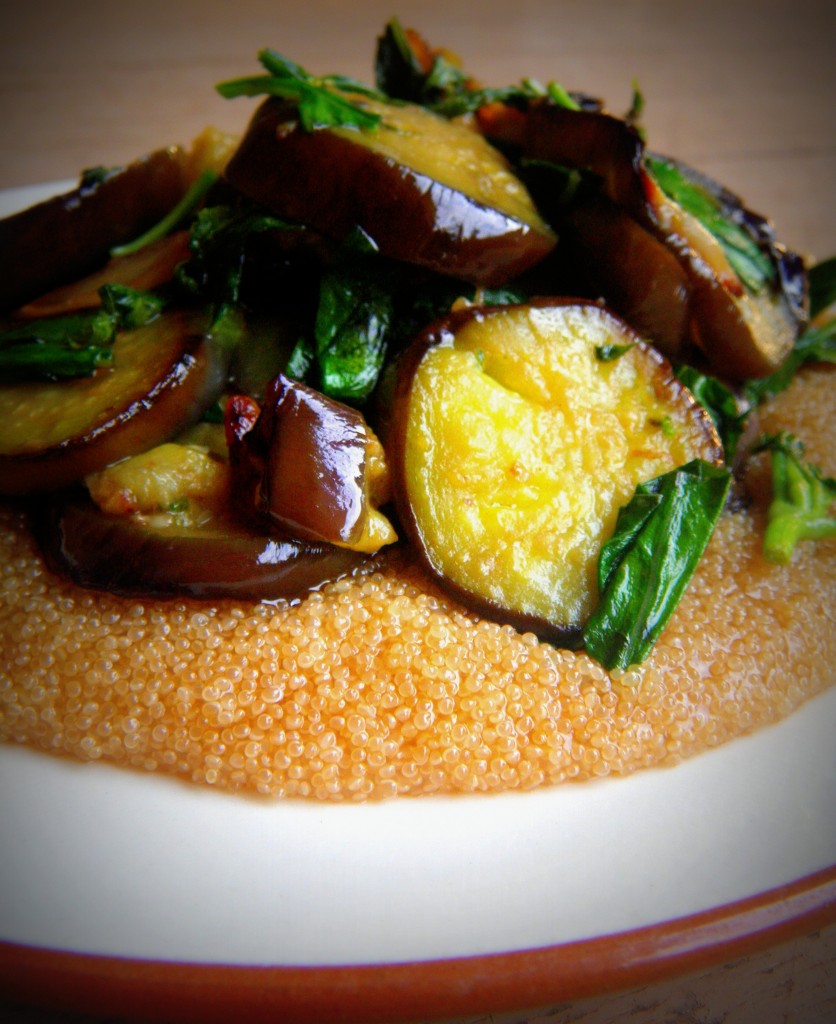 Stir-Fried Eggplant and Basil
In a very hot skillet or wok, heat 1/4 cup coconut oil (or other light oil suitable for high-heat frying). When the oil is hot, throw in 5 cloves of thinly sliced garlic, 1 tablespoon minced fresh ginger, and 2 Asian eggplant, sliced into 1/4 inch coins. Sprinkle with a small pinch of salt. Stir eggplant so that oil is evenly distributed.
Continue to cook on medium-high heat, stirring occasionally, until eggplant melts down and garlic becomes golden and slightly crispy. Toss in 1 cup basil leaves, stripped from stems. Remove from heat.
Drizzle lightly with soy sauce and sesame oil. Serve over rice or other grain of choice (I chose amaranth, a great pseudo-grain that actually grows as a weed on the farm, but whose seeds are high in protein and have a porridge-like consistency).
Text and photography by Kate Darlington – Blooming Glen Farm second year intern, fresh food enthusiast, and budding food blogger. She also writes for the Digging Deep Campaign as well as for her personal blog, Growing Things.