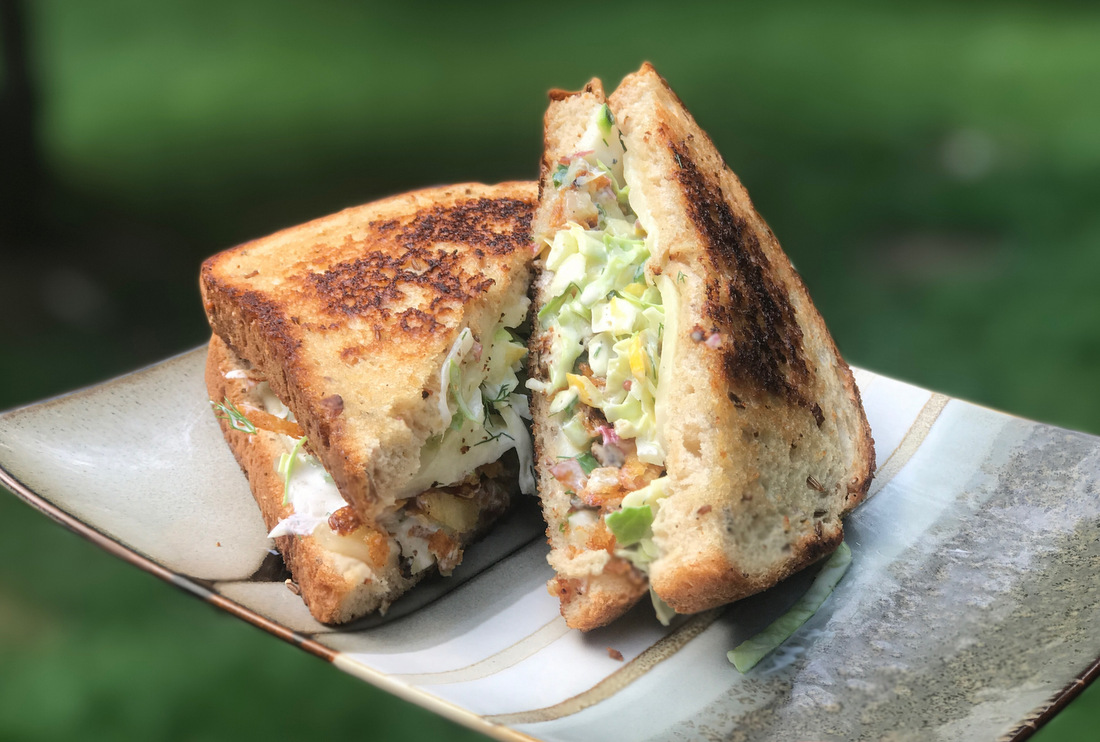 It's a little hot to be stuck in the kitchen all day cooking and frankly, I am not even very hungry. Nonetheless, the kids have to eat. My 14 yr old and I were throwing around ideas for a farm recipe and this is the one that ignited the most excitement in his tone. Sadly for him, he fell asleep and I ate the entire thing myself. Poor kid.
As always with my recipes, feel free to play around with what you have on hand and allow your intuition and cravings to guide your creativity. Here, I use the traditional rye bread and swiss cheese but, by all means, do you. The technique is exactly as if you would be making a grilled cheese sandwich. Once the components are finished, it's just a layer and griddle party.
There are 4 components put together to create one glorious sandwich but only minimal cooking is involved.
4 medium red potatoes – shredded
2 Tbs cooking oil
1 Tbs butter
Shred potatoes and soak in cold water for 10 minutes. Drain and press dry in a kitchen towel or paper towels until very dry. Heat oil and butter over medium heat in a large skillet. Lay shredded potatoes in a thin layer to cover the skillet and allow to brown. Once the underside is golden and crispy, gently flip. I grated some fresh garlic over the potatoes once I flipped it and let the heat melt it away into the potatoes. Salt and lots of pepper.
In a separate bowl :
1/2 cabbage shredded
1 zucchini shredded
1 yellow squash shredded
1 onion sliced thin
1 apple or pear shredded
Salt and pepper
Slaw Sauce :
1 Cup mayo
1 Tbs mustard – I use whole grain.
1 Tbs honey or maple
2 tsp vinegar
Fold the slaw sauce into the cabbage mixture and set aside.
Cucumber Dressing :
1 yellow cucumber- seeded and diced very small
1 Tbs dill- chopped
2 Tns onion tops- sliced thin
1 onion – small dice
1 turnip- small dice
3/4 cup plain yogurt – Greek or drained
1 Tbs kefir or buttermilk
1 Tbs sugar
salt and pepper
To assemble :
Butter 2 pieces of rye bread like you would a grilled cheese sandwich. I used the same skillet that was still warm from the potatoes. Apply 2-4 slices of Swiss or any cheese you would like to either side of the bread followed by a generous dollop of cucumber dressing to one side. Lay your potato pancake atop the dollop and apply a nice layer of slaw to be followed by the other piece of bread. Place in the skillet and allow to brown on both sides being careful that the guts don't spill out all over the place. Be a gentle flipper. Gingerly remove the Rachel from the skillet and enjoy immediately. No plate required.
Recipe, post and photos by Kristin Moyer, a local mom and chef who loves to eat, write and play with her food.