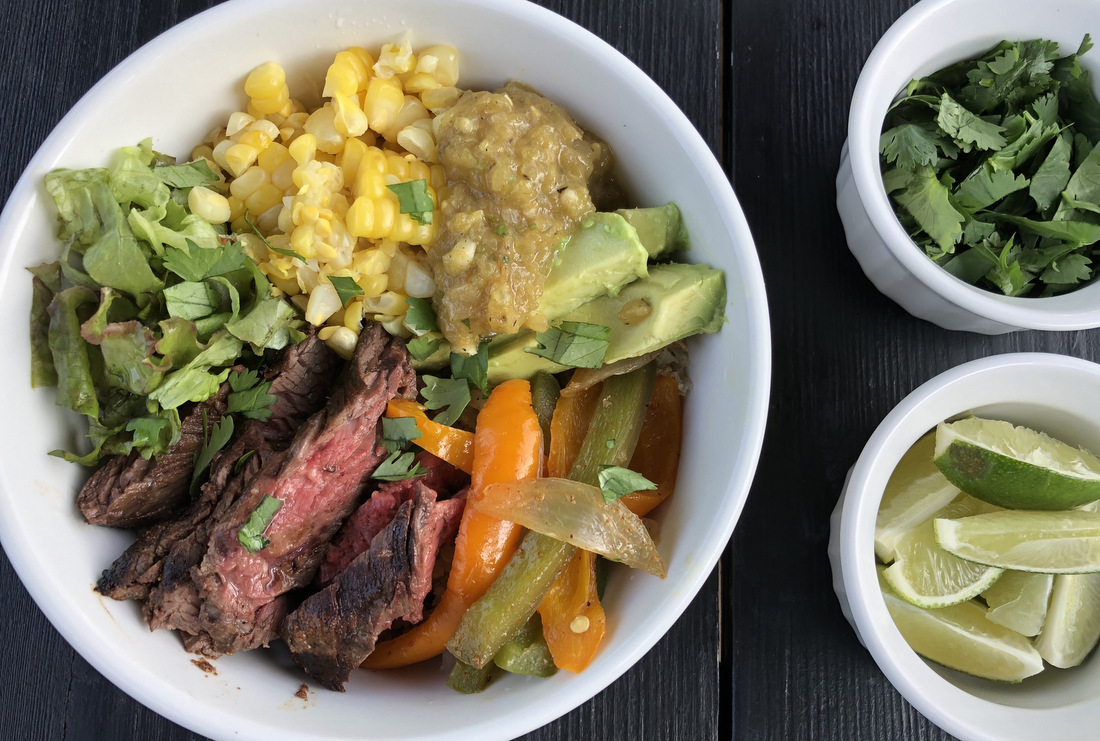 We are nearing the end of summer and seeing an abundance of tomatoes and peppers in our CSA shares.  This week's recipe showcases that late summer produce- sweet onions, tomatoes, green peppers, sweet peppers, hot peppers, sweet corn, and lettuce from our weekly share.  I'm going to share the recipe I created, but this meal offers a great deal of options so adapt it to fit your family's needs or preferences.
Fajita Bowls
Ingredients:
Marinated Beef, Chicken, or Mushrooms
Pepper and Onion Mixture
Green Tomato Salsa
Cauliflower and Kohlrabi "Rice" (for a gluten free option) or Regular Brown or White Rice
Grilled Corn
Avocado Slices
Jalapeno Slices
Fresh Cilantro- finely chopped
Lime Slices
Chopped Lettuce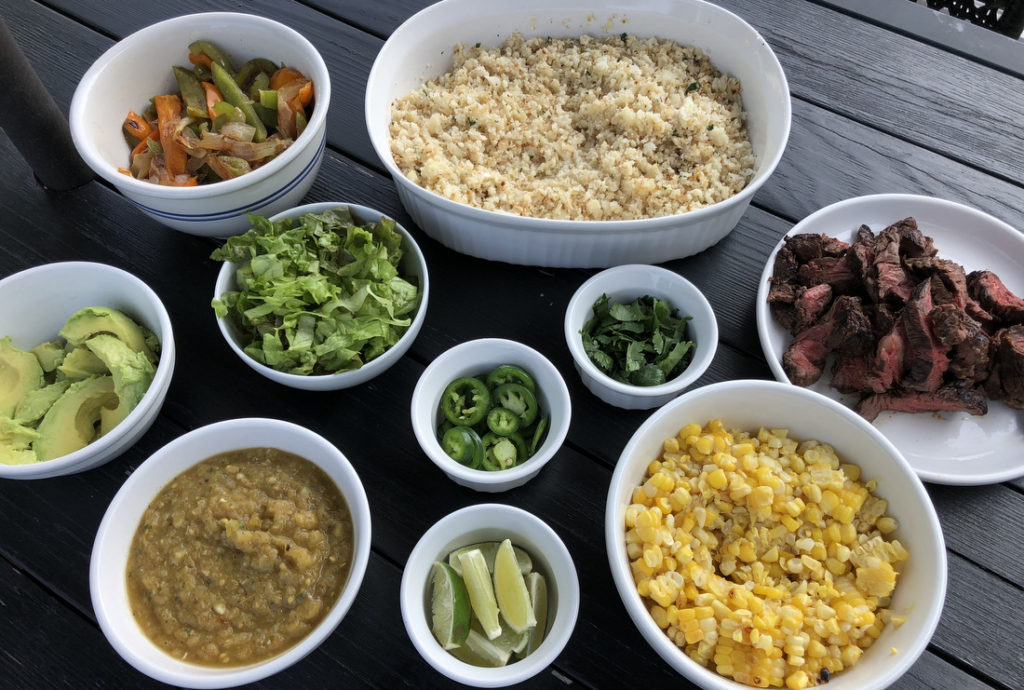 Marinated Beef:
1 ½ lbs hanger or skirt steak (choose local grass fed beef from either Hershberger Heritage Farm or Tussock Sedge Farm)
¼ cup olive oil
1 Tbsp apple cider vinegar
1 lime- juiced
1 tsp garlic powder
½ tsp chili powder
¼ tsp sea salt
Combine all ingredients, except beef, in a bowl.  Mix well.  Place steaks in a shallow container and cover with marinade.  Allow to marinate at least 3 hours.  Preheat grill to about 400°F.  Grill steaks 2-3 minutes per side or until desired temperature is reached.  Cook time with vary depending on thickness of steaks.
**You can use this same recipe for boneless chicken breasts, boneless chicken thighs, or even portabello mushrooms.  If using mushrooms, you can marinate for 30 minutes.
Pepper and Onion Mixture:
2 green peppers- sliced
3 sweet peppers- sliced
2 onions- sliced
2 Tbsp avocado oil or olive oil
¼ tsp garlic powder
¼ tsp chili powder
Heat oil in frying pan to medium heat.  Add onions and cook for 5 minutes.  Add peppers.  Cover and cook until fork tender (about 10 minutes).  Stir throughout cooking time to insure even cooking of vegetables.  Once vegetables are cooked, add spices and serve.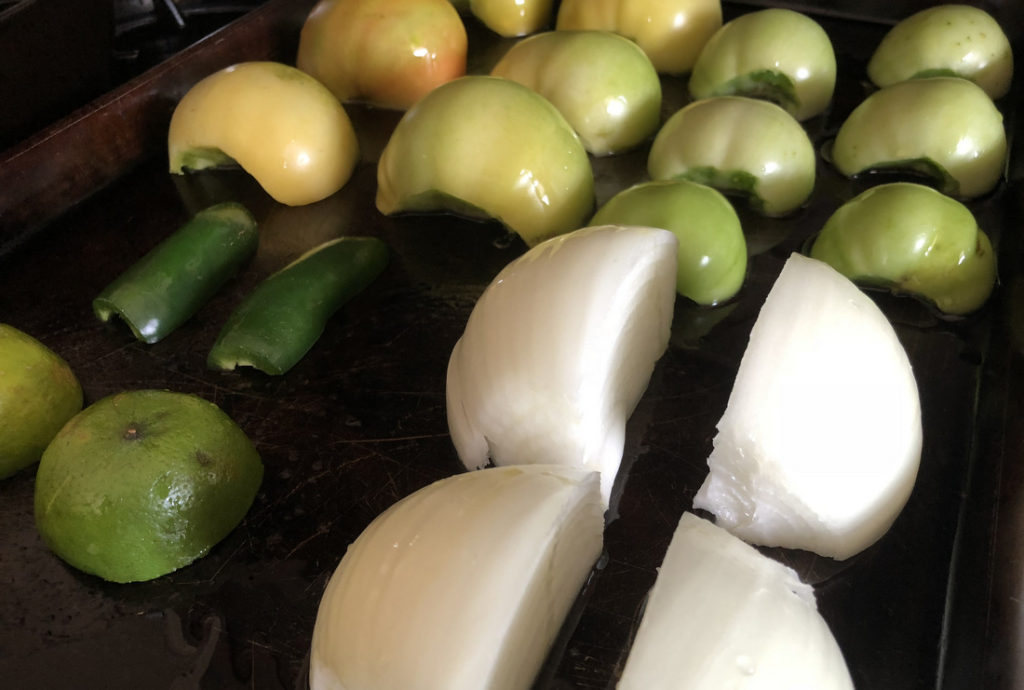 Green Tomato Salsa:
2 lbs green tomatoes, or tomatillos- sliced in half (you could also make this a red tomato salsa if you'd prefer)
1-2 jalapenos- sliced in half, seeds removed (or one poblano for milder heat)
1 large sweet onion- cut into fourths
1 lime- sliced in half
2-3 Tbsp olive oil
6 cloves garlic
2 tsp sea salt
1 tsp cumin
1 tsp black pepper
2 Tbsp fresh cilantro
1 Tbsp lime juice
Preheat oven to 400°F.  Place green tomatoes (or tomatillos or red tomatoes), jalapenos (or poblano), onion, and lime on cookie sheet.  Drizzle with olive oil.  Roast in oven for 30 minutes.  Place roasted vegetables in food processor.   Squeeze pulp out of roasted lime and add that to the food processor.  Add remaining ingredients and pulse to desired consistency.  I like to serve this salsa a little chunky.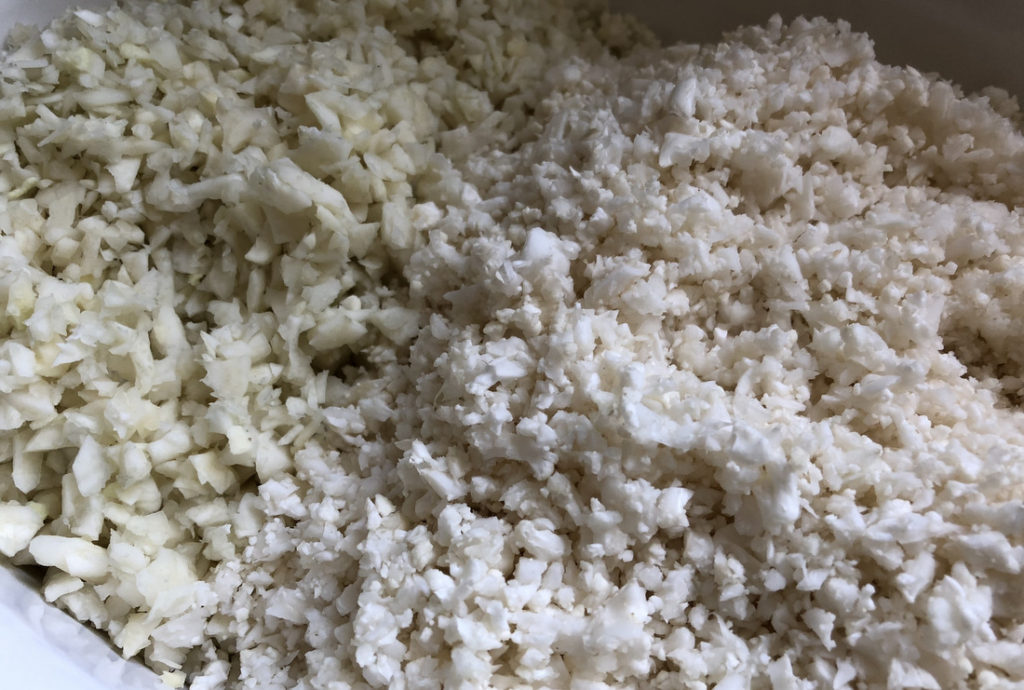 Cauliflower and Kohlrabi "Rice":
1 head cauliflower
2 large kohlrabi bulbs
4 Tbsp avocado oil or olive oil
2 Tbsp fresh cilantro- finely chopped
½ lime- juiced
Sea salt and pepper to taste
Clean cauliflower, chop into chunks, and place half of the chunks into the food processor.  Pulse until you get a "riced" texture.  Remove riced cauliflower and set aside.  Pulse the other half of the cauliflower and then add that to the first batch.  Peel kohlrabi, chop into chunks, and place in food processor.  Pulse to chop and then add to cauliflower.  Add oil to frying pan.  Heat to medium heat and then add cauliflower/kohlrabi mixture.  Cover and saute for 15-20 minutes.  Stir frequently to insure even cooking and prevent the vegetables from sticking.  Remove from heat and add cilantro and lime juice. Season with salt and pepper to taste.  Mix well and serve.
**If you do not have kohlrabi, you can just use cauliflower.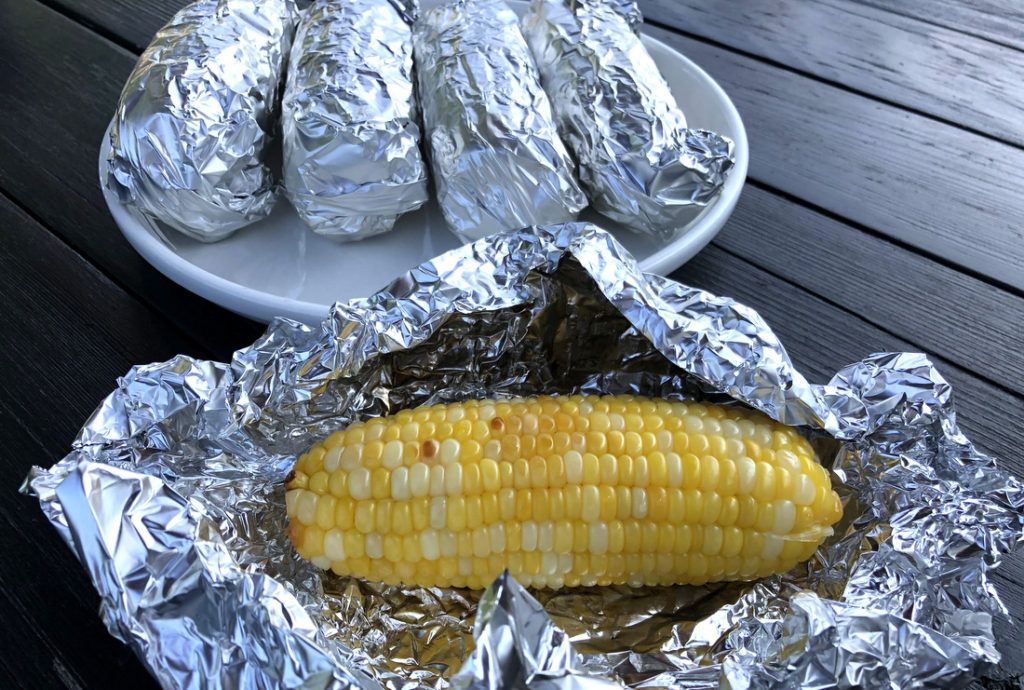 Grilled Corn:
Clean and husk corn.  Wrap each ear in aluminum foil.  Heat grill to about 400°F.  Place ears on grill.  Cook for 18-20 minutes, flipping halfway through cook time.  Remove from grill and allow to cool a little before handling.  When cool enough to handle, use a sharp knife to remove the corn from the ear.  Place in bowl and serve.
**Fajita Bowl Assembly: Once all components are cooked and ready to serve, you can assemble each bowl.  Fill the bottom of the bowl with either the cauliflower and kohlrabi "rice" or regular white or brown rice.  Top with marinated steak (or chicken or mushrooms), pepper and onion mixture, chopped lettuce, avocado slices, jalapeno slices, green tomato salsa, and grilled corn.   Sprinkle on some chopped fresh cilantro and squeeze a lime over top. Enjoy!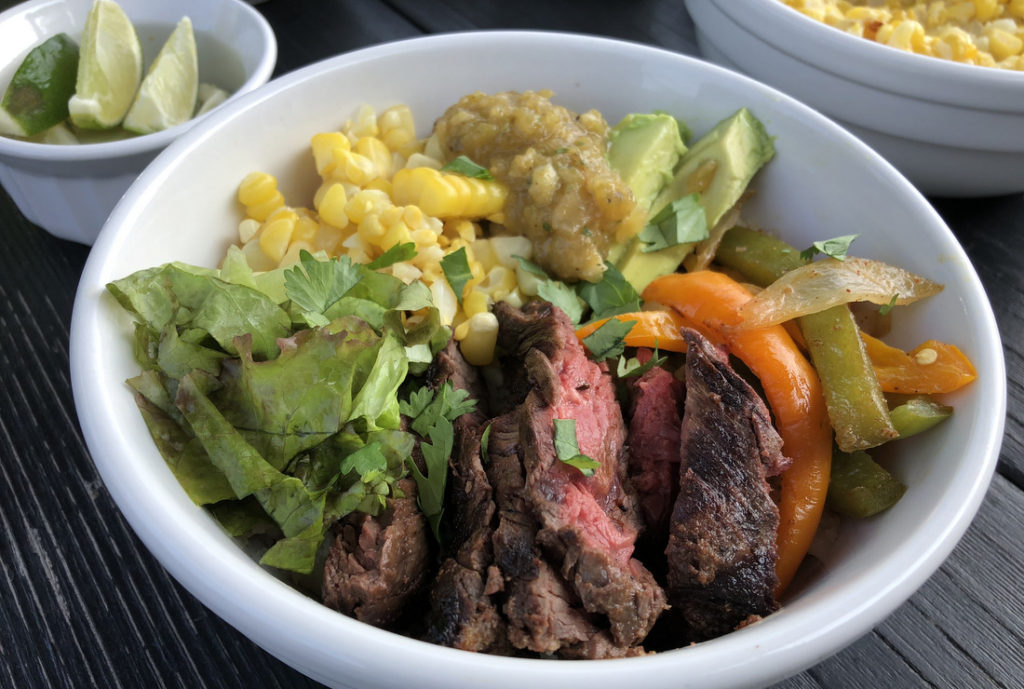 Recipe and Photos by Stephanie Borzio. Stephanie Borzio is a mom of three active boys and is an autoimmune warrior. After battling her own health for several years, Stephanie found healing through food and lifestyle changes, including joining Blooming Glen Farm CSA of which she is a long time member. She is a Board Certified Integrative Nutrition Health Coach who is passionate about sharing healthy living tips and real food recipes. Instagram & Facebook: Tru You Essentials; Website: www.truyouessentials.com