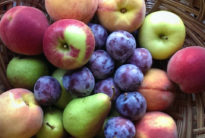 "If a picture is worth a thousand words, then the one above consists, in part, of these: sweet, tart, juicy, crunchy, crisp, aromatic, sugary-tart, rich, velvety, smile, slurp." ~Lisa Kerschner, North Star Orchard
My mouth is already watering in anticipation! We are super excited to be able to offer this incredible add-on to your vegetable share in 2017: a 12-week CSA Fruit Share membership from our friends at North Star Orchard, which you'll be able to pick up here at the farm on your CSA day! The share will start in August, but registration fills up fast, so sign up now (directly with North Star Orchard) to reserve your spot for weekly delivery to Blooming Glen Farm. CSA Members of North Star have been enjoying the Fruit Share for many years, and we think you will too! We encourage you to take a look at what their share has to offer here: https://northstarorchard.com/fruit-share.
Farmers Ike and Lisa Kerschner started North Star Orchard in 1992. They met while fellow students at Penn State. While still in college, they started their first apple breeding project, growing baby trees in their apartment. Their business has grown over the past 20 plus years into a thriving fruit and vegetable farm located on 20 acres in Cochranville, Pa, in Chester County. One of the apple varieties they developed in that apartment in college, Monolith, is currently being grown in the orchard and sold at farmers' markets.  We met tie-dyed clad Ike a number of years ago when we had neighboring booths at the Headhouse Farmers market in Phila. We would always look forward to the arrival of this mad scientist of fruit, and subsequently the addition of their delicious offerings to our diet.
This is not ordinary fruit, but unique and heritage varieties which are full of flavor: plums with pizazz, perfect peaches, amazing Asian pears, great (seedless) grapes, astounding apples, and a sprinkling of heritage pear varieties. North Star Orchard grows no standard varieties, but rather heritage and super-flavorful varieties which you've likely never heard of and will knock your socks off.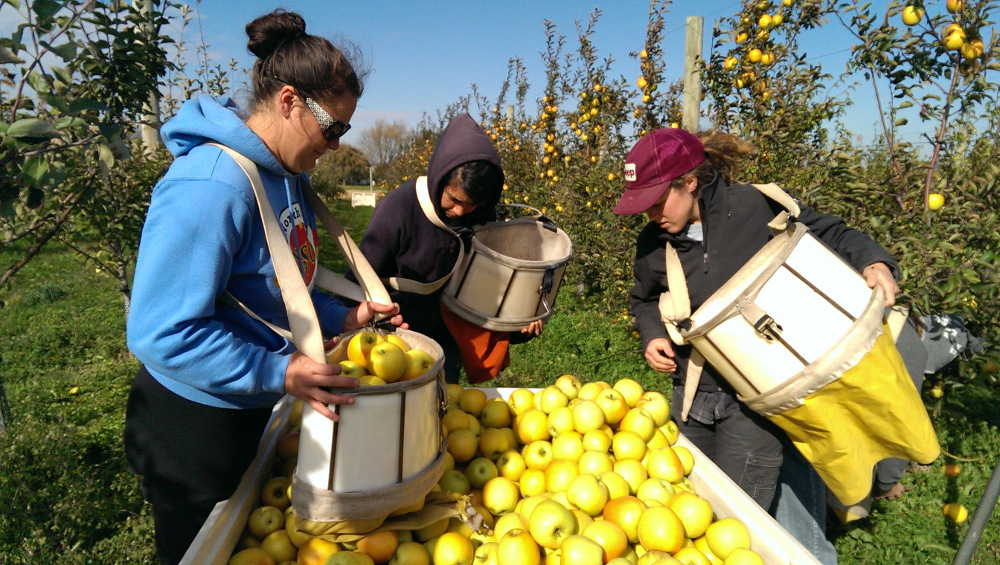 Sign up directly with North Star on their website at https://northstarorchard.com/fruit-share, or if you need to reach them directly, email Lisa@northstarorchard.com. Benefits of the fruit share include: a weekly supply of delicious fruit starting at the beginning of August and going for 12 weeks; a balanced mix of different fruits each week to suit the whole family; fantastic varieties selected for flavor; a weekly email detailing varieties, and offering recipes and other information; the ability to add on extras to your weekly delivery if you so desire.
To read what Farmer Ike calls their "certified sensible" growing practices, head over to their website https://northstarorchard.com/growing-practices.
And for a quick view of North Star Orchard itself, enjoy this 90-second bird's eye view: https://www.youtube.com/watch?v=izdj6VIWyao
North Star Orchard Fruit Shares delivered to Blooming Glen Farm are only available for Blooming Glen Farm CSA members. You will have the option of picking up your weekly fruit share on Tuesday or Thursday afternoons at Blooming Glen Farm (during regular CSA pick-up hours of 1-7:30pm). So sign up for your veggie share with Blooming Glen Farm (early bird discount is currently in effect!), then check out North Star Orchard's website and their fruit share!
Post by Tricia Borneman, Blooming Glen farmer and co-owner.  (Photos provided by Lisa Kerschner, North Star Orchards). Tricia and her husband Tom have been farming together since 2000. Blooming Glen Farm is celebrating its 11th season bringing high quality certified organic vegetables, herbs, fruits and cut flowers to our local community.