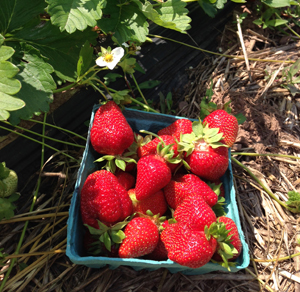 We were lucky to pick a quart of perfect strawberries at this season's first share pickup — yum!  These pretty, plump berries aren't just nice to look at: One cup of them offers nearly 150% of the daily recommended allowance of Vitamin C and 29% of manganese, both powerful antioxidants that protect our bodies from free radical damage.  They also offer a healthy dose of dietary fiber, needed for everything from blood sugar maintenance to happy digestion.  Finally, strawberries have an "amazing combination of phytonutrients," including anthocyanins, ellagitannins, flavonols, terpenoids, and phenolic acids, which help prevent unwanted inflammation.
Although it's tempting to pop all of the berries right into my mouth, I was able to refrain from that temptation and save them for the salad below.  Feel free to use any combination of the greens that you have on hand from this week's share.
Macerated Strawberry Salad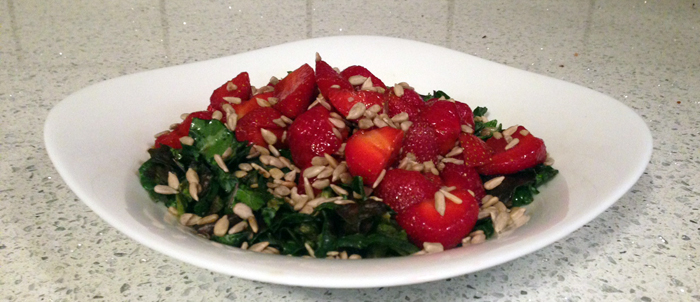 Ingredients
Macerated Strawberries:
1 cup strawberries, sliced into quarters
3 tbs balsamic vinegar
1 tbs fresh lemon juice
1 tbs brown sugar
Splash of vanilla extract
1-1/2 to 2 cups greens, chopped (kale and red lettuce are pictured)
Squeeze of lemon juice
Salt
2 tbs sunflower seeds
Balsamic vinegar
Method
In a small bowl, whisk together the balsamic vinegar, lemon juice, brown sugar, and vanilla. In a larger bowl, add the strawberries, and pour the balsamic mixture over top. Let the fruit marinate for 10 minutes, stirring occasionally.  Drain the berries from the marinade.
Note: If you are using lettuce and/or spinach, you can skip this step, which is to soften up tougher greens, such as kale. Place chopped greens into a bowl, squeeze on a bit of lemon juice and/or balsamic vinegar, and add a little salt. Massage the greens, so they're coated. Let stand until strawberries are ready.
Pour drained berries onto greens, and sprinkle with sunflower seeds.  Add balsamic vinegar to taste.
Post Sources:
Nutrition Data
The World's Healthiest Foods
Post and photos by Mikaela D. Martin: Blooming Glen CSA member since 2005, board-certified health counselor, and co-founder of Guidance for Growing, an integrative wellness practice in Souderton. Read more about healthy eating and living on her site, http://guidanceforgrowing.com!