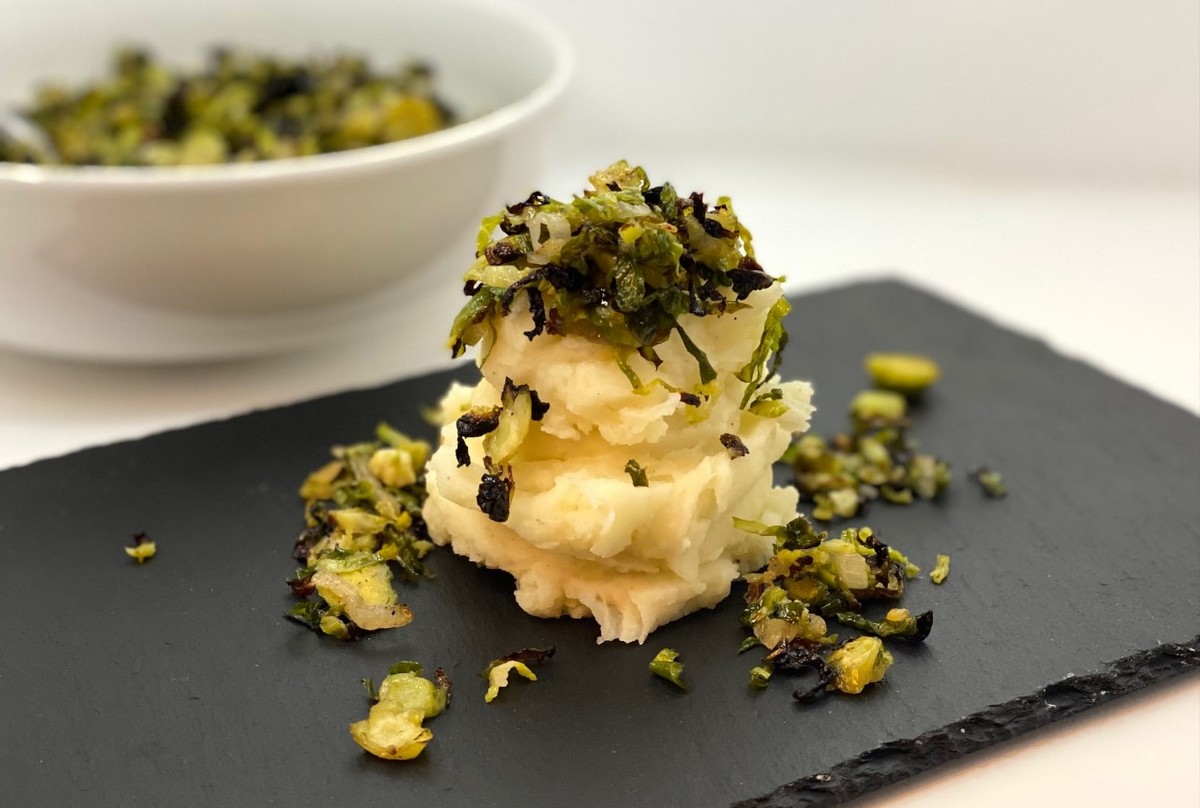 Wow- what an amazing season we had at Blooming Glen Farm!  We are all lucky and grateful to have a wonderful group of farmers dedicated to bringing us the highest quality organic produce.  This team, led by Tricia and Tom, provided us with a steady stream of vegetables and offered us amazing add-on opportunities for this season.  Thank you from the bottom of our hearts!  Amidst a global pandemic and so many unknowns, we could rely on you to bring us fresh organic produce each week.  It was an honor to join this wonderful group of farmers for another year developing recipes for each of you to try.
For our last recipe of the season, we are showcasing the beautiful stalk of Brussels sprouts.  This would make a great addition to your holiday table next week!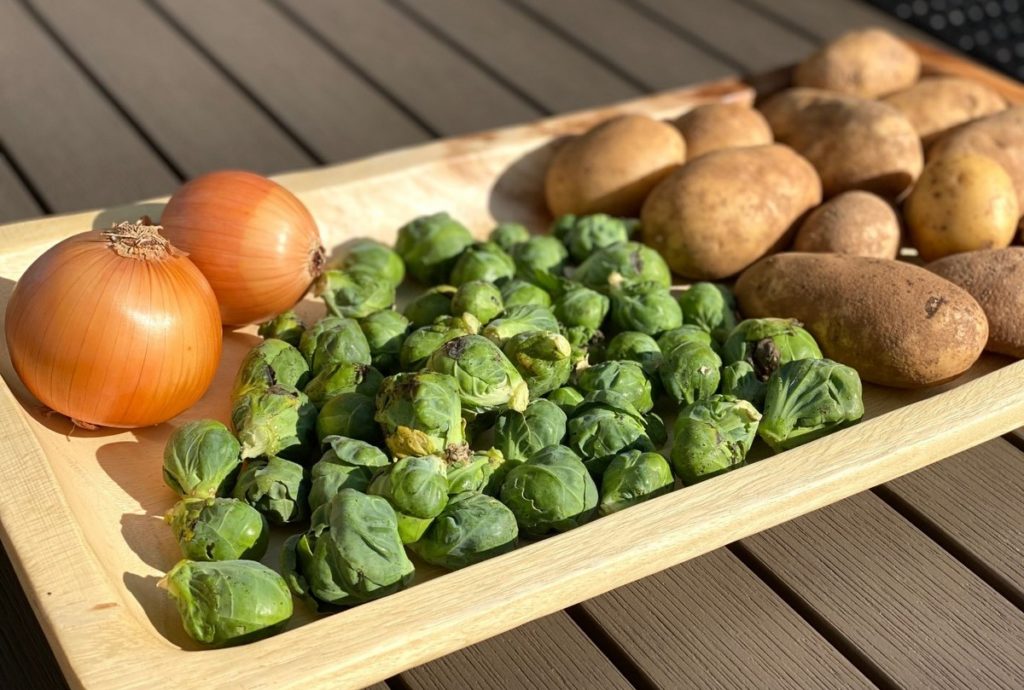 Roasted Brussels Sprouts Slaw
 Ingredients:
1 stalk Brussels sprouts
1 medium onion
3 Tbsp olive oil
2 tsp maple syrup
1 tsp garlic powder
¾ tsp sea salt
¼ tsp black pepper
Remove Brussels sprouts from stem. Clean well.
Thinly slice Brussels. I used a mandolin set on 1/8-inch setting.  Place sliced Brussels in large bowl.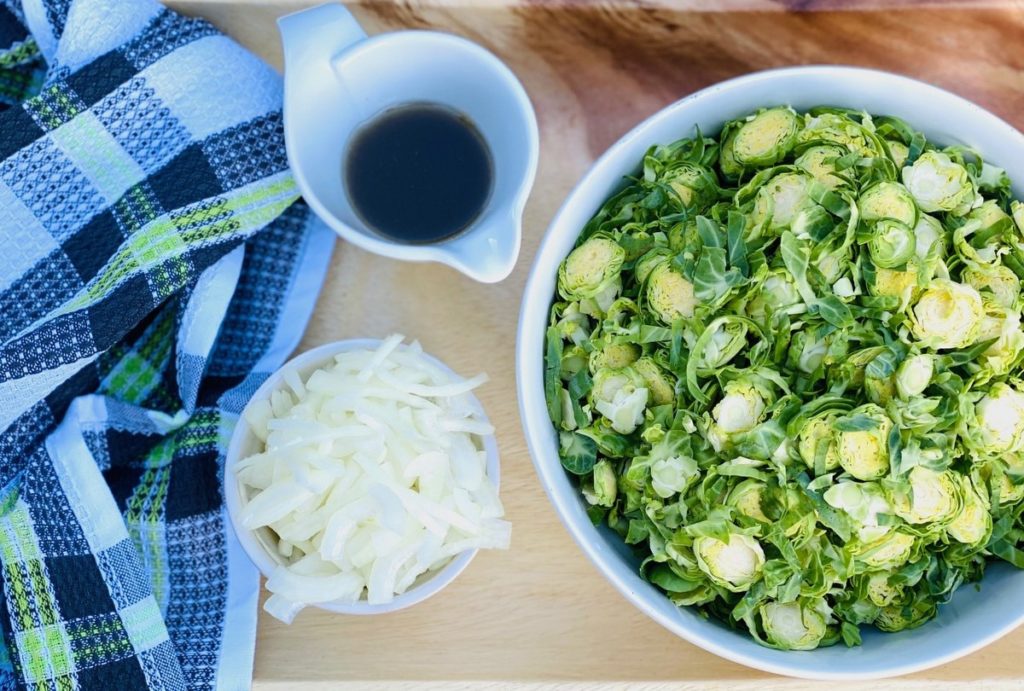 Clean onion. Slice in quarters and then thinly slice like Brussels sprouts.  Add to large bowl and mix with brussels.
Mix oil, maple syrup, and spices in small bowl. Pour over Brussels and onion mix.  Toss to coat.
Spread evenly onto baking sheet.
Roast at 400°F for 20 minutes. Mix every 5 minutes.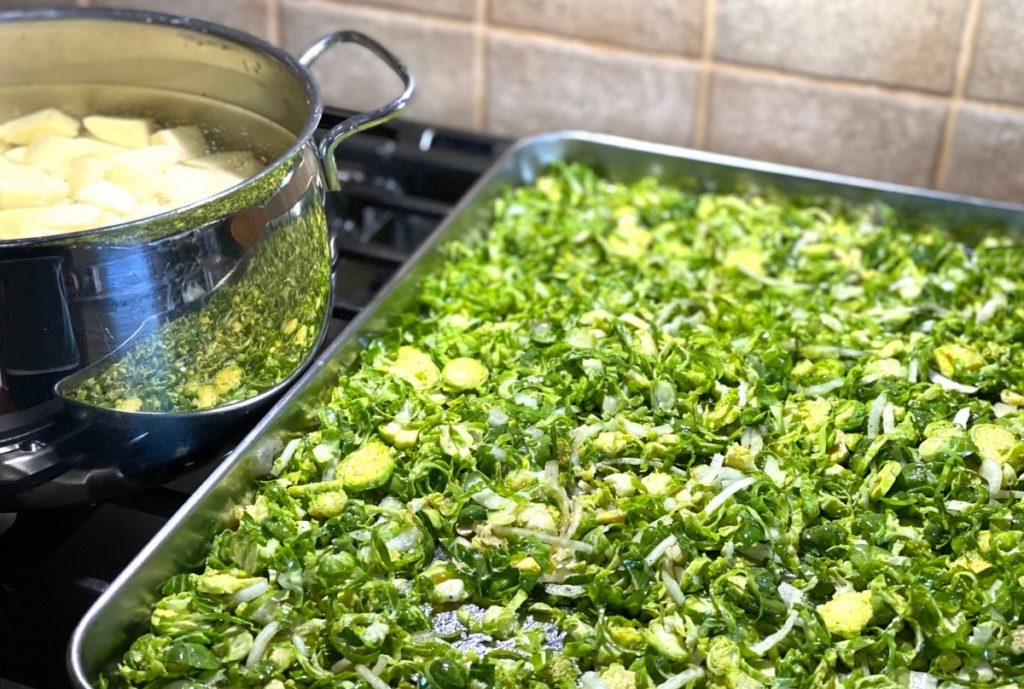 If you want it extra crispy, broil for 1-2 minutes after roasting.
Serve this roasted slaw hot or allow to cool and serve cold. It pairs really well with mashed potatoes, but would also make a great addition to a salad or on top of your morning eggs.
Recipe and photos by Stephanie Borzio.  Stephanie is a mom of three active boys and is an autoimmune warrior.  After battling her own health for several years, Stephanie found healing through food and lifestyle changes, including joining Blooming Glen Farm CSA of which she is a long time member.  She is a Board Certified Integrative Nutrition Health Coach who is passionate about sharing healthy living tips and real food recipes.  Instagram and Facebook: Tru You Essentials; Website: www.truyouessentials.com