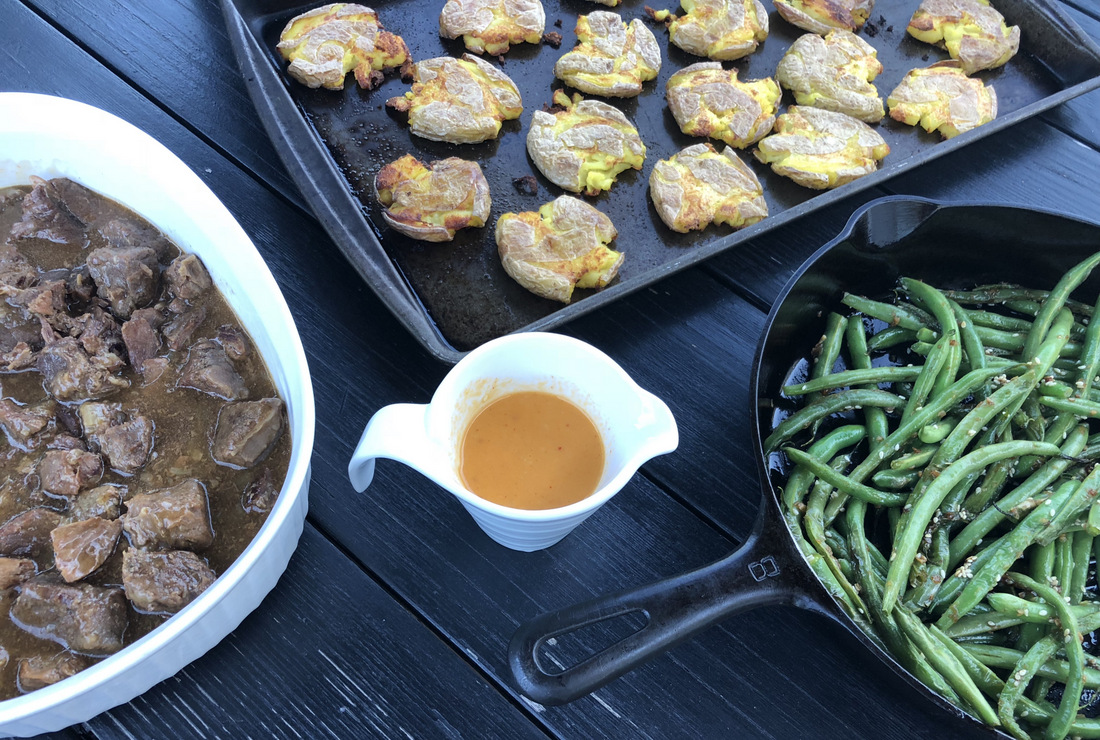 I get so excited when I walk into the CSA on Tuesday afternoons and there is a new pick-your-own vegetable.  Most of the pick-your-own crops rarely make it to a meal in our house.  They get cleaned up, put in a bowl on our table, and the kids munch on them!  This week's pick-your-own crop was green beans.  We love to eat these raw, but also enjoy them in a variety of dishes.  This week I decided to give them an Asian twist alongside some smashed potatoes and grass-fed sirloin tip cooked in the instant pot.
Skillet Green Beans
1 lb fresh green beans
2 Tbsp avocado or olive oil
3 cloves garlic- crushed
2 tsp sesame seeds
3 tsp coconut aminos*
Sea salt and black pepper to taste
*Coconut aminos is a soy-free seasoning sauce.  It is made of organic coconut tree sap that has been aged and blended with sun-dried, mineral-rich sea salt.  We use the Coconut Secret brand.  You can definitely substitute with soy sauce if you prefer.
Add oil to skillet and allow to heat up.
Add green beans. Cover and cook on medium heat, stirring frequently to insure even cooking.  Cook for about 10 minutes.
Add crushed garlic and cook until green beans are desired tenderness. (I like to serve them a little crunchy.)
Add sesame seeds and coconut aminos. Season with salt and pepper.  Mix well and serve.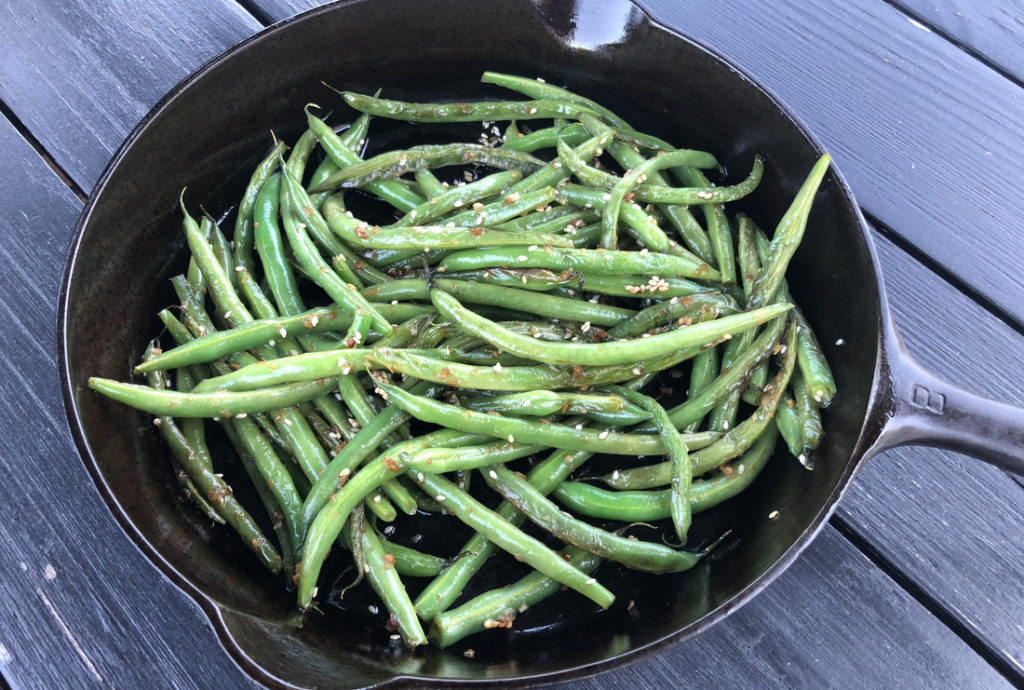 Smashed Potatoes
2 Tbsp + ½ tsp sea salt, divided
1 pound small potatoes
3 Tbsp olive oil, divided
½ tsp black pepper
Fill medium pot with 6 cups water and 2 Tbsp sea salt. Bring to a boil.
Add potatoes and allow water to come back to a boil. Cook potatoes for about 15 minutes or until fork tender.
Drain potatoes and allow to cool slightly.
Heat oven to 425°
Spread 1 ½ Tbsp oil onto a baking sheet. Line up potatoes on baking sheet.  Using the bottom of a glass cup, smash each potato.
Drizzle remaining 1 ½ Tbsp oil onto potatoes. Spread with a pastry brush.
Sprinkle potatoes with salt and pepper.
Cook for 20 minutes or until golden brown, flipping after 10 minutes.
**These potatoes can be served with a variety of sauces or garnished with fresh herbs.  We topped them with a Spicy Asian Dressing.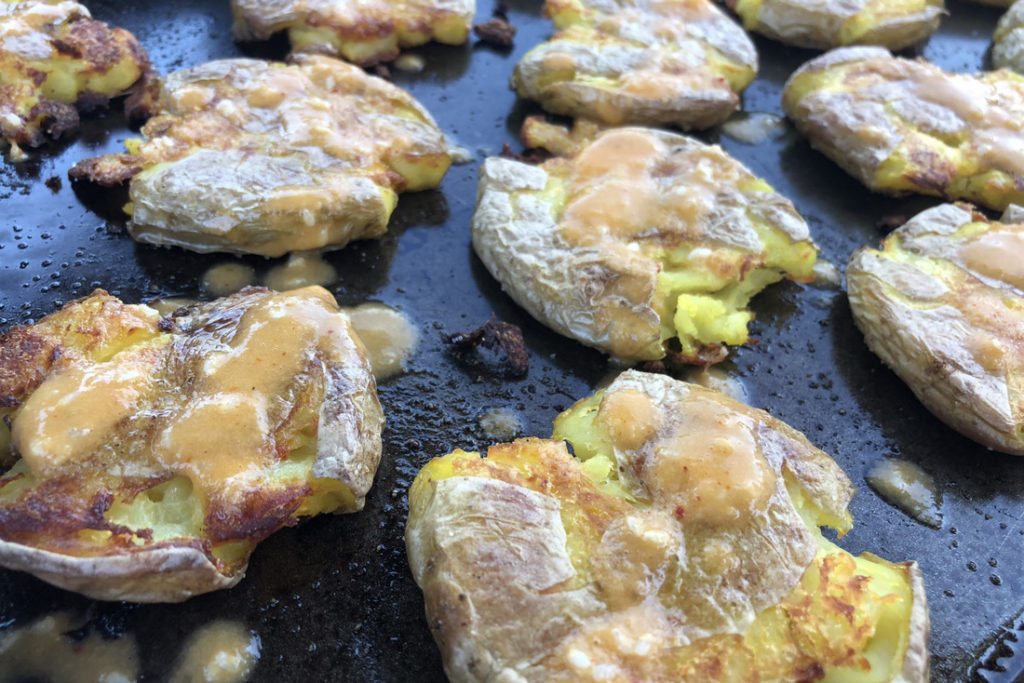 Spicy Asian Dressing
2 tsp fresh ginger- grated
2 cloves garlic- crushed
2 Tbsp olive oil
1 ½ Tbsp apple cider vinegar
2 tsp toasted sesame oil
½-1 tsp sriracha (optional)***
1 tsp sesame seeds
Combine all ingredients except sesame seeds and mix well.  I used a small blender.  Add sesame seeds and serve.
***The sriracha is optional, but definitely adds the spiciness to this sauce.  Adjust the amount you use based on your own personal taste.
Recipe and Photos by Stephanie Borzio. Stephanie Borzio is a mom of three active boys and is an autoimmune warrior. After battling her own health for several years, Stephanie found healing through food and lifestyle changes, including joining Blooming Glen Farm CSA of which she is a long time member. She is a Board Certified Integrative Nutrition Health Coach who is passionate about sharing healthy living tips and real food recipes. Instagram & Facebook: Tru You Essentials; Website: www.truyouessentials.com