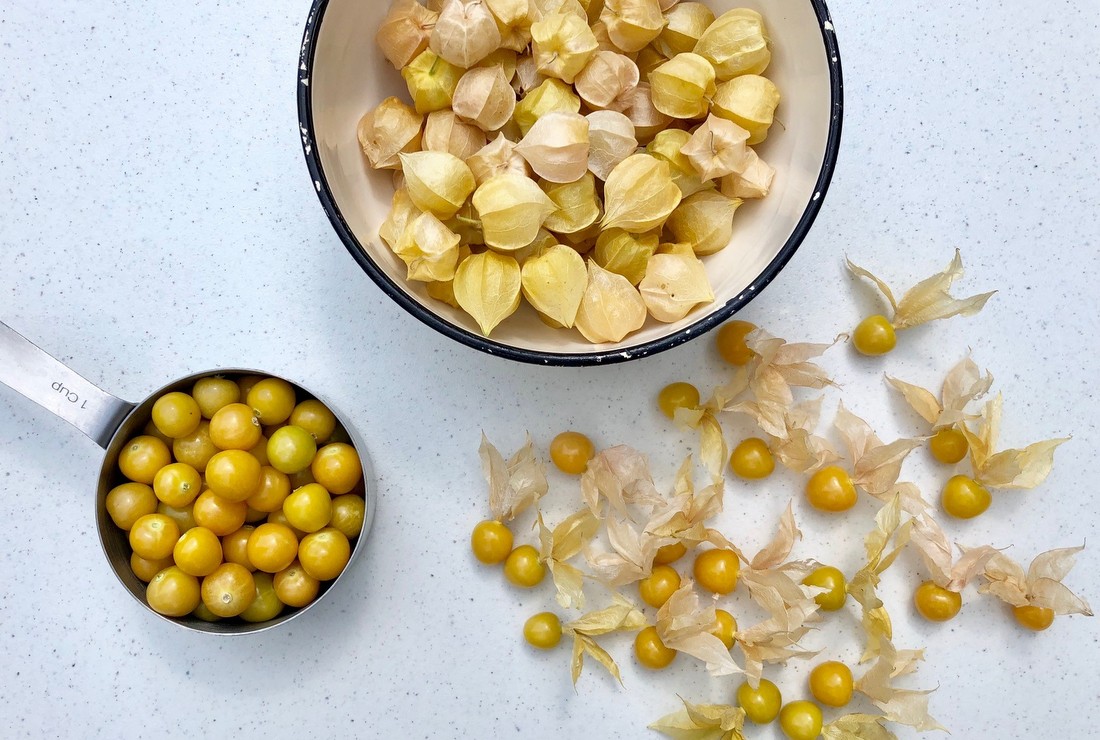 12 Aug

Ground Cherries 3 Ways: Jam, Marinade & Chocolate covered!

Ground cherries are a brand new addition to our CSA shares this year.  It's always fun to meet new produce and then figure out how to incorporate it into healthy snacks and meals.  Initially we were just eating the "husk" cherries as is, but then I really wanted to build upon their unique flavor.  So this week I got creative and incorporated them into some new recipes.  So…here are three recipes to try…three different ways to use your ground cherries!  You could even incorporate all three into a fancy little meal- the jam could be used in an appetizer, the marinade/dressing in your main dish, and then the chocolate covered ground cherries for dessert!  Yum!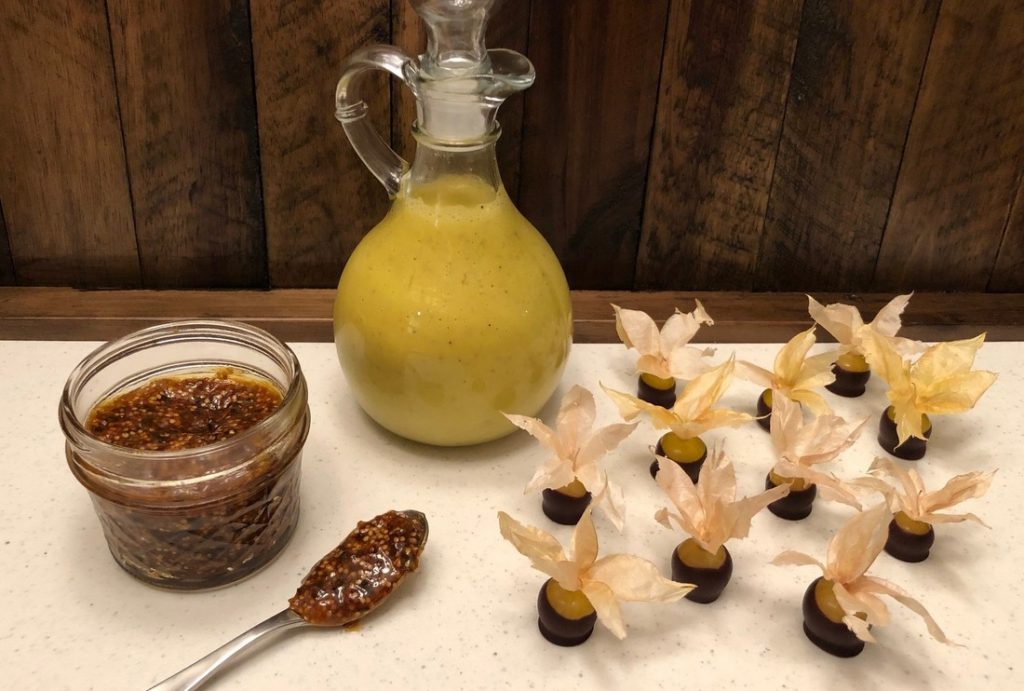 Ground Cherry Jalapeno Jam
1 cup ground cherries- husked and cleaned
½ cup honey
1 jalapeno- seeds removed and finely chopped*
1 tsp lemon juice
¼ cup water
Place all ingredients in a small saucepan.
Bring to a boil and reduce to simmer.
Simmer for 20-25 minutes on low heat, stirring frequently. Cherries will break down and release their juices.
When the jam thickens up, it is done. If it becomes too thick, add water 1 tsp at a time to get desired consistency.
Allow to cool. Serve or store in airtight container in the refrigerator.
*If you like dishes spicier, feel free to add another jalapeno.  This jam is mild with 1 jalapeno.
**I poured this over a log of goat cheese and served it with grain free crackers.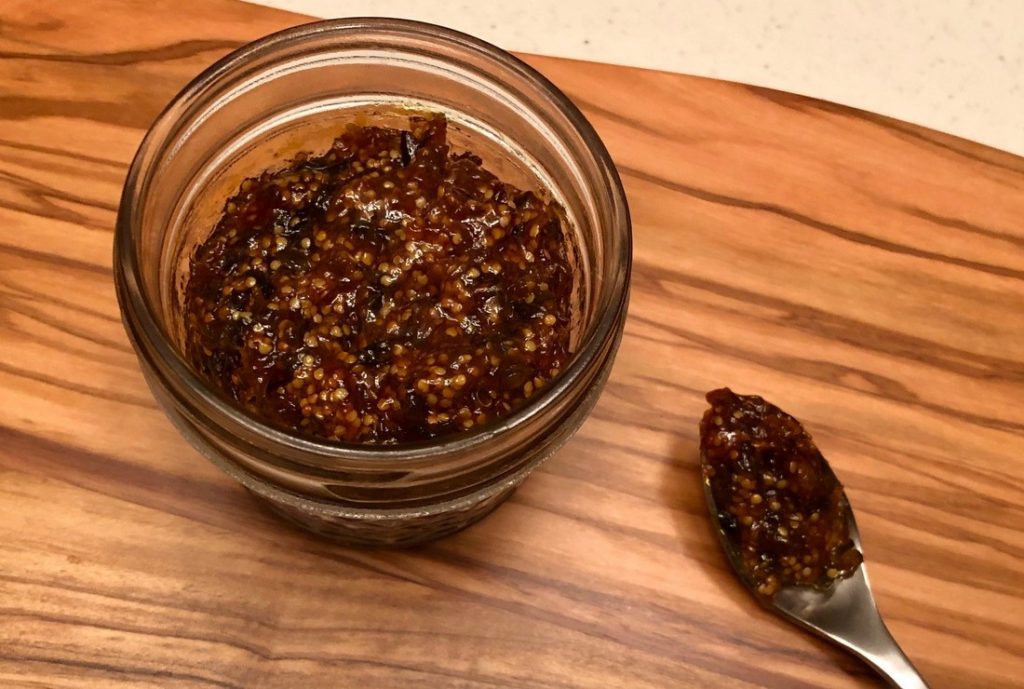 Ground Cherry Marinade and Dressing
1 cup ground cherries- husks removed and cleaned
½ jalapeno- chopped
1 Tbsp honey
¼ cup apple cider vinegar (ACV)
½ tsp sea salt
¼ tsp black pepper
¼ cup olive oil
2 Tbsp apple cider vinegar (ACV)
Put ground cherries, jalapeno, honey, and ¼ cup ACV in a small saucepan.
Bring to a boil and then reduce to a simmer. Stir frequently.
Allow to simmer for 10 minutes.
Let cool a little bit and then blend to combine all ingredients.
Add sea salt and black pepper and blend once more.
At this point, it can be used as a marinade. It will pair well with chicken, fish, or even portobello mushrooms.  I recommend coating your protein or vegetables with the marinade and then roasting or grilling.  Halfway through the cooking, flip and baste with a little more marinade.
To turn this into a salad dressing, add the olive oil and 2 Tbsp ACV. Blend well.  Season with more sea salt and black pepper to taste.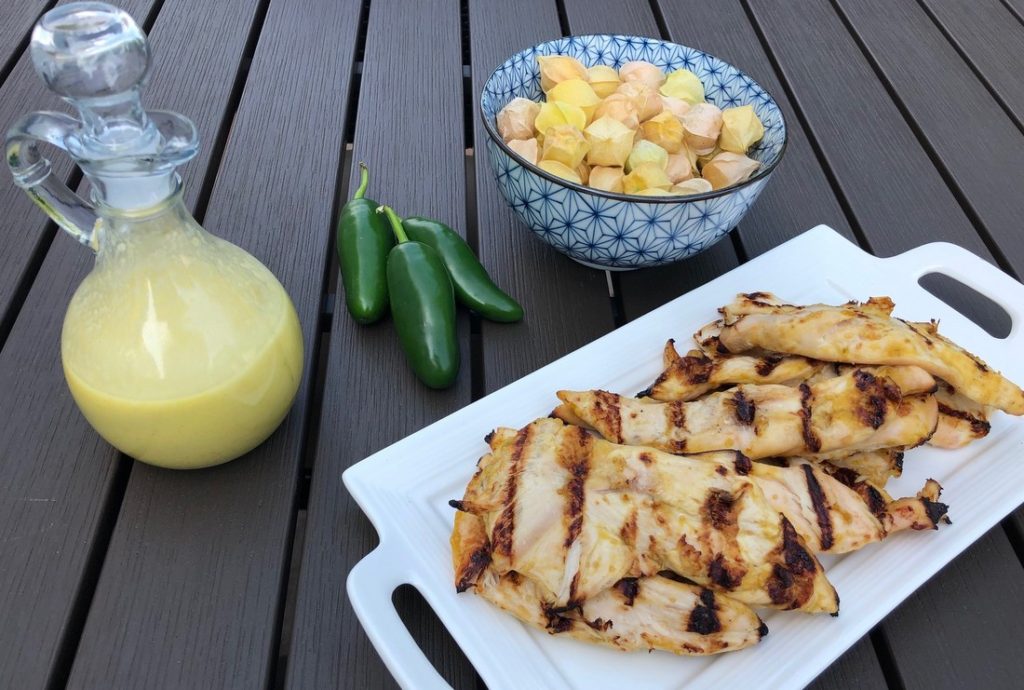 Chocolate Covered Ground Cherries
¼ cup chocolate chips (I used Enjoy Life Dark Chocolate Morsels)
Ground cherries (as many as you want…this will probably make at least two dozen)
Create a double boiler by placing a Pyrex measuring cup in a small saucepan filled with water. The water should cover the bottom inch of the measuring cup, but not overflow.  You don't want the measuring cup to sit on the bottom of the pan.  If you have a small double boiler, feel free to use that instead.
Heat water to boiling and then reduce to a simmer.
Add chocolate chips to Pyrex measuring cup. Stir until melted.
Once the chocolate is melted, remove measuring cup from the saucepan.
Prep ground cherries. Peel away the husks, but do NOT remove them.  Peel them up and squeeze the top so the husks resemble flower petals.
Grab the husk part of the ground cherry and dip in the melted chocolate. You want to cover 90% of the cherry, leaving only the very top surrounding the husks.
Place the chocolate dipped cherry on a plate lined with wax or parchment paper.
Repeat dipping for all cherries.
Place plate in the refrigerator for at least one hour to allow chocolate to set.
After the chocolate has set, they are ready to enjoy!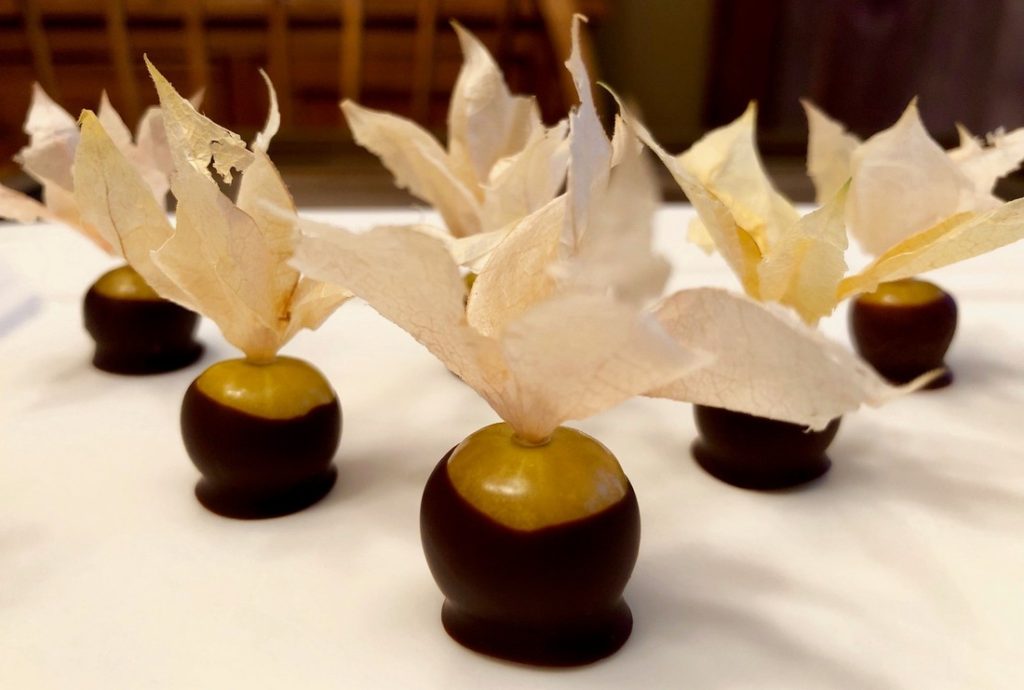 Recipe and photos by Stephanie Borzio.  Stephanie is a mom of three active boys and is an autoimmune warrior.  After battling her own health for several years, Stephanie found healing through food and lifestyle changes, including joining Blooming Glen Farm CSA of which she is a long time member.  She is a Board Certified Integrative Nutrition Health Coach who is passionate about sharing healthy living tips and real food recipes. Instagram and Facebook: Tru You Essentials, Website: www.truyouessentials.com