21 Jul

Italian Bread Salad and herb dressings

After many years working behind the same walls, dancing between sweaty bodies and hot equipment, I half jokingly refer to myself as a recovering restaurant chef. For me, the farm to table movement not only translates into healthier meals but a healthier spirit as well. Don't get me wrong, sweaty bodies and equipment are abundant on the farm as well, but the difference is the fresh air and the glisten from the sun (or rain) keeps things in humble perspective.

One of the greatest discoveries I have made culinarily speaking, is the fresh herb garden. Endless creative possibility lives in the simplicity of plucking a few sprigs of marjoram and a little oregano, perhaps a bundle of parsley too and voila, there in the palm of your hand is enough flavor to build a whole meal around. As a chef I strive on creativity aroused through the senses. A walk through the herb garden can take an idea with loose ends and quickly bring it together, and I always say, "I love it when a plan comes together."  Here are a few recipes to highlight herbs. Hopefully these dressings can replace some store bought family favorites in your fridge. Enjoy!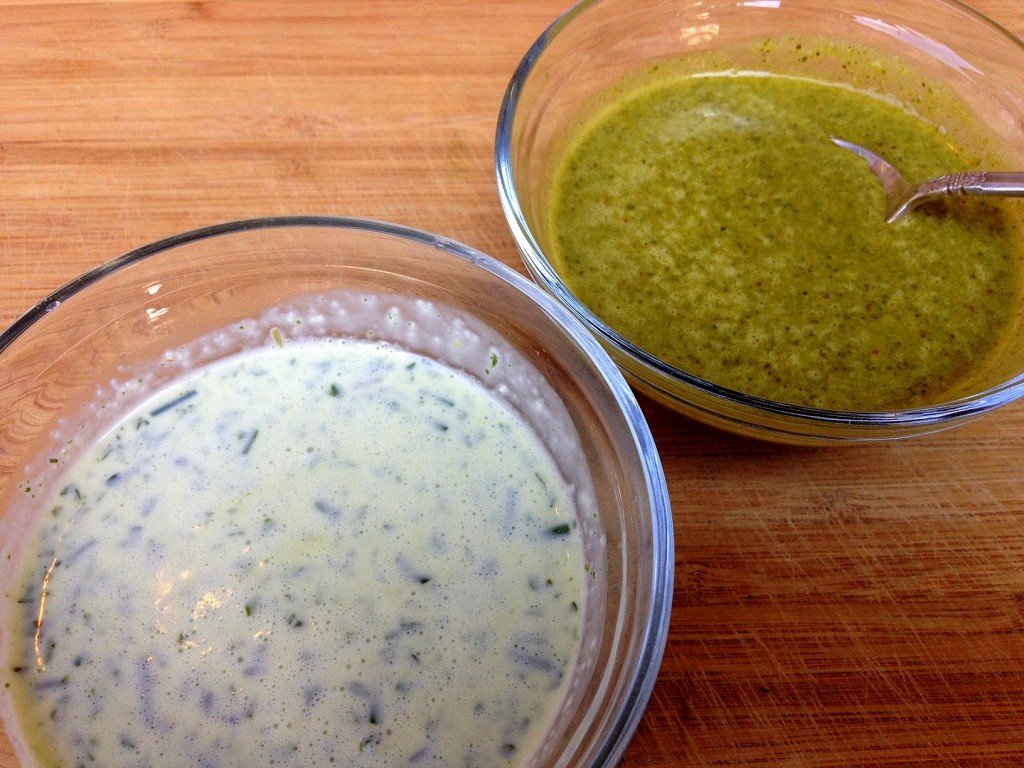 Herb Cucumber Ranch Dressing
1-1/2 cup drained plain yogurt
1/2 cup coconut milk
juice of one lemon
3 tsp white vinegar
2 tsp coconut aminos or worcester or soy sauce
4 cloves garlic (fresh if you have it)
1 small onion, grated
1/4 cup grated cucumber
3 tbs fresh herbs like dill, tarragon, oregano, parsley
2 tbs chives
In a large bowl or with a mortar and pestle smash garlic into a paste. Clean all your herbs by dunking in cold water and removing stems, reserve stems along with garlic wrappers for stock. Chop herbs very fine and add to garlic with a teaspoon of salt and teaspoon of black pepper. Work these ingredients together into a small grind. Add onion and onion juices along with the rest of the ingredients. Whisk very well and chill overnight. The other option is to throw all the ingredients in a blender or food processor. 
Italian Herb Vinaigrette
1 head roasted garlic, squeezed to freedom
1 small red onion, diced fine
1/3 cup oregano
1/4 cup marjoram
1/3 cup parsley
1/3 cup basil
1/2 tsp salt
1/2 tsp black pepper
1/2 tsp crushed red pepper flakes
1/4 cup water
1/3 cup choice vinegar
3/4 cup olive oil
1 tsp Dijon mustard
Optional 1 tbs parmesan cheese or sundried tomatoes
Roast one head of garlic, whole. Oven temp. 350 degrees for about 25-30 minutes until it turns golden brown and is soft to the touch. Just pop it in on a sheet pan and let it cook.
Add your herbs, onion and roasted garlic to a blender or food processor, while running add spices and water, add dijon and slowly add olive oil to desired consistency. You may choose to add more oil. I prefer to leave it alone and add oil if needed per use. 
Panzanella (Italian Bread Salad)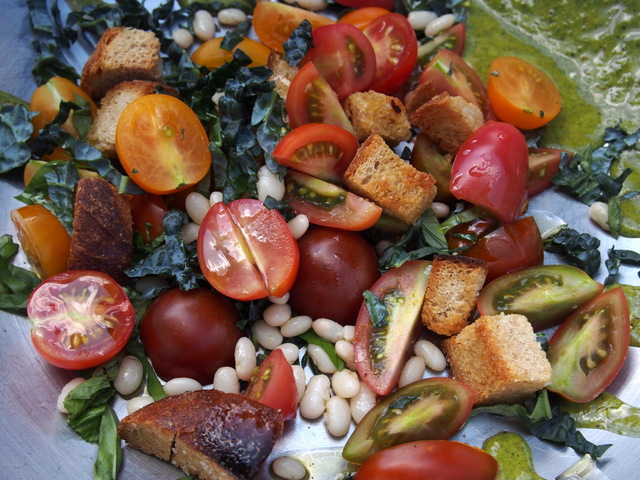 6 cups day old crusty bread, cut into cubes
1 pint cherry tomatoes, halved
1 cup thinly sliced kale (tuscan pictured)
1/2 cup sliced red onion
2 cloves garlic, smashed
1/2 cup olive oil
10 basil leaves, torn
juice of a lemon
1 can of white beans, drained and rinsed well
2 eggplants, grilled and chopped
Add garlic, oil and lemon in large bowl. Add a pinch of salt and pepper, whisk well. Add beans, toss, add tomatoes, bread, basil and onion, toss again. Add cooled eggplant with any of its juices and gently toss. Option- dress with either the Herb Ranch Dressing or Italian Herb Vinaigrette. Also optional- add cubed cheese, Italian hard salami or roasted potatoes. Enjoy!
Post and recipes written by Kristin Moyer, Farm Chef Educator at Blooming Glen Farm and passionate farm-fresh food advocate. Kristin cooks at The Perk in Perkasie, does private catering and serves on the Pennridge Wellness Committee, working to create edible school yards in Pennridge School District. Together with Blooming Glen Farm she hopes to someday start a Community Supported Kitchen at the farm.
Photos and editing by Tricia Borneman, Blooming Glen Farm owner.