The farm has seen a flurry of activity this week. Like an intricately choreographed dance, the crew has been moving from activity to activity, but the main focus has been planting. Spring has been kind to us this year, with just the right amount of time between rainstorms, allowing the ground to dry out for cultivating, plowing, making beds and planting, so the "indoor labor" like trellising the heirloom tomatoes has been put on the back burner (until yesterday's stormy day, that is).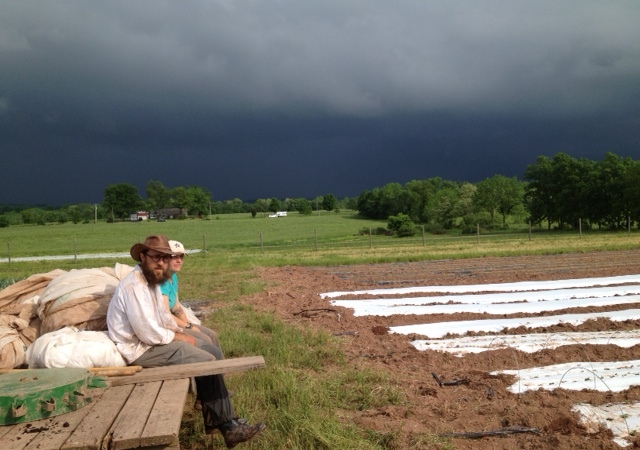 The crops seem to be loving the combination of heat and rain, with everything growing by leaps and bounds overnight. It's hard to believe this is the same field of potatoes planted on April 10, a little over a month ago.
What have we planted these past two weeks? Watermelons and cantaloupes, field tomatoes, cutting flowers, basil, dill, sweet potatoes, tomatillos, hot and sweet peppers, celeriac, the second round of cucumbers and summer squash, sweet corn, the third rotation of green beans (these go in every 10 days for a steady supply, planting 8-10 rotations total), edamame beans, and more! Our last two big plantings- eggplant and winter squash- will happen next week, then it's just sucession plantings of crops we want a steady supply of, like lettuce and cooking greens. Our summer will be spent cultivating, harvesting, trellising and tending with lots of loving care all that we've planted.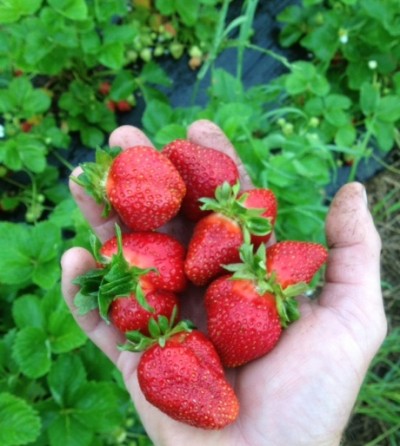 Our CSA on-farm pick-ups start next week, May 28 and 30! There's still space available for both half and full shares. (Our abbreviated 16 week boxed delivery share to Doylestown doesn't start until June 28th. There's still space for that as well.) Check out the CSA Rough Guide for the ins and outs of pick-up before you come to the farm next week. This covers important details like BYOB (bring your own bags or box), pick-up times (1-8pm), and what to do first (sign in!).
Ledamete Grass Farm will be delivering their first chicken shares to the farm on the 28th, and also setting up a market table of products for purchase from 1-5pm- no pre-ordering necessary (Well, they'll be here unless farmer April goes into labor. She and Rob are expecting their second child any day now!). Ledamete Grass Farm will be doing their market booth here at Blooming Glen once a month. Go to their website to get on their mailing list for future dates and to pre-order.
We are looking forward to seeing new and familiar faces at the farm in the next few weeks! What can you expect in the first CSA share? Strawberries, hakurei turnips, arugula, bok choy, spinach, spring onions and more! See you soon!
Photos and text by Tricia Borneman, Blooming Glen farmer and co-owner.