30 Aug

Cooler nights bring abundant greens

The cooler nights might be slowing down the ripening of the heat loving tomatoes and signaling the last of a long run of summer squash, but it does mean gorgeous end-of-the-summer greens. Leafy greens love the nights in the low 50s (and upper 40s!). This week in the CSA share we have beautiful arugula with a spicy kick, sweet potato greens, and batavian crisp lettuce. Next week, the kale is finally back!

The farm is focusing on getting ready to dig lots and lots and lots of potatoes, to carry us through the rest of the CSA and our winter farmers markets. The burlap sacks are ready, and the yields are looking epic. We're not quite sure yet where we'll store them all- a root cellar is one thing our farm is sorely lacking- but we are wanting to get them out of the ground before any major rainfalls, or other crazy acts of nature (who knows what can happen!).

The crew spent the afternoon practicing some old fashioned pest control: plucking harlequin bugs off of the brussel sprouts and into cups of soapy water. The brussel sprouts, along with crops like leeks and cauliflower, are a late fall harvest. We are hoping the brussels are ready before the CSA ends, but for now the goal is to keep the bugs from devouring them.

The fall radishes (watermelon, black, green meat and daikon) are growing wonderfully but present another big task on our horizon. Like fall beets and carrots, these radishes need to be thinned, so each individual seedling has plenty of elbow room. These fall radishes grow to be more like the size of a turnip, very different then your bunched spring radishes.

Looking ahead, we will be sending out an SOS for CSA volunteers to help us trim down our garlic and onions. They have been drying on racks (the onions), or in bundles hanging in the barn (the garlic), and are ready to be pruned to a presentable shape. We will email more details of this volunteer opportunity soon.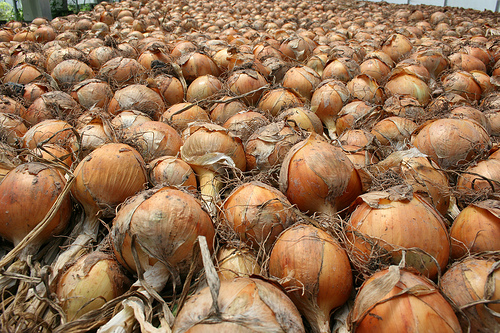 Sign-up sheets for our harvest festival on October 12th will be in the distribution room next week. We hope you'll sign-up to bake a pie for our pie bake-off contest, or at least join us to taste and vote! This year we won't just be giving out the trophy for the popular vote, but we'll also have a panel of judges casting their vote for the Best Pie. We are also collecting children's size clothing for scarecrow making. As you clean out your youngsters closets for back to school, keep us in mind. (Long sleeves and long pants preferred, the better to keep the straw in). Thanks!
Post and photos by Tricia Borneman, Blooming Glen farmer and co-owner.