Seems like almost every evening the sky to the northwest darkens a deep purplish blue, the soaring temperatures drop, the wind picks up, and the storms head in, sometimes blowing past to the east and towards the river, but more often than not dropping inches of rain on the farm.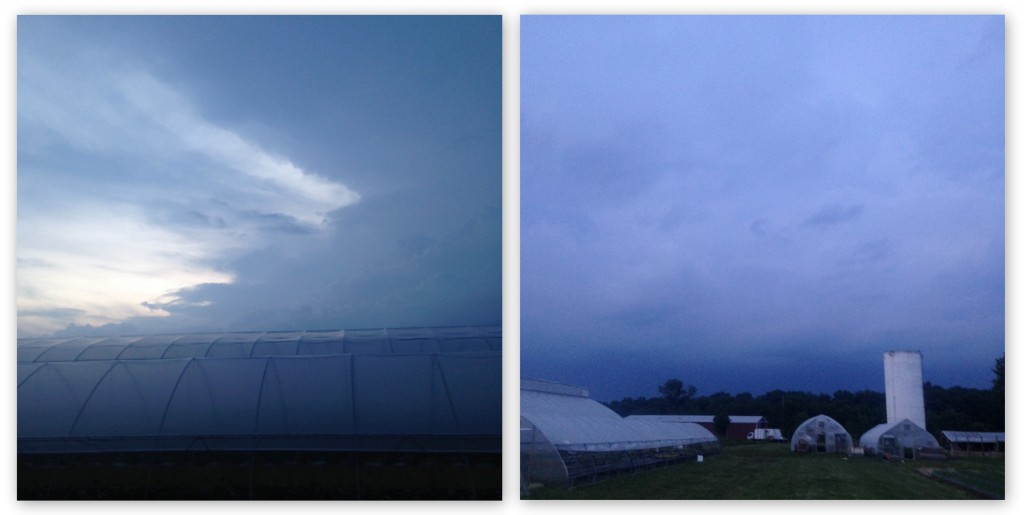 The summer crops- the tomatoes, cucumbers, squash and melons- love the heat and rain and humidity. I think if you sat in front of a tomato plant in the field you could watch it grow. Overnight they seem to jump a foot above each trellis string we add. We are predicting the first field tomatoes in early July, right around the corner.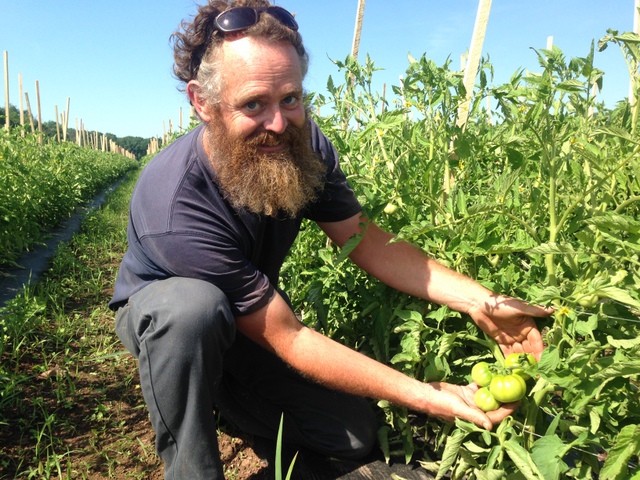 The wet ground is a challenge, as all the crops don't necessarily love it, but the weeds sure do. And boy are the weeds growing, outpacing the veggies we plant, and outpacing our efforts to hand weed them out, as our cultivating tractors are temporarily sidelined due to the wet fields. At our crew meeting, in an effort to raise morale, we likened it to the farm's 5 o'clock shadow, or as I pointed out, the farm is looking fuzzy, just like Farmer Tom.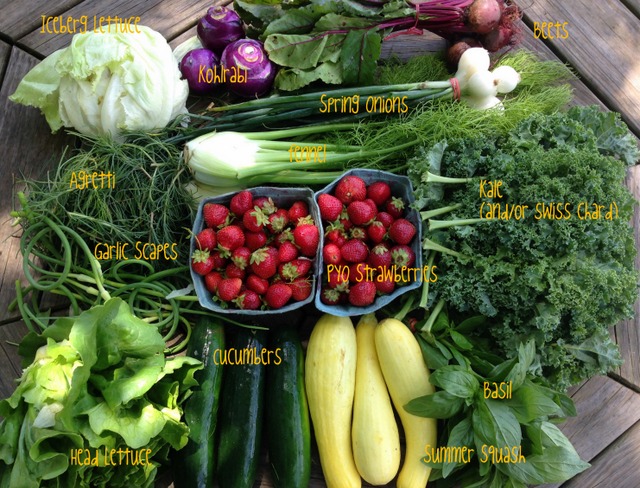 This week in the share you'll be enjoying a trial crop at Blooming Glen- iceberg lettuce. Like many people, I grew up on iceberg lettuce- the American cheese of vegetables. In my mind it stands for industrial food and a bland uninteresting American diet, perhaps because of my memories of it served chopped and soggy with croutons, cucumbers and cherry tomatoes at most diners in the 80s and 90s. But I do remember mom's BLT's, and the crunch of that lettuce. And Tom and I had a memorable meal recently at a farm to table restaurant, with a dish featuring a wedge of iceberg lettuce served with a creamy salad dressing. Perhaps iceberg is just a hapless victim of long distance agriculture. We wanted to reclaim this veggie as our own and see what it would be like homegrown and harvested fresh. Let us know what you think.
Post and photos by Tricia Borneman, Blooming Glen farmer and co-owner. Tricia and her husband Tom have been farming together since 2000. Blooming Glen Farm is entering its 10th season bringing high quality certified organic vegetables, herbs, fruits and cut flowers to our local community. Tricia is passionate about food, art and nature and the intersection and expression of all three.