Fall crops are here! Celeriac (celery root) and winter squash are making their first appearance in the share and at the markets this week, so it is the perfect time to brush up on those fall crop recipes or even try out something new.
My go-to preparation for so many fall crops like winter squash, potatoes, or celeriac is to simply toss them in olive oil and roast them. Though it's delicious and still probably my favorite way to eat them, sometimes a more complex preparation can be a nice change. This recipe is a healthy, vegetarian curry that showcases the sunshine squash's sweetness and the complex nutty flavor of the celery root. I serve it alongside some rice for a complete and satisfying  meal.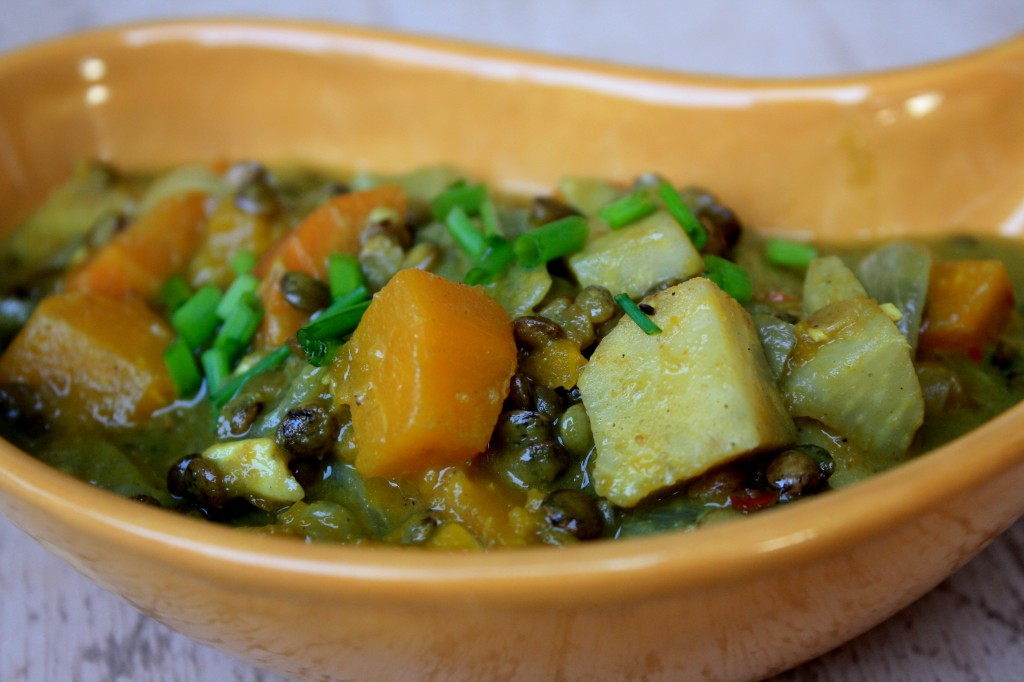 Lentil Curry with Celeriac and Winter Squash
-Half, seed, and peel 1 Kabocha squash–or other winter squash–with a sharp knife (the skin is actually not too hard to peel if your knife is good). Cut squash into 1/4 inch chunks. Similarly, carefully peel and chop 1 celery root into 1/4 chunks. Set aside. 
-Heat a large pot over medium heat with 4 tablespoons of olive or coconut oil (I like coconut for this recipe) and toss squash and celery root in with:
1 large white onion, chopped
3 cloves of garlic, minced
2 medium carrots
2 tablespoons of fresh, grated ginger
1 teaspoon of salt
-Saute veggies for about 15-20 minutes until tender.
-Add 1 tablespoon of curry powder and 1/4 teaspoon (or more) of red chili flakes. Mix well and cook for 2 minutes.
-Add 1 cup of lentils (any type will do), 1 cup of water or chicken stock, and 1 cup of coconut milk. **Coconut milk can be omitted…just add stock or water instead.
-Cover and simmer mixture for 25-40 minutes until lentils are tender. Adding more stock or water if the mixture is getting to thick.
-Let cool slightly and serve with brown or wild rice. Garnish with a fresh herb like chive, cilantro or parsley! ENJOY!
Serves 4 to 5 large portions.
Recipe and photos by Jana Smart- Blooming Glen Farm employee and frequent creator of creative recipes using farm fresh seasonal ingredients. Check out more of her recipes on her food blog http://www.agrarianeats.blogspot.com/