19 Apr

Meet our Interns: Michael Lasecki

Spring has officially arrived at Blooming Glen, and with it has come three new interns! This newest crop of folks joins us from far and wide across the country. With a few weeks of farming now under their belts, the interns are getting to know Blooming Glen, but the greater farm community still needs to get to know them! Over the next several weeks you will be introduced to all the new faces on the farm. This week we meet Mike Lasecki.

Mike, 25, comes to us from the Madison suburb of Middleton, Wisconsin. After graduating from UW-Madison with a BA in History and Conservation Biology, Mike has been working and living all across the country. From park ranging for the Middleton and Madison Parks Departments, to fighting wildfires in Washington State, Mike has been keeping busy with a wide range of adventures. Most recently, he and his girlfriend (Claudia, a fellow Blooming Glen Farm intern) lived and worked at Plowshare Farm, a residential community for adults with special needs. At Plowshare, Mike had the opportunity to do extensive land management work and try his hand at vegetable and dairy farming.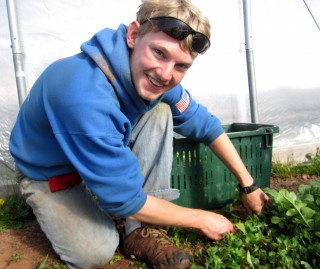 "After I graduated from college I really didn't know what I wanted to do for a living. I had a lot of different interests that I thought might be possible life pursuits, so I just decided to immerse myself in each to see what really fits me best. So far it has been fun and very educational."

Mike describes his childhood as a "farm boy without the farm."  He spent much of his formative years out in the garage with his dad and grandpa, splitting wood, fixing old tractors, and generally learning to do things with his own hands. Mike's family has been in Wisconsin for more than 6 generations. However, a lot has changed even just within Mike's own lifetime. During middle school, Mike's neighborhood transitioned from waving corn fields to a gated community with a manicured golf course. The homestead (as he calls his family's home) is now essentially an island-surrounded on all sides by a suburban country club. These changes in the land affected Mike deeply and contributed to his fascination with the relationships between people and natural places.
"I've always been attracted to farming.  I come from a family of farmers, been around farms most my life, and have always been an active vegetable gardener.  I think what attracts me the most to farming as a life pursuit is the combining of hard manual labor that's rewarding with the mental challenges of planning and understanding a farm's ecology.  That combination of physical and mental work just really excites me.  As for my first season here at Blooming Glen Farm I'd like to master the necessary physical skills needed to farm and increase my mental capacity and ability to plan a small farm."
When he's not farming, Mike enjoys picking his mandolin, practicing air bass, and hunting for wild edibles. He recently purchased a fishing license and can't wait to get casting. We are excited to have Mike in our farm family!
Written by Claudia Hartley, first year Blooming Glen Farm intern, Washington grown, weasel enthusiast.