17 Apr

Radish Crudités with Creamy Feta Dip

Radishes are one of the first crops to pop up in the spring—a sign that warm days are coming and heavy winter eating is coming to an end. They've got a crisp crunch and bright spice, but somehow still have a root-crop earthiness about them.

Crudités is just a fancy way of saying raw, bite-sized vegetables served with a dipping sauce. In this recipe, that slightly spicy bite of the French breakfast radish pairs perfectly with creamy and salty feta.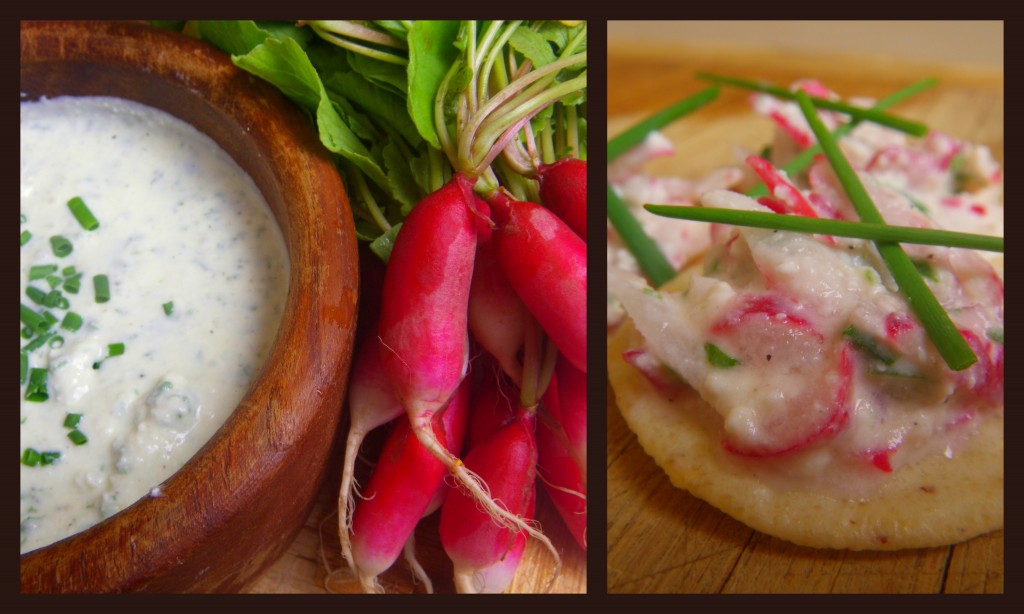 Radish Crudités with Creamy Feta Dip
– Wash and cut the greens off 1 bunch French Breakfast Radishes. (Reserve greens for another use.)
– In a food processor, combine:
1 cup crumbled feta cheese
1/2 cup plain yogurt
juice of 1 lemon
2 minced garlic cloves (or two stalks green garlic)
a handful of chopped chives (or scallions)
pepper (to taste)
– Pulse ingredients into a creamy consistency.  Serve as a dip for radishes and other raw veggies.
Alternatively, you can make a thicker spread with a pop of color by mixing a ½ bunch of grated radishes into the feta dip. Serve on top of a piece of crusty bread or (in my case) some gluten-free crackers.
Text and photography by Kate Darlington – Blooming Glen Farm second year intern, Colorado native, and food lover.